The 2008 performance of the Energy sector has been very exciting due to the wide range of performances within the sub-sectors and the volatile ride of oil.
During the rally that took place from January through June, the refiners got slaughtered, the exploration and production companies had huge gains, and for the most part, the major integrated and service companies missed the upside and  the downside.
This was completely unjustified, and it has presented investors with a number of great opportunities to play the Energy sector at very attractive valuations that may not have been available even one week ago.
One of the nice things about the service sub-sector is that most of the companies are not affected by energy commodity spot prices because they generally do not hold reserves; they typically only provide highly complex services to other energy companies. 
In the current market environment, investors are fleeing towards companies who have lower downside risk and lower volatility.  As counter-intuitive as it may sound, these type of companies can actually be found within the energy sector.
Company Profile
Helix Energy Solutions Group (NYSE:HLX) [28.26, +1.16 (+4.28%)] is a hybrid energy stock, but it specializes in service based operations.  Helix had its initial public offering in the middle of 1997 and has not looked back, as you can see from the stock chart.  Helix was originally called Cal Dive International but changed their name in 2006. 
While the breakdown is roughly 70%/30% service to exploration and production, they have been able to provide investors with consistent revenues from both portions of their business.  Of their 30% exploration and production, roughly two-thirds comes from natural gas and one-third comes from crude oil.  Geographically, Helix is based mostly in the United States but they also have operations in Europe and Southeast Asia.  They have a large amount of exposure to the Gulf of Mexico in terms of both service and exploration and production.  Helix has a 20% stake in the Independence Hub, one of the few largest production facilities in the Gulf of Mexico.  In adition, Helix has stakes in three of the largest Gulf of Mexico fields: Danny, Noonan, and Phoenix. Current estimates have production coming online at all three fields by Q4 2008 and full production about half way through 2009.
Helix also has a subsidiary, Cal Dive International Inc. (NYSE:DVR) [9.96, +0.23 (+2.36%)] (yes, this is the same as Helix's former name but it is not the same company), who also participates in the service industry.  Helix currently has a 58% stake in Cal Dive International.  Helix also has three smaller subsidiaries in ERT, Helix RDS, and Well Ops.  As of December 31, 2007, Helix had 677 Billion cubic feet equivalent of proven reserves and 1.0 Trillion cubic feet of risked potential reserves.
Basic Fundamental Valuation
One of Helix's best qualities is that it is inexpensive relative to not only the broader market but also to the energy sector and its' own sub-sector.  When you have fundamentals that line up with top management and a good growth story, it is hard to go wrong.  The ratios below highlight just how cheap Helix is right now:
Trailing P/E - 8.17x
2008E P/E - 8.03x
2009E P/E - 6.50x
2010E P/E - 5.96x
Trailing PEG - 0.63
2008E PEG - 0.62
2009E PEG - 0.50
2010E PEG - 0.46
Long Term Growth Rate - 13%
Price to Book - 1.31x
Price to Sales - 1.36x
EV/EBITDA - 6.02x
Operating Margin -19.06%
Profit Margin - 19.11%
Total Debt to Equity - 0.89x
YoY Quarterly Earnings Growth - 56.50%
Remember that those earnings estimates are based upon what is more than likely very deflated numbers as Owen Kratz very rarely promises what he cannot deliver to his shareholders.  The year-over-year earnings growth has been extremely impressive and the fact that the stock price has not reflected this level of growth leads me to believe that the company is severely undervalued. 
The EV/EBITDA number of around 6.00x is extremely impressive, especially for a company in the energy sector where EV/EBITDAs are traditionally higher.  The balance sheet is very clean relative to industry standards and the book of derivatives contains mostly capped collars, swaps, and forward sales that are very transparent.  Many exploration and production companies have extremely complicated derivative books that can take a lot of effort to understand, but Helix's book contains clear goals and is an example of the type of transparency that investors admire.
Along with the above statistics, Helix also boasts a compounded annual growth rate [CAGR] of 34% on their top line from 2000-2009E.  It is very rare to find a mid cap company with such sound valuation, especially with the growth rates Helix is expecting.  Analysts are currently using 13% as the growth rate but I personally believe that 15%-17% would be much more accurate over the next 5 years, especially given the current market environment.  Helix has its debt levels under control and I would expect this number to come down substantially over the next few years for a number of reasons: 
Firstly, it is generally more expensive to engage in exploration and production activities than it is in service activities so I foresee capital expenditures [CAPEX] growing at a slower rate going into the future
Secondly, Helix has been monetizing assets as of late related to their reserves and should have more cash on their books at the end of the upcoming quarter 
Finally, Owen Kratz's careful financial management will probably lead to tighter cost cutting initiatives going into the future
Comments Concerning Management

Most of the stock's recent woes have been due to the shakeups that have occurred with management.  CEO Owen Kratz was one of the original founders of the company and has been the main reason for the stock's outstanding performance since 1997 when it had its initial public offering.  The stock is up over 380% in a little more than 10 years, and is up closer to 500% from the time he first retired about a year and a half ago.  He retired from the company and gave way to Martin Ferron who ran the company for the past year.  Ferron was not able to manage as effectively as Kratz because of tentativeness and lack of foresight.  Ferron made mistakes in regards to the E&P side of the business that impeded the companies top and bottom line growth rates. 
After a year, the shareholders had enough of Ferron and after he stepped down, Owen Kratz (still owning a large portion of the outstanding shares) returned to the CEO position.  Now that everything is back to normal at headquarters, I expect Helix to underpromise and overperform as proven by the two quarters since Owen Kratz returned. 
In Q1 and Q2 2008 (see respective conference call transcripts: Q1 and Q2), Helix beat analysts estimates by 11.3% and 10.3% respectively on the bottom line.  Owen Kratz has highlighted a few objectives for 2008 and 2009, one of which includes lowering the tax rate.  Helix in the recent past was taxed at rates over 42% and it is not a stretch to see this rate come down to a level that would be in the mid-30s.
Future Outlook
Into the future, Helix is going to revert to what they do best, high-end niche servicing.  This does not mean that the exploration and production side of the business will be thrown away; it will just no longer be the focus.  Service revenues are much more stable and should provide less volatility for the stockholders.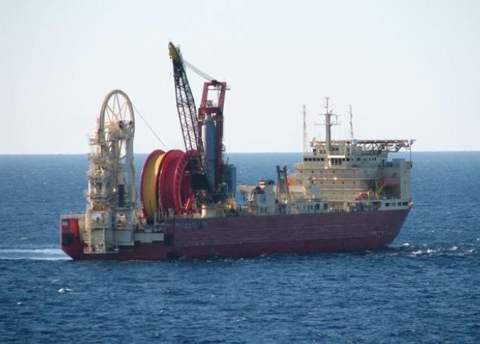 In regards to the E&P side of the business, Helix has been famous for hedging large portions of their production to lock in sizeable returns for their shareholders.  This method limits extremely high upside but it also protects against the downside that befalls far too many small and mid cap E&P companies.  I would expect Helix to either spin-off or sell their E&P business within the next year and a half in order to make sure they can focus on their core competency of energy services.  This could provide a lucrative investment opportunity for shareholders if they own the stock prior to this announcement. I find it very unlikely that Helix will spin off this business in the near future because it is improbable they will be able to get a nice premium at this low point in the market cycle. 
Owen Kratz, in his recent presentation to Lehman Brothers (LEH), has stated that 2009 will also be a year in which Helix focuses on reducing debt and engaging in more deepwater service activities. 
Helix has an extremely bright future as companies that extract energy offshore will need their services to complete their exploration and production.
Disclosure: The author is long HLX, the author's family is long HLX, and the mutual fund the author manages is long HLX.