Gold has had a dream run the last couple of years. Gold price rose from $1,388 an ounce at the start of 2011 to and is currently quoting at $1,706 an ounce. Of course, everybody wants to buy into gold through ETFs nowadays, because of convenience, security, liquidity, and other factors specific to ETFs. A gold ETF may invest in physical gold, gold stocks or leveraged and inverse products including futures, options and swaps.
So which is the best gold ETF to invest in right now?
SPDR Gold Trust (NYSEARCA:GLD) with $75.39 billion of net assets, almost all of which is invested in physical gold, is the largest gold ETF, followed by iShares Gold Trust (NYSEARCA:IAU) with net assets of $11.41 billion. The Market Vectors gold mining ETFs, GDX and GDXJ, with net assets of $10.24 billion and $3.18 billion respectively, are the two largest gold ETFs in the gold stock segment.
There is general perception that gold ETFs that hold large amounts of physical gold are also the best performing funds. While this is true in the long term, smaller gold ETFs that do not hold physical gold or gold stocks per se, have provided better returns in the short term.
Given below is a comparison chart of YTD performance of three different types of gold ETFs: GLD, GDX and Direxion Daily Gold Miners Bear 3x Shares ETF (NYSEARCA:DUST), the last a small gold ETF with net assets of only $40.25 million and market cap of $65.20 million.
Source: Google Finance
A quick look at the chart tells us that while the larger physical gold and gold stock based ETFs have been consistently steady, the smaller ETF went to dizzying heights in mid-2012 only to fall in the following months. DUST tracks the price of the NYSE Arca Gold Miners Index, which comprises of gold mining companies in Canada, U.S., South Africa, Jersey (British Channel island) and Peru. However, it seeks a 3x daily return of the index and also tracks it in the opposite direction. So as the index falls, the price of DUST rises.
I have used this comparison to explain that investing in gold ETFs, other than those investing in physical gold and gold stocks, is tantamount to exposing oneself to the same risks that are associated with equity investment. Investment in gold ETFs such as DUST requires dynamic strategies, frequent monitoring and management of portfolio. As per the warning posted on the website of the fund, investors in such funds must understand the "consequences of seeking daily investment results, (B) understand the risk of shorting, and (C) intend to actively monitor and manage their investments."
A similar risk of underperforming gold, albeit of a lesser intensity, is also involved in gold stock ETFs as stock prices depend upon the performance of company managements and a host of other things. The single investment of ETFs such as GLD is in physical gold, which ensures that their NAVs will always reflect the gold price less the administrative expenses of the fund.
Individual Performances
Direxion Shares Exchange Traded Fund Trust
DUST was launched on December 8, 2010. I choose this first only because a few months back, actually May 2012 it was being hailed as a star performer among gold ETFs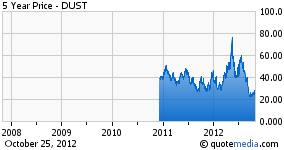 As is evident from the chart, only those who were smart enough to exit at the right time were able to profit from investing in DUST. Anyone who stayed invested in DUST since inception is now loosing 37.06%.
SPDR Gold Trust
Looking at a five-year chart of GLD, we find that it has been steadily rising, with minor dips. EPS of GLD is at $12.11. Anyone who stayed invested since December 2010 (launch of DUST) is sitting on a 19.67% profit.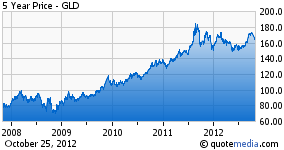 Market Vectors Gold Miners ETF
The 5-year chart of GDX tells an interesting story. The ETF has a negative EPS of $9.85. Anyone who invested in December 2010 and is still invested is actually losing 4.97% not considering the dividend/yield of 0.15/0.29.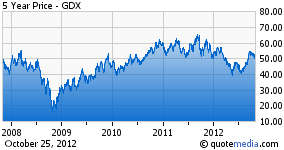 Historic Price of Gold
Gold price over ten years: January 2000 to date.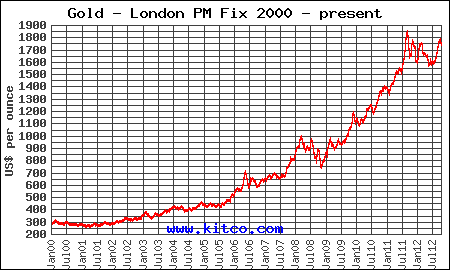 Gold price over five years - 2008 to date.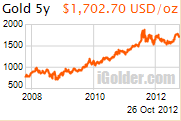 Both charts reflect the same story as that of GLD, the ETF that invests only in gold.
Not to sound like an alarmist but it is a reality that everyone needs to be aware of. I refer to the fiscal cliff that the Federal Reserve Chairman, Ben Bernanke said was awaiting Americans in January 2013 - "A massive fiscal cliff of large spending cuts and tax increases."January is just round the corner and if disappointments come true, the stock market is very likely to "correct and to correct big time, as much as 20%," if one chooses to be as apprehensive as Alan M. Newman, editor of Cross-currents.net. If there is a "big bout of inflation down the road", we might see a big surge in demand for gold and gold ETFs.
I am a big believer in the oft-repeated maxim that "gold loves bad news." Gold has always been a safe haven; it will continue to be so for as long as there are fears of economies performing badly.
Disclosure: I have no positions in any stocks mentioned, and no plans to initiate any positions within the next 72 hours. I wrote this article myself, and it expresses my own opinions. I am not receiving compensation for it (other than from Seeking Alpha). I have no business relationship with any company whose stock is mentioned in this article.