With Hurricane Sandy setting its sights on one of the most populated areas of the country, in what meteorologists are calling a potential 'Frankenstorm,' there will be a lot of nervous homeowners watching the track of the storm this weekend. When this type of storm approaches the United States, you typically see interest in stocks that tend to see an uptick in sales from storm related preparation or clean up. With that in mind, we wanted to provide readers with some of the stocks that are frequently associated with these types of events.
With an antiquated power grid throughout the northeast United States, if Sandy does make her way up the coast, you can expect to see widespread and extended power outages. Weatherman Joe Bastardi has contended that the storm "...could knock out more power than Irene and the pre-halloween snowstorm combined." If that was the case, you could expect to see an uptick in sales of generators, and two companies that would stand to benefit are Briggs & Stratton (NYSE:BGG) and Generac (NYSE:GNRC). While BGG is a diversified company, producing lawnmowers, snow blowers, and generators among other products, GNRC is more of the pure play on generators.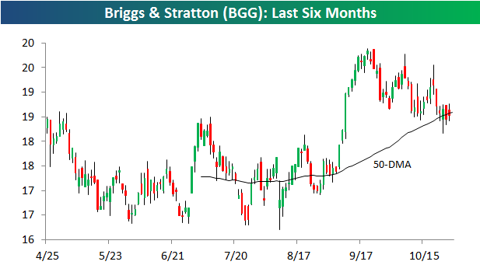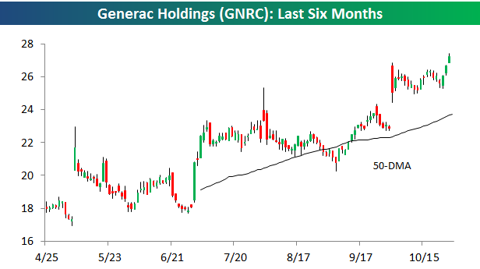 Outside of generators, you also tend to see strong sales at home improvement stores like Home Depot (NYSE:HD) and Lowe's (NYSE:LOW) as property owners buy plywood, batteries, generators, and other tools to help prepare and cleanup the damage from the storm. Even Costco (NASDAQ:COST) has a potential to benefit as the retailer sells everything from food and gas to power tools and generators, offering a one stop show for storm prep.
Outside of these companies mentioned, insurance stocks tend to be thought of as companies that are negatively impacted from major storms. However, the reality is that more often than not these stocks actually see strength as it gives the companies an excuse to raise rates. Whatever happens early next week with Sandy, our biggest hope is that the bark of the storm's potential turns out to be worse than its bite. Stay safe.