I just finished reading James Montier's Value Investing, and I have to say it is amazing. What I found most interesting was a very simple system he uses to classify risk, and ultimately find suitable value investments. He comes up with three categories:
Valuation Risk
Business/Earnings Risk
Balance Sheet/Financial Risk
I thought I'd use this perspective to evaluate a company I've been eyeing for a while: Assurant (NYSE:AIZ).
Valuation Risk
I think a good valuation should have business/earnings and balance sheet/financial risk incorporated into them. But for now I will use a simple excess-return model with my base case, and a bear case to show what I believe to be the realistic range for intrinsic value.
Click to enlarge images.

Valuation Base Case -- Inputs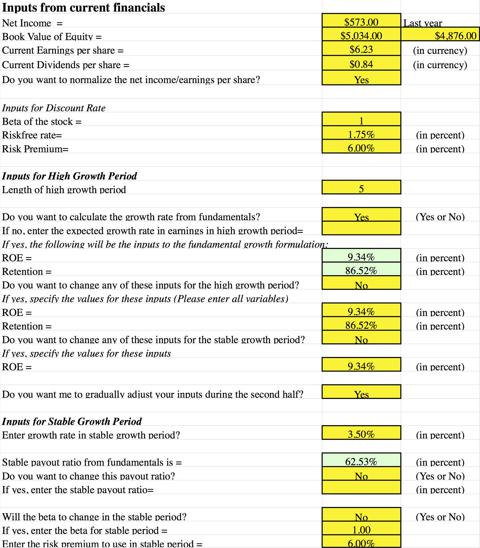 Valuation Base Case -- Output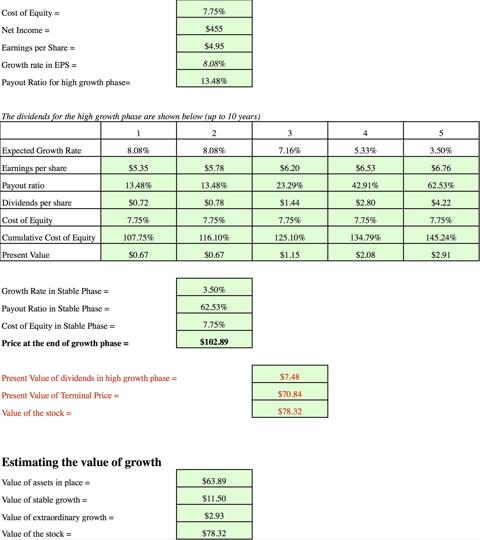 Valuation Bear Case -- Output (Only Change Is 0% Growth After Year Five)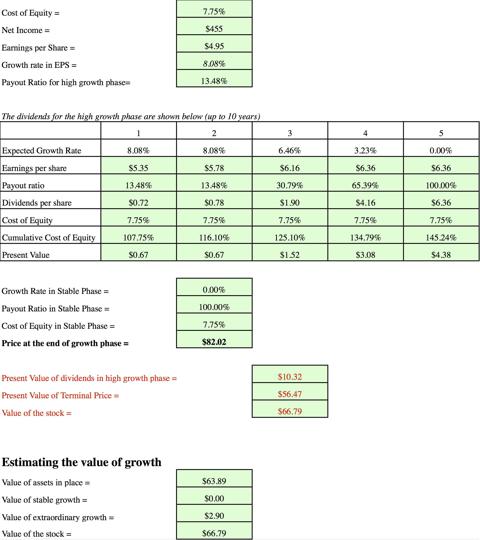 This is very conservative and the model is built from the fundamentals, not meaningless guesses. All inputs are five-year normalized and thus very bearish. If anything, the future should be brighter for this company. This can be seen when you look at a multiples analysis: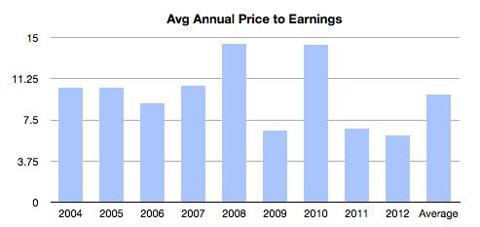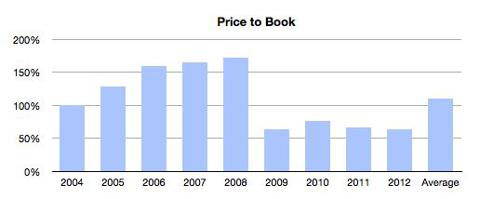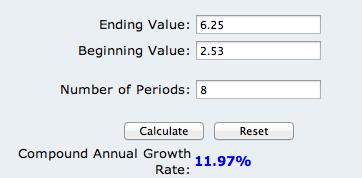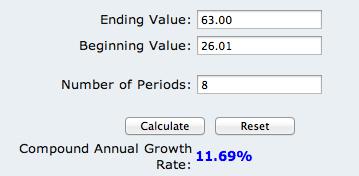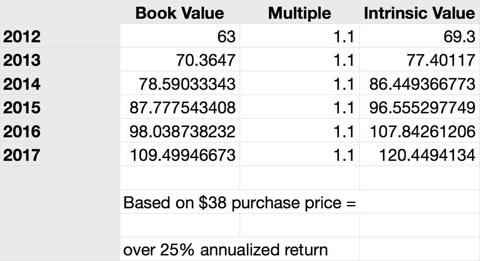 What's great is that although this seems wildly bullish, both the multiple and the growth are simply historical averages. I don't think this sort of return will be realized, but it's not at all out of the realm of reason.
At the end of the day, if you want to be as bearish as possible the lowest the above valuations got is $66.79 per share. The shares are currently trading at $38. This company is priced for bankruptcy.
Business/Earnings Risk

I like Valueline's Earnings Predictability Score a lot. I'm not exactly sure what the inputs are, but if it's at all what I think it is (standard deviation of trailing earnings), then it's exactly what I want. 50 is not great, but many financials are even worse. If it was below 40 it'd be a red flag. The Financial Strength rating will come up when we talk about Balance Sheet/Financial Risk.

Morningstar's Moat Rating is out of 5. Assurant gets a 3 because:

Morningstar pays it two compliments and then makes an unsubstantiated claim -- can't price insurance profitability? How can that be the case if the company has been earnings positive every year it has been public? The lowest return on shareholder equity was 5.8% in 2010, and will in all likelihood be 9%-10% going forward. I just simply don't buy it. In any case, I used a time horizon of five years in the first stage of my two-stage model (five years for no moat, 10 years for good moats, and 15 for great moats).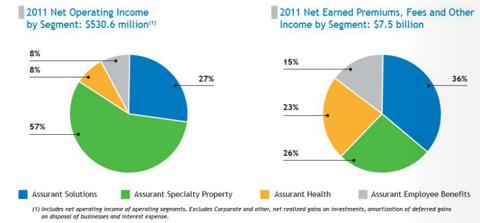 The company is well diversified across it's four main segments. It is a niche player and doesn't compete in bigger P&C markets with American International Group (NYSE:AIG) or Berkshire Hathaway (NYSE:BRK.A).
After reading the latest annual report, I didn't encounter any major current litigation or any huge lurking negative catalysts. Things still aren't adding up here.
Balance Sheet/Financial Risk

As we saw earlier, Value Line rates Assurant's financial position an A. This is why.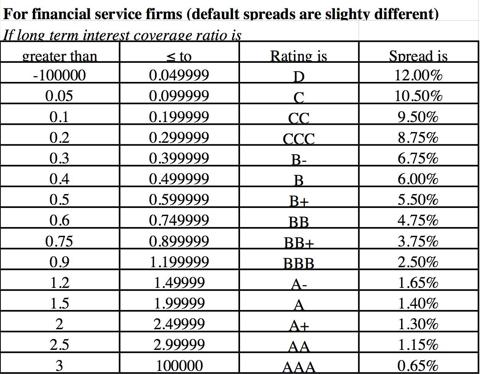 With an interest coverage ratio well in excess of 3, this financial -- based on a table composed by valuation guru Aswath Damodaran -- earns a AAA rating. This makes it's cost of debt extremely low, and subsequently the hurdle that ROE must exceed.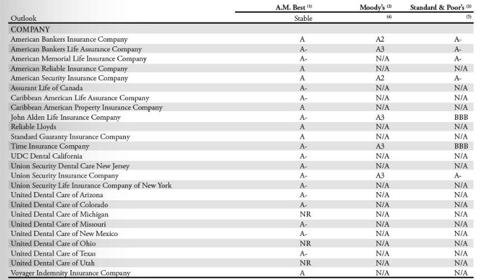 Although they were conflicted with mortgage backed securities, the credit rating agencies still have an important job and generally do it pretty well. For the companies that are rated, the lowest is BBB -- though the majority are fine.
I just simply did not find any big red flags to justify this ultra-low valuation.
Additional Comments
The company has been very active repurchasing shares, which is extremely accretive to earnings when the shares are selling below book value.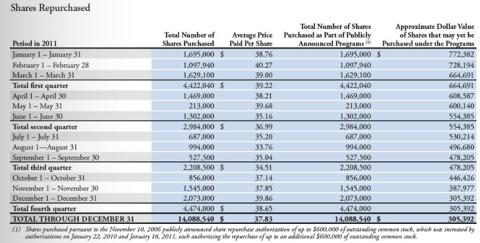 There are currently 81 million shares outstanding, so 14 million in buybacks is considerable. The company carries a dividend yield of over 2%, with an ultra-low payout of about 12%. I read a great report the other day that payout ratios below 20% were far more important when judging the returns in a dividend growth strategy than the yield. That being said, 2% is nothing to laugh at with the U.S. 10-year at around 1.82% today. Finally, the company only has 6% of it's share shorted. That's not a scare at all.
Conclusion
I may be completely naive and missing something huge (if so, please comment -- I don't mind being called an idiot if it saves me money). The only big negative press I saw (that materially moved the stock) was this piece by Bloomberg. That said, with shares at $38 and my lowest, most conservative estimate of value at $67 -- could that really be the reason? I understand the insurance industry as a whole is selling materially below book value, but are of any of them this high quality? For me, the investment thesis looks too good to pass up and I will be looking to add shares at the earliest opportunity. This mirrors the investment I have in AIG, which I have already been rewarded handsomely for.
Disclosure: I am long AIG and may initiate a position in AIZ within the next 72 hours. I wrote this article myself, and it expresses my own opinions. I am not receiving compensation for it (other than from Seeking Alpha). I have no business relationship with any company whose stock is mentioned in this article.