Although we have Sprint Nextel (NYSE:S) in our portfolio and it is our most covered telecom company for our published research, we find it important to devote reports analyzing and evaluating its two top peers AT&T (NYSE:T) and Verizon Communications (NYSE:VZ). We can see why Verizon's stakeholders have much hubris with regards to Verizon Wireless's new smartphone pricing plans, as Verizon Wireless' new subscriber volumes were higher in Q3 2012 versus Q3 2011. However, we think that AT&T may not necessarily want to try to match Verizon Wireless with regards to pricing, considering that AT&T Mobility's network is not as well regarded by customers in comparison to Verizon. Even little Sprint has generated more customer goodwill than AT&T recently. Also, we think that AT&T should hold off on mimicking Verizon Wireless' price moves is because AT&T's 4G-LTE network is but a mere shadow of Verizon's right now. AT&T may be fairly valued, but it pays a strong 5% Dividend Yield ($1.76/Share) and generates plenty of free cash flows to pay it and boost it by 2-3% annually.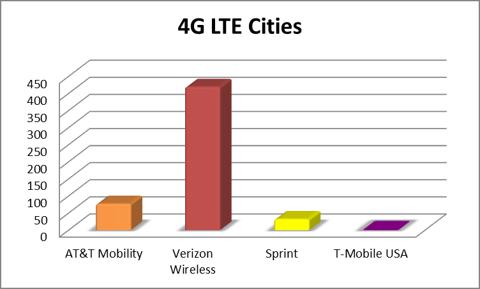 Source: PC Mag
AT&T Mobility continues to be the star-performer and workhorse for AT&T shareholders. AT&T Mobility grew its Q3 2012 revenues by 6.6% versus Q2 2011 levels. Wireless service revenues grew by 6.6%, aided by an 18.3% growth in data revenues. Equipment revenues grew by $381M (28.3%) due to the introduction of Apple's (NASDAQ:AAPL) widely anticipated iPhone 5 smartphone device and were $1.7B. AT&T Mobility's data revenues grew by $1B year-over-year and now represent 44.3% of its service revenues, up from 43.35% in Q2 2012. As AT&T Mobility only grew its total service revenues by $645M and total division revenues by $1B, we can see beyond a reasonable doubt that AT&T is benefitting from carrying Apple's iPhone and iPad and the lucrative data plans that AT&T Mobility can sell to customers. Without the growth in data revenues, AT&T Mobility would have seen a revenue decline.
AT&T also tightened its grip on retaining customers with its strong 1.08% contract customer churn rate, which improved by 7bp versus the prior year period. AT&T's total retail customer churn rate was 1.34%, which regressed by 6bp versus the prior year period. AT&T sold 6.1M new smartphones during the quarter, 4.7M of which were iPhones. Despite the ballyhooed promotional campaign for Nokia's (NYSE:NOK) new Lumia 900 smartphone with Microsoft's (NASDAQ:MSFT) Windows Phone operating system, the numbers were statistically insignificant as Nokia's total North America Lumia sales were about 300K. 18% of iPhone sales were to new AT&T customers (versus 25% for Verizon Wireless) and nearly 64% (44.5M) of AT&T's postpaid subscriber base had a smartphone in Q3 2012, up from nearly 53% (36.1M) in comparable quarter last year.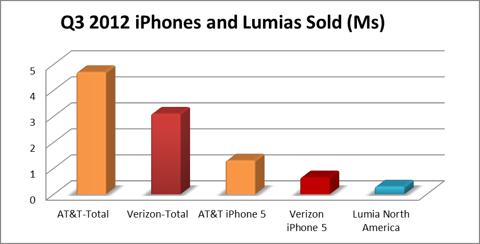 Sources: Wireless Week and Q3 Press Releases for Verizon and Nokia
AT&T Mobility's segment operating income declined by 5.8% year-over-year in Q3 2012 versus the comparable period as gains in operational execution were offset by increased demand for new iPhones. Segment operating slipped from 29.5% in Q3 2011 to 26.2% in Q3 2012. AT&T's smartphone sales represented 81% of postpaid devices sold (up from 77% in Q2 2012) and provide a lucrative $30/per month and up revenue stream for data service. ARPU for retail postpaid customers increased by 2.4% year-over-year and reached $65.20 for the quarter. Because AT&T was the first carrier to sell the iPhone, we're not surprised that AT&T's ARPU exceeds Verizon's and Sprint's. However, Verizon's estimated ARPU increased by 3.1% year-over-year and its average revenue per account increased by 7.2%.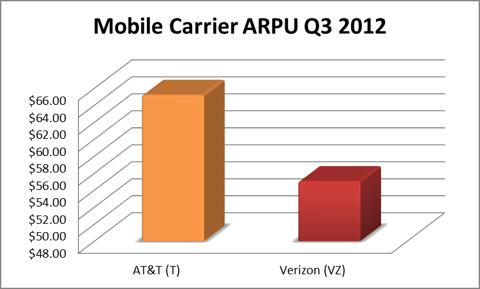 Sources: Q3 Press Releases for AT&T and Verizon
With 678,000 new subscribers added during the quarter, AT&T Mobility's wireless subscriber base increase at a much slower rate than Verizon Wireless. Furthermore, Verizon Wireless had more than 10 times as many retail postpaid subscribers added versus AT&T. AT&T Mobility saw its postpaid customer additions decline 53% in Q3 2012 from the 319K added in Q3 2011 while VZW saw its postpaid additions jump from 882K in Q3 2011 to 1.535M in Q3 2012. We speculate that is probably due to the fact that Verizon offers the largest 4G-LTE network whereas AT&T is still building out its 4G-LTE network. VZW also outshined AT&T on retail prepaid additions, growing by 228K new retail prepaid versus 77K for AT&T.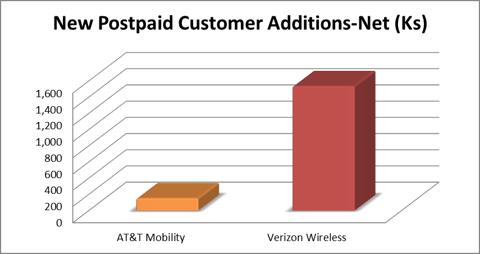 Sources: Q3 Press Releases for AT&T and Verizon
VZW does not itemize its subscriber figures for its reseller and connected devices product lines during the quarter, only during the annual financial reports, so we can't really compare AT&T versus VZW in this segment until the end of the year. We noticed that the bulk of AT&T's new customers came from the reseller and connected devices channels and growth in new customers from the reseller channel single-handedly accounted for the growth in new AT&T Mobility subscribers. Although AT&T Mobility added 313K connected devices customers during the quarter, this was sharply lower than the 1.038M added in Q3 2011. Now that Sprint is joining the iPad party, we expect to see further headwinds to growth and performance in this segment.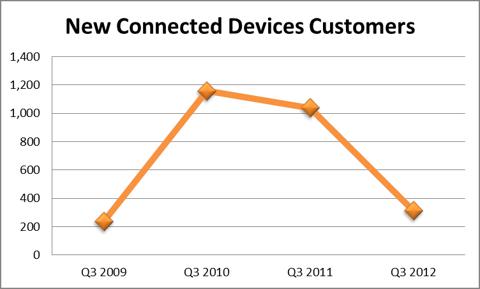 Source: AT&T's Q3 Releases 2009-2012
We believe that this division is maturing as AT&T's corporate-wide capital expenditures have declined by nearly 7% year-to-date and 6.6% versus the prior year's quarter. However, as AT&T Mobility invested $4.9B year-to-date in CapEx, we see that it still sees solid growth going forward in its wireless division. We can also see this because AT&T transferred a $9.5B preferred equity stake in AT&T Mobility to its defined benefits trust and pension fund in order to eliminate a pension plan funding shortfall. In addition to paying $7.7B in dividends YTD, AT&T also spent $7.9B net of employee stock issuance to repurchase shares during the period.
AT&T Wireline is certainly not going to be confused for AT&T Mobility anytime soon. However, the division is mitigating the decline of its traditional wireline business with strategic communications services such as Digital TV, High Speed Internet and Video services to residential and business customers. AT&T U-Verse's subscriber base increased from 4.4M in Q2 2011 to 7.4M in Q3 2012, which represented an increase of 68% over the last 5 quarters. Wireline data revenues grew by 6.9% versus last year's quarter and 7.8% versus YTD 2011 and mostly offset the revenue declines from voice and other wireline services. AT&T Wireline boasts a significantly higher profit margin than Verizon Wireline even though it has a higher cost unionized workforce versus VZ Wireline. AT&T Wireline actually grew its business segment income by 2% as reduced operating expenses and depreciation more than offset the decline in wireline revenues. In fact, AT&T Wireline's Depreciation and Amortization allowance of $2.8B exceeded VZ Wireline's $2.2B in EBITDA.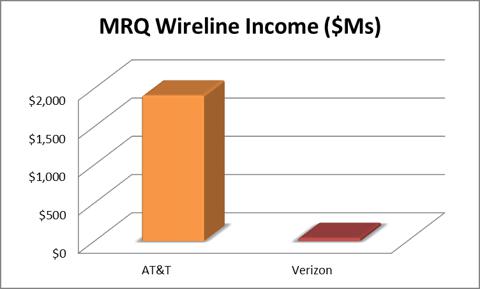 Sources: Q3 Press Releases for AT&T and Verizon
In conclusion, we can't argue with yield hungry investors who are interested in the AT&T-Verizon duopoly, as those companies sport a 5% and 4.7% dividend yield respectively. We can see why AT&T is transferring a $9.5B preferred equity stake in AT&T Mobility to its union plans, as the handwriting on the wall says that AT&T Mobility is no longer a growth engine. We can determine this because AT&T is tendering a minority stake in AT&T Mobility to the pension plan and it is cutting its capital expenditures. We believe that AT&T is a strong cash cow as it has a 2-1 dividend coverage ratio based on its 2012 YTD free cash flow of $15.6B and its $7.7B in dividend payments. Based on the strong market presence for AT&T and Verizon, we felt confident that each company will maintain and steadily expand its dividend by 2-3% annually. In our professional opinion, we think that both Verizon and AT&T are suitable candidates for a dividend-rich portfolio. Verizon still leads AT&T in the Wireless communications business (except for its 45% Minority Interest Tribute to Vodafone) and AT&T still performs better in the wireline communications segment than Verizon. We maintain that both companies would be more suitable to income-oriented investors than blue-chip growth investors because we believe that both companies are underestimating Sprint's transformation efforts and this was before Sprint partnered up with Softbank. That thesis was proven by the fact that Sprint's shares have increased by over 60% since the middle of July, vs. flat performance for AT&T and Verizon.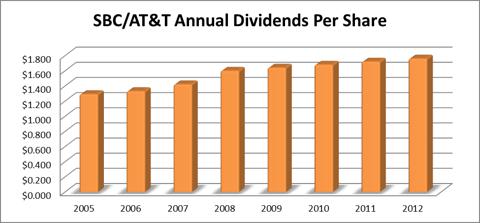 Source: AT&T/SBC Dividend History
Disclosure: I am long S, AAPL. I wrote this article myself, and it expresses my own opinions. I am not receiving compensation for it (other than from Seeking Alpha). I have no business relationship with any company whose stock is mentioned in this article.
Additional disclosure: This article was written by an analyst at Saibus Research. Saibus Research has not received compensation directly or indirectly for expressing the recommendation in this article. We have no business relationship with any company whose stock is mentioned in this article. Under no circumstances must this report be considered an offer to buy, sell, subscribe for or trade securities or other instruments.