by Kimberly Chan
Denny's Corporation (NASDAQ:DENN) is releasing its 2012 Q3 earnings statement next week on October 30th. This family-style restaurant has been popular in the United States for decades, and its marketing and business strategies intend to keep it that way. Due to the promise of a high customer inflow and a global expansion in the near future, investors may want to buy DENN.
Movie-Themed Marketing:
The popular breakfast restaurant has partnered with Warner Bros. Pictures (NYSE:TWX) to deliver a new set of themed breakfast items. The new additions to the menu are based upon the upcoming movie "The Hobbit: An Unexpected Journey". Character named meals like the "Hobbit Hole Breakfast" will likely entice fans- adults and children alike- to try the new menu. In addition, Denny's has released Hobbit-themed advertisements and commercials.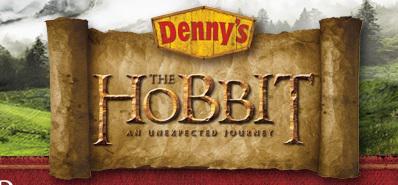 Source: Gamezone- The Hobbit Partners with Denny's
On November 6th, these items will be available to the public. However, they will only be available for a limited time, probably at least until after the "Hobbit" movie releases on December 14th. The exclusivity of the limited time only Hobbit-themed menu at Denny's adds to the hype and advertisements. The huge following of the Lord of the Rings series, along with regular enthusiastic Denny's customers will likely increase the earnings during this time period.
Global expansion:
Denny's restaurants already pepper the map in the United States, with a high brand popularity and customer following. Over the years, they have expanded to Canada, New Zealand, and Latin American countries such as Costa Rica, Mexico, Honduras, Guam, Curaçao, Puerto Rico, and the Dominican Republic. They have recently signed an agreement with Great China International Group. The business plan is to open 50 new restaurants in Southern China over the next 15 years. The first one is to open in 2013.
In addition, Denny's has signed an agreement with Musiet Group. Similar to the expansion plan in China, Denny's is to open 10 new restaurants in Chile over the next 15 years. Again, the first is to open in 2013. There is also word that Denny's is currently looking to enter the Indian market. With more of a global presence, Denny's can further build its brand and gain worldwide recognition.
Conclusion:
Even though Denny's Corporation has not done exceedingly well with earnings in the past two years, the company's new endeavors should put more faith into the stock. Analysts have estimated that this year's total revenue is a 9% decline from last year's. However, despite a few drops in stock price in May and in late September to October, DENN has overall been on an upward trend since January.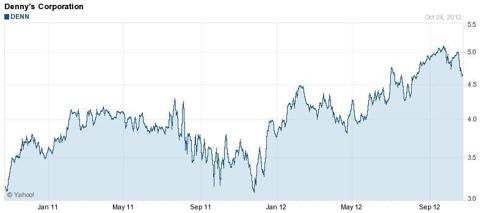 Source: Yahoo Finance DENN chart
The Hobbit-inspired menu and the future global expansion are causes for earnings to increase. In addition, these moves taken by Denny's might reinstate good faith in the stock. Investors may want to buy soon while DENN is still at a lower point, in case it quickly increases in the near future.
Disclosure: I have no positions in any stocks mentioned, and no plans to initiate any positions within the next 72 hours. I wrote this article myself, and it expresses my own opinions. I am not receiving compensation for it (other than from Seeking Alpha). I have no business relationship with any company whose stock is mentioned in this article.