Gold investors know that one benefit of investing in the yellow metal is diversification. Gold's correlation, or price behavior relative to other investments, has been low when comparing it to stocks, bonds and commodities. In fact, its correlation to the U.S. dollar is negative, which should make sense to most investors.
The World Gold Council recently issued a report on gold metrics and highlighted the long-term and 2012 correlation trends for gold. Two important observations emerge from the correlation data.
First, gold has increased its level of negative correlation to the U.S. dollar in 2012. Its -.2 correlation to the greenback since 1987 doubled to more than -.4 in the first two quarters of 2012. This is likely due to the speculation and eventful occurrence of QE3.
Secondly, gold has become more correlated over the first half of 2012 to commodities, global bonds, emerging markets and global equities. While gold's correlation to these asset classes in 2012 has more than doubled, the most gains in correlation have come in emerging markets and global equities. These correlations have more than quadrupled in 2012.
(click images to enlarge)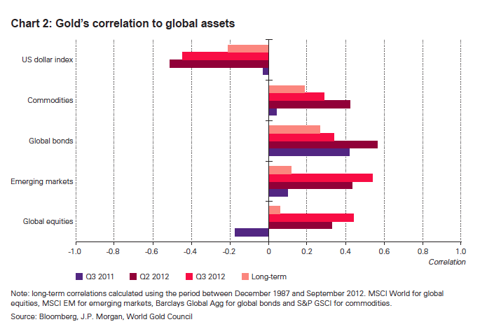 Source: World Gold Council
While these correlation deviations have occurred, physical gold ETFs like the SPDR Gold Trust (NYSEARCA:GLD) and the iShares Gold Trust (NYSEARCA:IAU) have experienced healthy gains of just over 9% in 2012. Here's the performance grid from GoldETFs.biz.

Rising correlations of gold to other major asset classes (except for the U.S. dollar) is certainly a trend to keep an eye on. Gold has historically been attractive due to factors including portfolio diversification, but if that benefit lessens, could gold prices suffer? Probably not, because gold has doubled its negative correlation to the U.S. dollar -- the world's reserve currency -- at the same time. That U.S. dollar correlation trend is bullish for gold, and could result in upside price movements that overwhelm any losses due to gold's increased correlations to stocks, bonds and commodities.
Disclosure: I have no positions in any stocks mentioned, and no plans to initiate any positions within the next 72 hours. I wrote this article myself, and it expresses my own opinions. I am not receiving compensation for it. I have no business relationship with any company whose stock is mentioned in this article.
Additional disclosure: Christian Magoon publishes the gold ETF website, GoldETFs.biz.