Shares of the oncologic drug developer Exelixis (NASDAQ: EXEL) saw a giant slide in August on a steep miss in Q2 2012 revenue, which was exacerbated by a public offering of 20 million shares and a huge $225 million pool of convertible senior subordinated notes (announced August 6th, 2012 in this press release.) Shares dropped about 25% on the dilution, and struggled to breach the psychological $5/share barrier until September. $5/share is a key level to watch, since any stock that is below 5 is traditionally considered a "penny stock", which scares away many asset managers who would have been happy buying shares of the company otherwise.
While it's true that negative connotation with sub-five dollar stocks isn't as prevalent in the biotech sector due to their frequency, recent trading in EXEL suggests that the market is hesitant to bring EXEL out of penny stock status. Basically, we are seeing $5/share as a "ceiling" for Exelixis' trading range.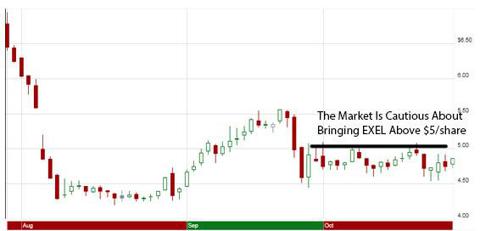 Exelixis saw a major relief rally all throughout September, which followed a surprised cancellation of an FDA oncologic drug advisory committee (ODAC) meeting that was scheduled to provide opinions on the approval of cabozantinib for the treatment of Medullary Thyroid Cancer (MTC) prior to the final FDA decision. Exelixis submitted the NDA for cabo's treatment of MTC earlier in the year, and received notification from the FDA of a priority review on July 30th. This set a PDUFA action date of November 29, 2012, which still holds.
Much of September's rally was lost near the end of the month due to block-selling (huge sell orders which caused dramatic bearish action), which signified that some of the larger EXEL shareholders were not as confident about the company's clinical trial data for cabozantinib for the treatment of Metastatic Castration-Resistant Prostate Cancer (MCRPC).
One interesting thing about Exelixis is that the company sold compounds in its old pipeline to focus entirely on a single flagship compound - cabozantinib. Cabozantinib is the first dual VEGF/c-MET angiogenic inhibitor. Angiogenic inhibitors stop blood vessel growth, which is useful for cancer (which requires abnormal blood vessel growth to sustain metastasis). VEGF inhibitors are a dime a dozen, and c-MET has already been targeted by a few compounds, but cabo does both and seems to be very potent.
Fresh interim phase II data for cabozantinib that was presented at ESMO 2012 (the European Society for Medical Oncology) on September 30th didn't seem to garner much interest from the bulls, which explains why EXEL has been a range-traded stock all throughout October.
Speculation over FDA decisions often leads to volatility and strange movements leading up to the PDUFA date, but it seems that EXEL investors are too focused on cabozantinib's situation with prostate cancer treatment to care much about the NDA for Medullary Thyroid Cancer. Prostate cancer is, after all, a larger market which would hypothetically bring Exelixis the bulk of it's future cash flow. If you've been following cabozantinib, note that the interim results from ESMO 2012 were not from the "main" phase III clinical trial which is comparing cabozantinib to prednisone in second-line treatment. This trial (known as the COMET-1 trial) is going to be the key driver of EXEL stock, but won't reach primary completion until March 2014 or so.
Due to the emphasis on Exelixis' prostate cancer prospects, I don't expect the FDA decision on cabozantinib's NDA for the treatment of MTC to be a huge driver of the stock. Clearly, an approval on November 29th will be good news for EXEL shareholders. MTC is an orphan disease, meaning that it affects less than 200,000 in the United States. This makes cabo an orphan drug for MTC, meaning it gets 7 years of exclusivity upon approval for a patient population of roughly 20,000. Still, orphan drugs are generally not very profitable due to the rarity of their target diseases.
A competing MTC drug known as CAPRELSA (vandetanib), marketed by AstraZeneca (NYSE: AZN) generates only $7 million per quarter. Assuming that cabozantinib could match CAPRELSA's market penetration and sales revenue in the future, the $28 million/year in revenue would barely justify the value of Exelixis itself. EXEL, at its last closing price of $4.86, implies a market cap of $724 million. The takeaway is that the sheer size of Exelixis makes the upcoming PDUFA decision for cabozantinib's NDA for MTC is not a very big deal. It may be enough to move EXEL out of its current trading range (~$4.50-5/share), but we won't see any major action for quite some time.
Disclosure: I have no positions in any stocks mentioned, and no plans to initiate any positions within the next 72 hours. I wrote this article myself, and it expresses my own opinions. I am not receiving compensation for it. I have no business relationship with any company whose stock is mentioned in this article.