The MLP industry has an unusually attractive record of growth over the last 17 years. The Alerian MLP index has grown from 100 in 1996 to 409 and the comparable index with reinvested income has risen to 1280. The large difference between the 2 indices shows that these growth securities are viewed primarily as yield securities.
I have written many articles about Kinder Morgan Energy Partners (NYSE:KMP) and Enbridge Energy Partners (NYSE:EEP), 2 large MLPs, which have companion corporations, Kinder Morgan Management (NYSE:KMR) and Enbridge Management (NYSE:EEQ). These corporations allow investors to share in growth of the MLP business while receiving dividends and avoid complicated tax issues associated with K-1 tax forms issued by MLPs. But one disadvantage for some investors is that these corporations pay stock dividends, so they are not appropriate for investors looking for investment income. Now there is a new comparable MLP corporation which provides dividends with income and some tax advantages.
LINE had an IPO for a second company 2 weeks ago, LinnCo (LNCO), a companion corporation to the partnership, that gives an investment choice in this growing business. The offering of 34 million shares raised $1.2 billion for Linn Energy. Proceeds give the company greater access to capital to pursue the acquisition growth strategy. Each share of LNCO is backed by one unit of LINE. Presently, the units pay an annual distribution of $2.90 which generates a dividend of $2.84 (net of reserves for corporate income tax) for each share of LNCO. The Q3 distribution and dividend were declared this week and will be paid in November. The quarterly distribution from LINE has increased from 40¢ in 2006 to 72.5¢ presently. The LNCO dividend should be increased the same as for the distribution.
The LINE distribution has been 100% free of taxes, but that creates tax hassle and additional recording keeping. LNCO pays dividends that will generate a 1099 instead of form K-1. The company expects that up to 60% of the dividends will be taxable and classified as qualified dividends (assuming qualified dividend tax rates remain next year).
LINE is an upstream natural gas and crude oil producer that acquires long life energy properties for more production. LINE takes out long-term hedges (4-6 years) to protect cash flow which allows for upside potential. Since 2003 it has acquired 54 properties for $10 billion. The business grew 30% in 2011 and the company estimates 20% growth in 2012. In less than a decade it has become the 8th largest MLP. LINE investments are shown below (including Wyoming's Jonah Field which was acquired 3 months ago for over $1 billion).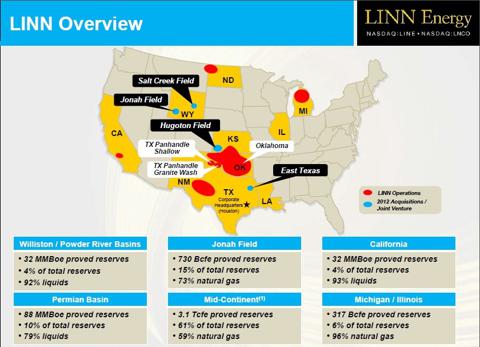 LINE just announced it earned $89.8 million in Q3, or 45¢ per unit which topped the 26¢ estimate. Last year, adjusted profit excluding items, was $78.6 million. Average daily production in Q3 doubled over 2011. Revenue was $460 million, up from $295 million a year ago and it compares with $550 million that analysts expected. Additionally there was a $430 million loss due to losses from commodity derivatives intended to reduce fluctuations in cash flow. As a reminder, distributions are paid from distributable cash flow which is higher than net income because it includes non-cash items such as depreciation.
Now there are more ways to share in MLP income and growth without tax hassle. For years, KMR and EEQ provided stocks to track growth of units. Currently they have implied yields of about 7%. Now LNCO is available and at $38.80 it provides a 7.3% yield, one of the highest available from any MLP and it's paid with money. High income is taxed at low rates and dividends are expected to grow. Capital appreciation is a bonus. For traditional MLP investors who like high yields with tax advantages, MLP units can be purchased. In a low interest rate environment lasting for at least 2 years, the choice seems easy.
Disclosure: I am long EEQ. I wrote this article myself, and it expresses my own opinions. I am not receiving compensation for it (other than from Seeking Alpha). I have no business relationship with any company whose stock is mentioned in this article.