After being left for dead earlier this year, First Solar (NASDAQ:FSLR) has made a rather nice comeback lately. With the market realizing that the prospect of the entire solar sector going bankrupt may have been just a tad overblown, First Solar is up over 110% from its low of $11.43 on June 4th. However, all is not rosy for the solar industry. A quick examination of the two major solar ETFs, Market Vectors Solar Energy Index (NYSEARCA:KWT) and the Guggenheim Solar ETF (NYSEARCA:TAN) will reveal that they are both currently at their 52-week lows. This is largely due to the funds' exposure to Chinese solar firms, who have been absolutely battered after the U.S. imposed tariffs intended to prevent them from dumping their products in the U.S. market. With First Solar due to report earnings Monday, we need to find a way to play the announcement, while providing downside protection from the extremely volatile solar industry.
In full disclosure, I am a big fan of solar power. I believe in solar over the long term. I do not believe that solar power will be implemented on a wide scale overnight. It may very well take 30 years or more before solar power is truly mainstreamed and accepted as an energy source and not just an "alternative."
First Solar is by far the leader in solar technologies. They constantly break their own records for solar panel efficiency. They are also an incredibly volatile stock, with a historical volatility of 82.9%. Volatile stocks always create income opportunities around earnings time, so first let's examine how earnings releases have moved FSLR in the past. As you may guess by the tremendous fall in its stock price, FSLR has not done well in regards to meeting analysts' expectations. It beat expectations in its most recent report, however before that it had an awful streak of 4 consecutive terrible quarters.
First let's examine what happens when FSLR surprises to the upside. When the company reported on August 1st, it reported earnings of $1.65 per share, shattering analysts' estimates of $0.90. On July 31st, the day before the announcement, the stock closed at $14.80. Over the month of August, the stock steadily rocketed upward, peaking at $26.31, a 78% move!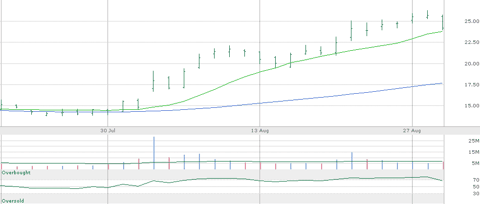 Next, let's see what has happened as a result of missing expectations. The following table illustrates what has happened the next day, one week later, and two weeks later following a bad announcement:

So, First Solar can definitely move drastically in either direction following an announcement. This implies a need for downside protection, as well as allowing adequate profit potential should the company surprise the market to the upside.
I'm proposing a two sided trade to do just that. All of the options discussed are the weeklies expiring on Friday, November 2nd. First, I want to give myself an opportunity to take advantage of the potential upside by buying the $25 calls for $1.32 and selling the $28 calls for $0.51, a net debit of $0.81. Next, I want to protect myself from the downside by buying the $23 puts at $1.27 and selling the $20 puts for $0.40, a net debit of $0.87.
I'm essentially betting that the stock will move significantly in either direction following the report. Ideally, it will pop above $28 or drop to below $20. If the stock finishes the week above $28, the put spread will expire worthless, however the call spread will be worth $3.00, a gain of 78.6%. If the stock finishes below $20, the call spread will be worthless, but the put spread will provide us with the same overall gain of 78.6%. This trade is profitable as long as the stock moves outside of the $21.32-$26.68 range, approximately an 11% move in either direction. This sounds like a lot, however, given First Solar's performance after past announcements, seems like a completely reasonable risk for a potential 78.6% gain in a week.
Disclosure: I am long FSLR. I wrote this article myself, and it expresses my own opinions. I am not receiving compensation for it (other than from Seeking Alpha). I have no business relationship with any company whose stock is mentioned in this article.