Earnings reports continue to disappoint in the third quarter and the market is becoming increasing volatile. Given the concerns around the fiscal cliff, the upcoming election and the still unresolved debt crisis in Europe; I think the market will be stuck in a defensive mode throughout the fourth quarter. I think investors should tread with caution and allocate money in a prudent manner. One stock that should provide safety in the storm is Vodafone (NASDAQ:VOD) which provides a very high yield (VOD paid out $2.10 a share in 2011, and should pay out at least that this year provided it gets its dividend distribution from Verizon wireless this year which I assuming will continue), cheap valuations and has some other positives at these price levels.
Possible positive catalysts for VOD:
After falling for months, consensus earnings estimates for both FY2013 and FY2014 have stabilized over the last thirty days.
Given the performance of Verizon (NYSE:VZ) wireless recently, Vodafone should be in line to receive a substantial dividend from this partnership (it owns 45%) at the end of the year.
As part of possible reforms, the Indian government may take a new look at the 2 billion in retro taxes it leveled on the company's operations there.
The stock is approaching a long term technical support range which should put floor under VOD (See Chart)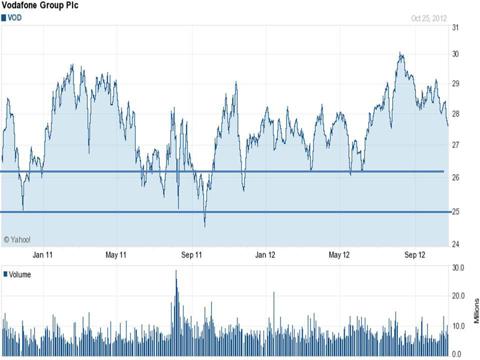 Vodafone Group Public provides mobile telecommunication services to approximately 370 million customers worldwide.
4 additional reasons that VOD is a good value pick up at just over $27 a share:
The company boasts an A- rated balance sheet, a low beta (.76) and yields over 7% based on 2011's payout or the the last twelve months of dividend payouts.
This high yielder is selling at less than 11x forward earnings and under 7 times operating cash flow.
Concerns around the roughly 70% of the company's revenues that come Western Europe seem priced into the stock. However, the company's growing emerging market exposure which is growing better than 7% seems to be discounted here.
Data services will grow over 20% in FY2012 and now account for 15% of total revenues. This should continue as the company has revealed that they plan to sell the latest Apple iPads, the iPad Mini and the Fourth Generation iPad.
Disclosure: I have no positions in any stocks mentioned, but may initiate a long position in VOD over the next 72 hours. I wrote this article myself, and it expresses my own opinions. I am not receiving compensation for it (other than from Seeking Alpha). I have no business relationship with any company whose stock is mentioned in this article.