In brief, gold will rise. I have speculated that gold is showing a preference for Obama to be the victor of the upcoming presidential election. In the weeks following the first debate (which most agreed Romney won) gold fell, prompting me to proclaim gold a "liberal."
The chart below of the SPDR Gold Trust ETF (NYSEARCA:GLD), illustrates the punishment that gold has taken since that first debate.
Click to enlarge images.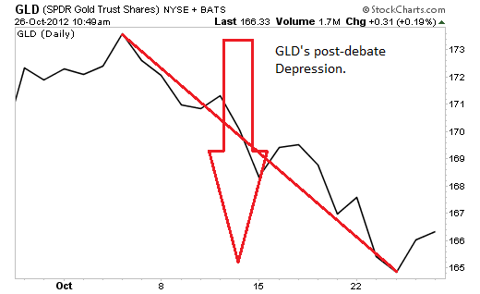 It has rebounded recently, but I expect little additional movement until after the election. A Romney victory could send GLD lower, presumably because Mr. Market thinks that a Romney administration would implement a tighter monetary and fiscal acumen.
On the other hand, based on recent performance, an Obama victory would send GLD immediately higher, Mr. Market assuming he'd be in for four more years of the same stuff that got GLD where it is today.
The longer-term chart supports the higher gold price thesis and details the likely range of trade.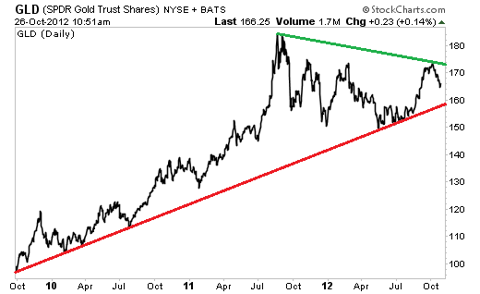 The lift GLD got beginning in early 2011 and that terminated in August of that year has be completely corrected, and GLD is now trading right in the middle of the appropriate range. That price consolidation, which brought GLD down from late summer 2011 historic highs to late spring 2012 lows, establishes the ETF in a range between $160.00 and $170.00 per share. The ETF is lingering perfectly in the middle, poised to break out one way or the other once it is known who will be president.
Gold bulls, of which I am one, still believe much higher prices are destiny, regardless of the victor in this presidential election. The post-election breakout, if down, will be a temporary aberration.
Destiny comes in the form of an unstoppable trajectory. While fiscal austerity and monetary stringency in theory are plausible, there are none that are willing to do what is necessary to "fix" the problems. As such, the only "hope" (yes, that's a bit of an overuse of the quotation marks, but justifiable) of surviving what even Larry Fink of BlackRock sees as a recession next year is to continue what we've been doing. In that case, it is irrelevant who is president. Peter Schiff, one of the most famous gold proponents, was on CNBC recently sticking to his conviction of gold going as high as $5,000.00 per ounce.
I don't know if gold gets there, but I am certain it will go higher. Money will be conjured at the swipe of a keyboard at the Federal Reserve ad infinitum. As the U.S. and the globe sink into a recession, all central banks will be active in the same process. Commodity prices will rise again.
GLD investors and traders should be prepared for immediate-term drawdowns, which can be considered buying opportunities. But don't get shaken out of your longs permanently. Gold is going higher.
Disclosure: I have no positions in any stocks mentioned, and no plans to initiate any positions within the next 72 hours. I wrote this article myself, and it expresses my own opinions. I am not receiving compensation for it (other than from Seeking Alpha). I have no business relationship with any company whose stock is mentioned in this article.