Starbucks (NASDAQ:SBUX) reports Q4 results on Nov. 1. The Street expects the following:
Revenue: $3.39 billion
EPS: $0.45
Q1 guide: $3.81 billion
Starbucks reported Q3 EPS of $0.43 that fell below the consensus of $0.45 per share. Management also lowered its full fiscal 2013 EPS of $2.04-$2.14 (vs. consensus of $2.28) due to a deterioration of the macro environment and a broad-based slowdown.
Despite the current softness in the macro environment, investors should note that:
Elevated coffee price is accretive to Starbucks margin in the near term.
Starbucks' K-Cups dollar penetration continues to climb at the expense of Green Mountain Coffee Roasters (NASDAQ:GMCR).
The company's recent sales initiative may stabilize same-store sales.
Elevated Coffee Prices Should Be a Positive for EPS and Margins
Over the past two years, coffee prices have declined to $1.74 as of September compared with $2.29 per pound in the same month last year.
Click to enlarge images.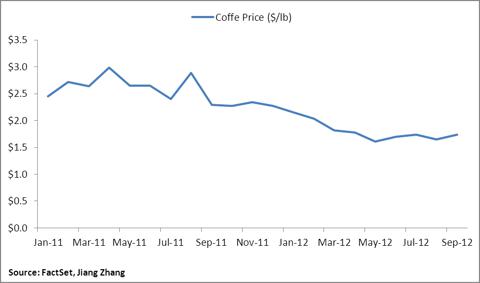 Starbucks locked in its coffee cost through FY2013 and started to purchase into FY2014 due to the elevated coffee prices which is favorable to margin and EPS improvement.
Starbucks continues to gain K-Cups dollar share
Since introducing its K-Cups about a year ago, Starbucks continues to gain market share at the expense of Green Mountain. According to data from Nielsen's, Starbucks commands 16.9% of the K-Cups market share, up from 11.2% in January, while Green Mountain saw its market share decline to 57% from 59% over the same period.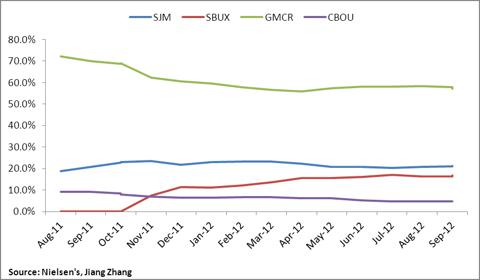 In my view, Starbucks will continue to gain K-Cups market share at the expense of incumbents and mass-market brands in the long term given its superior coffee quality, strong brand equity, and competitive pricing. However, the near-term outlook is a bit uncertain as consumers cut back on high-end products and look for low-cost alternatives (e.g., private label K-Cups). I note that Safeway and Kroger have recently introduced their own K-Cups as Green Mountain's K-Cups near expiration. While I do not believe that the private labels will significantly affect Starbucks K-Cups sales, they could initially gain some traction due to the novelty effect as consumers experiment with the product to determine its quality.
Sales-Driven Initiative to Stabilize Same-Store Sales
Despite the weak Q2 same-sore sales, management rolled out several initiatives that will be accretive to store sales, namely Treat Receipt and the discount Starbucks card (a $10 card for $5) on Living Social. In addition, the company has started selling the Verismo single-serve machines in its stores for $199, just in time before the holiday season. Despite the low margins carried by the machine, I expect solid sales from first-time single-cup machine buyers who are also loyal to the Starbucks brand. The long-term commitment to purchase the Starbucks K-Cups will offset the short-term margin softness.
Finally, investors should be excited for the La Boulange rollout in the spring of next year as Starbucks expands its food menu. Based on channel checks, Stabucks stores on the West Coast have started selling Evolution Fresh juices, which will greatly expand the company's target consumers.
Disclosure: I have no positions in any stocks mentioned, and no plans to initiate any positions within the next 72 hours. I wrote this article myself, and it expresses my own opinions. I am not receiving compensation for it (other than from Seeking Alpha). I have no business relationship with any company whose stock is mentioned in this article.