Australian exports of liquefied natural gas (LNG) in a post-Fukushima world could power the next wave of the Lucky Country's ongoing resource-based boom.
AGL Energy Ltd (OTCPK:AGLNF) is among the top two providers of electric power within the Australian economy. With more than 3 million customers in four states the company continues to make the case for natural gas' domestic applications.
AGL's AUD300 million Newcastle Gas Storage Facility in New South Wales is expected to be operational in 2015. It will include a processing plant to convert pipeline natural gas into LNG. This processing plant will be capable of processing 66,500 metric tons of LNG per annum.
Also on site will be an LNG storage tank with capacity of 33,000 metric tons, equivalent to 1.5 petajoules of natural gas, coupled with a containment tank and a regasification unit to convert stored LNG back into natural gas.
This project is designed to serve as many as 700,000 businesses and consumers. It's one more invest-to-grow effort that makes AGL one of the best long-term wealth builders in the world.
AGL maintains consistent performance because it owns and operates one of the best-diversified portfolios in the electric utility industry and regularly adds to its asset base via advantageous transactions.
This latter point was reinforced with AGL's AUD448 million buyout of the 67.5 percent of the Loy Yang A power plant and adjacent coal mine that it didn't already own.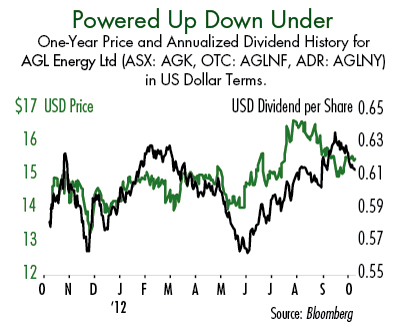 Loy Yang boosts AGL's owned or controlled generation by 33 percent, to 6,000 megawatts and will help it equal Origin Energy Ltd (OTCPK:OGFGF) as Australia's biggest electricity company.
Management forecasts the acquisition will be accretive to underlying earnings per share beginning with fiscal 2013. Loy Yang is expected to remain one of the lowest-cost generators in Australia's national electricity market, thanks to cheap brown coal and AUD1 billion in free carbon permits.
AGL is also building two solar projects in New South Wales at a cost of AUD450 million, AUD194.6 million of which will come from government grants. AGL and engineering and construction concern First Solar Australia Pty, a division of US-based First Solar Inc (NASDAQ:FSLR), will build a 106 megawatt photovoltaic project at Nyngan and a 53 megawatt project at Broken Hill. Construction on the projects will begin in fiscal 2013, with projected completion in fiscal 2015.
AGL has also received approval for its proposed Dalton Power Station. The company now has a five-year window within which to render a final investment decision. Dalton is a proposed gas turbine facility that would act as a "peaking" power station, with initial capacity of 250 megawatts to 780 megawatts and ultimate capacity of 1,500 megawatts.
AGL's portfolio of generation assets boasts a "carbon intensity" approximately 50 percent below the average across Australia's National Electricity Market, reflecting AGL's substantial investment in renewable energy assets. In fact, it's Australia's biggest owner/ operator of renewables.
AGL reported underlying profit of AUD482 million for the 12 months ended Jun. 30, 2012, up 11.8 percent from the prior corresponding period and in line with management's guidance. Revenue for the period was AUD7.456 billion, up 5.4 percent, as retail revenue rose 14.8 percent and gross margin per customer expanded by 6 percent.
Operating earnings before interest, taxation, depreciation and amortization (EBITDA) on the merchant side rose 20.3 percent to AUD628.5 million. Overall underlying operating cash flow before interest and taxation grew by 4.9 percent to AUD750.7 million.
Statutory net profit after tax (NPAT), which includes costs associated with the Loy Yang as well as changes in the fair value of hedging contracts, was down 79.4 percent to AUD114.8 million.
AGL added 180,000 customers during fiscal 2012, with new signups in all Australian states in which it operates. The company's organic growth strategy resulted in a net increase of 32.5 percent in New South Wales customers.
The company boosted its final distribution 6.6 percent to AUD0.032 per share, bringing the full-year payout, including the AUD0.28076 interim dividend, to AUD0.60076 per share.
Management said it would achieve "good growth" in its merchant energy business in fiscal 2013 due to the Loy Yang acquisition but also forecast continuing soft demand for electricity. AGL, as is its custom, didn't provide numeric guidance but did project "continued growth in fiscal 2013 underlying earnings per share."
AGL's fiscal year runs from July 1 to June 30. The company reports full financial and operating results twice a year; it typically posts first-half results during the third week of February, with full fiscal year numbers out in late August.
Many Australian stocks, including AGL declare interim dividends in February along with first-half results. Final dividends are usually declared in August along with full fiscal-year results.
Disclosure: I have no positions in any stocks mentioned, and no plans to initiate any positions within the next 72 hours. I wrote this article myself, and it expresses my own opinions. I am not receiving compensation for it. I have no business relationship with any company whose stock is mentioned in this article.