KiOR's (NASDAQ:KIOR) shareholders have been taken on their second rollercoaster ride in almost as many months, with the sharpest moves occurring over the last 72 hours. (It's a shame from my perspective as a frequent call- and put-writer that options aren't available for KiOR shares, as I can only imagine where the implied volatility would be right now if they were.) Much of this volatility is related to the company's start-up efforts at its 545 metric ton per day (MTPD) catalytic pyrolysis and hydrotreating facility in Columbus, MS. First, there was the 20% intraday drop following the company's mid-August earnings call, which revealed that the company only has enough cash on hand to last until early 2013 at current spending rates, placing tremendous importance on the ability of the Columbus facility to begin generating fuel (and revenues) on schedule. More recently, the share price fell by nearly half during the first three weeks of October before experiencing a partial rebound since Wednesday: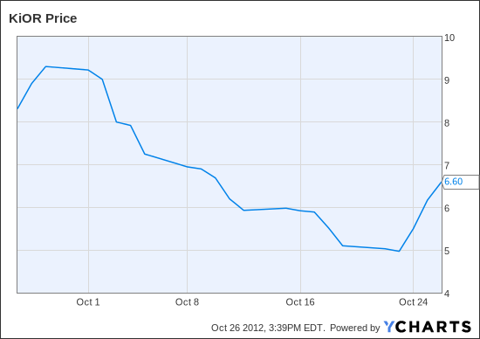 KIOR data by YCharts
I always find it odd when a stock price experiences a significant drop on no new public information, and my thoughts on KiOR were no different. A possible explanation came on October 16 when I received a phone call from a reporter with the Columbus Dispatch, Sarah Fowler, who told me that the Columbus facility was at least two weeks behind its scheduled start-up date. Corporate management had earlier stated that the start-up phase would occur in September. I told Ms. Fowler on-the-record that while I wasn't aware of any production delays, the start-up process can be very bumpy for facilities employing new pathways, such as the catalytic pyrolysis pathway employed by KiOR, and a delay would only be of concern to shareholders due to the company's low cash reserves. The next day The Dispatch published an article (including my remarks) that stated the Columbus facility was experiencing production delays. The share price fell another dollar over the next 48 hours to $5/share. (While the link to the original article is no longer available, an editor's note at the end of the revised article describes its contents.)
(For those who read The Dispatch's article, please note that it contains two important errors. First, I am a researcher and instructor, not a professor. Second, KiOR's Columbus facility will be the largest cellulosic biofuel facility in the world if it commences operations this year, not the largest biofuel facility. I contacted Ms. Fowler regarding these errors shortly after publication and, while I received a positive response, the corrections were not included in the revised article.)
On October 19, The Dispatch revised its original article and removed all references to production delays. On October 24 KiOR's management told Raymond James & Associates (as detailed in a report released yesterday) that the company is still on track to begin selling its cellulosic biofuels by the end of the year. The share price has since recovered more than a third of the price drop experienced since the beginning of October.
While it's tempting to attribute the stock's fall in price since the start of the month to the article in The Dispatch, it's important to note that the stock lost 35% of its value between October 1 and October 16 (the day before the article's publication). Perhaps this is a coincidence, or perhaps a large shareholder made the mistake of trading an unfounded rumor. Either way, KiOR shareholders should pay close attention to the company's next earnings call on November 8 for more details on how the Columbus facility's start-up phase is progressing. While shareholders should be happy to hear that The Dispatch's report of a significant production delay is inaccurate, this episode illustrates the danger posed to investors by the company's cash reserve situation. If the stock price can drop by almost 50% due to an unfounded rumor of a production delay, how much will it lose should such a delay actually occur?
Disclosure: I am long KIOR. I wrote this article myself, and it expresses my own opinions. I am not receiving compensation for it (other than from Seeking Alpha). I have no business relationship with any company whose stock is mentioned in this article.
Additional disclosure: I have not made any transactions involving KIOR stock since June 2012.