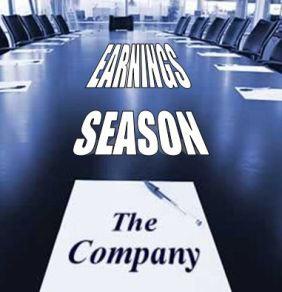 I hate earnings season. I get incensed and just know that it's reflected in my blood pressure and my inter-personal relationships at least four extended times each year. The rest of the year I just find something else to blame it all upon.
I'm normally a conservative kind of person. That carries through to my approach to investing. I like money, but I don't like risk associated with making more than what seems to be a fair return. I'm always amazed at the people who routinely place their faith and money into some high profile companies that so often seem to have irreparable price catharses the very first time their earnings disappoint or their future growth prospects aren't in the stratosphere.
But to be honest, I'd like to be that kind of person that would occasionally throw all caution into the wind just for the opportunity to feel it whipping through my hair, in addition to the obscene profits.
I suppose that in my worst nightmare there would be some sort of scenario revolving around the earnings reports being released for my portfolio of margined dot com stocks on the same day the Federal Reserve raises rates by a few hundred basis points. Even worse if that day is a Tuesday.
That typically means that I dread earnings season for what it does to stock prices. It seems that the wild moves upon their release or the release of guidance are just too large to warrant opening new positions in the face of those reports. For someone as myself, whose conservative nature is reflected in the consistent use of covered calls, I always have cash to invest at the end of each week, as I tally up the list of positions that are assigned. I need new positions as much as I need caution.
And so each Friday evening begins the task of looking for the next week's new positions. During earnings season, there's also that additional task of seeing whether or not the risk associated with earnings being released within days of the new position might make the position untenable. Earnings season makes it unnecessarily difficult and adds to the process.
I don't like extra work. That amounts to extra work.
But this earnings season is somewhat different. Not because the market isn't punishing companies for disappointment or for their negative guidance, but because I have finally seen the best combination ever since corned beef and mustard, and it won't clog your arteries or erode your gastric lining.
The combination is that of a high flying momentum stock and its earnings report. I should also mention that it involves accepting the fact that an adverse and overblown reaction to earnings isn't necessarily the worst thing in the world, at least to a point. You don't, in fact, have to be a short seller to appreciate the potential beauty of a falling stock and you can still be faithful to your conservative and wary roots.
Although there is no shortage of strategies involving the use of option products to create profits from uncertainty and sudden price movements, including straddles or simply buying puts or calls, they involve too much risk. Besides, buying options is antithetical to someone who sells options in the belief that only greedy speculators buy options and that they are most likely to expire worthless.
This strategy involves purchasing shares of a company that is imminently releasing earnings, perhaps at the end of the trading day at hand. Not just any company, though. The company should be one of the momentum stocks that everyone is talking about and routinely has dramatic price changes, with or without the added stimulus of earnings being released.
The next step is ensuring that stock has weekly options available or is at least reporting earnings in the final week of a monthly cycle. Once that's done, the fun begins as you look at deep in the money call options to sell. Specifically the ones that are at least 5-10% in the money and have a healthy premium, even after adjusting for intrinsic value. My personal preference is a net 1-2% ROI per transaction.
It's not so hard to do. Let's look at just a few examples from the week of October 22, 2012 that demonstrate the three different outcomes possible. starting with Cliffs Natural Resources (CLF).

Cliffs Natural Resources is one of those stocks that responds to whatever rumor is ruling the day and will go in whatever direction the prevailing thesis takes it. Economic weakness suspected in China? Cliffs will plummet and just as quickly rebound the next day when talk centers around a Chinese stimulus program. Hard facts and data are often unnecessary to prompt histrionic price movements.
Cliffs reported disappointing earnings on October 24, 2012 after the closing bell, having ended trading that day at $42.69. The nearest strike price that was at least 10% in the money was the October 26, 2012 $38 contract, that had a bid premium of $5.71, representing $1.02 of non-intrinsic value, comprised of time value and speculative froth.
Cliffs closed trading on Thursday evening at $38.20. The cost to buy back the option at the end of the first day of trading after earnings was released was $0.66 for the individual that was anxious to close his position and run off with a 0.9% ROI and perhaps avoid the risk of a further price drop below the strike price. On the other hand, a less risk averse individual could have waited until the week came to an end, and watched Cliffs fall off the cliff, as it dropped an additional $1.71 to fall below the strike price. The resultant 2.4% ROI on the earnings related option transaction now is a cushion to be used in managing shares back above $38, although the individual investor could certainly have decided whether the 0.9% ROI and its lesser stress level was qualitatively a better choice than risking continued ownership of shares after expiration.
Another high beta stock reporting earnings this week was Acme Packet (APKT). In a week when network solution providers, such as Juniper Networks (JNPR) and F5 Networks (FFIV), had earlier earnings related disappointments, Acme Packet was a reasonable investment upon which some hatred could be put to constructive use.
Closing Thursday's trading at $15.29, the October 26, 2012 $13.50 option provided a $2.60 premium, leaving a net premium of $0.81 or an ROI of 5.3%. Who would have had the rational basis upon which to guess that Acme Packet would buck the trend and do so in dramatic fashion?
As opposed to Cliffs which reported earnings mid-week, Acme Packet and the others mentioned in this article all reported earnings after the closing bell on Thursday.
(click to enlarge)

A 5.3% ROI for accepting a manageable amount of risk is appealing.
But it doesn't have to be all about risky investments or companies that may be on the edge of falling off the cliff and going the way of Pets.com. Thursday evening, both low beta Apple (AAPL) and Amazon (AMZN) reported their quarterly earnings. Both initially responded adversely in the after hours but reversed course in time for Friday's open. The nice thing about share price going up instead of going down is that you then need do nothing other than wait a few hours for option expiration in order to pocket the entire premium.
With Amazon closing Thursday at $222.92, the nearest strike level at least 10% below that closing price was the October 26, 2012 $200 strike, and it offered an earnings release inflated $29.50 premium for a net 3.0% ROI.

Apple, which had a volatile week closed trading at $609, did not, however, offer the same opportunities utilizing the above guidelines and would not have been an acceptable trade. In this case, the ROI utilizing the $545 strike expiring today was -0.2% I suppose that if an alternative investment lost even more, then this would have been the preferable opportunity. Individual investors can certainly select their own guidelines, such as choosing a strike price reflecting a 5% post-earnings drop. In that case, the ROI on the trade would have been 0.7%, based on a net premium of $4.09. Still, not bad, but I prefer reducing the likelihood of eventual assignment of shares and aim for 1.0% return for the trade. As it would turn out, Apple turned its early gains around and finished the day trimming its earlier sizeable loss, and was down $5.54.

Apple aside, none of these returns are too shabby, particularly if you think in terms of risk and reward. If you have to harbor hatred, you may as well do something constructive with it.
Of course, there's also the possibility that shares will increase in value after earnings are reported, such as for Amazon and Acme Packet, in which case shares will simply be assigned at their strike level, thereby achieving the maximum return and you move on to the next opportunity.
By recent standards, a 10% move in either direction is no longer shocking. The clear risk involved with this strategy is for those situations that the options expire worthless and the seller is then left owning the shares, as with Cliffs. In that case, you'd better be comfortable with the company, and at your entry price, just as you must be before considering selling puts. Of course, already being an inveterate option seller, that prospect wouldn't terribly frighten me, as the option premiums for selling calls in the subsequent option cycle can comfort the pain of continued ownership until the day of assignment finally arrives.
Of course, all of the above assumes that the investor was incapable of reacting to the fall in shares below the strike price as it was occurring. The more nimble investor could certainly have taken steps to close the position, secure his profit from option premiums and suspend all thoughts of where shares would be going after their sale.
Harnessing the energy of hatred is a constructive way to go about life. While others are spouting passivity and nonsense about making lemonade out of lemons, accept the bad for what it is and put it to work for your portfolio.
Disclosure: I am long APKT. I wrote this article myself, and it expresses my own opinions. I am not receiving compensation for it (other than from Seeking Alpha). I have no business relationship with any company whose stock is mentioned in this article.