Healthcare REITs are particularly interesting, as they provide very high potential reward at the cost of perceived risk. But what makes healthcare REITs so rewarding?
Healthcare REITs can benefit from:
1) Extremely high cap-rates:
Omega Healthcare (NYSE:OHI) recently acquired 27 facilities for $206mm. This sale-leaseback transaction provides initial rental revenues of $22.6mm with 2% annual bumps for the duration of the 10-year contract. That is a 10.97% and growing annual cap-rate. Data from the company's 3Q conference call.
Medical Properties Trust (NYSE:MPW) acquired facilities from Ernest for $200mm in a sale-leaseback transaction that has a 20-year contract with an initial cap-rate of 9%, with annual CPI adjusted bumps between a 2% floor and 5% ceiling. Data from the company's Quarterly Report.
LTC Properties (NYSE:LTC) announced in a Press Release the acquisition of 2 SNFs for $54mm and signed a related 15-year lease providing an initial cash yield of 8.5% and an estimated GAAP yield of 10.1% annually.
2) Plenty of room for growth: Large tracts of healthcare real-estate remains under the ownership of its operators. Many healthcare REITs are reporting active pipelines that are supported by this large pool of properties.
3) Stable cashflows from the sale-leaseback business: The sale-leaseback business model frequently uses triple net leases with built -in rate increases. This promotes stable and growing cashflows.
4) Strong and well supported dividends: Healthcare REITs on average have a 5.66% dividend yield, as compared to equity REITs as a whole that average around 3.84%
The perceived risk
While there is certainly risk associated with the business model, the actual source of risk is largely misunderstood. When measuring risk for healthcare REITs, we must be careful to separate their risk factors from those of healthcare operators.
Any changes that affect the profitability of healthcare operators will not materially affect healthcare REITS unless the damage is severe enough that it causes default on rental contracts. To judge the size of the cushion REITs have, take a look at the EBITDA debt coverage of the facility operators. If investors go in knowing the risks and portion the investment accordingly, healthcare REITs can offer excellent returns.
As investments...
The market price of healthcare REITs has a strange tendency to fluctuate materially, even without news. Stranger still is that individual stocks in the sector will move in opposite directions with no released information which would favor one over another.
As such, we have seen a transition of the best value in the sector as measured by FFO multiple from SBRA to MPW and then again to OHI. Senior Housing Properties (NYSE:SNH) has had the lowest multiple, but due to its ties with CommonWealth REIT (NYSE:CWH) and RMR, I will refrain from any further consideration of it.
Click to enlarge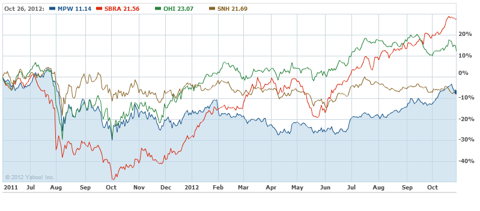 In October of 2011, Sabra Healthcare's (NASDAQ:SBRA) price fell so far that it actually traded at a multiple of 7.5. The subsequent surge in its price left MPW as the best value. Soon, investors began to take note of just how accretive MPW's aforementioned transactions with Ernest were and MPW's price also took off.
This left Omega Healthcare as the value champion in the sector. A title that was greatly enhanced yesterday, (10/26/12) when OHI's price dropped below $23.00, despite a third quarter report which beat estimates by $0.02 cents per share. This simultaneous decrease in price and increase in forecast earnings net an FFO multiple of 10.6.
| | | | |
| --- | --- | --- | --- |
| Company (ticker) | Market Capitalization ($) | Price/est. FFO | Dividend Yield (%) |
| HCP Inc. (NYSE:HCP) | $18.94B | 16.5 | 4.44% |
| Health Care REIT (NYSE:HCN) | $12.54B | 17.2 | 4.95% |
| Healthcare Realty (NYSE:HR) | $1.80B | 17.3 | 5.15% |
| LTC Properties | $984mm | 14.4 | 5.66% |
| Medical Properties Trust | $1.51B | 13.6 | 6.94% |
| National Health Investors (NYSE:NHI) | $1.47B | 17.3 | 5.02% |
| Omega Healthcare | $2.49B | 10.6 | 7.30% |
| Sabra Health Care | $803mm | 15.1 | 6.10% |
| Senior Housing Properties | $3.83B | 12.4 | 7.16% |
| Ventas Inc. (NYSE:VTR) | $18.63B | 17.6 | 3.84% |
| Sector Average | n/a | 15.8 | 5.66% |
Healthcare can be considered recession-proof, as medical conditions need treatment regardless of economic circumstances. Instead, the risk lies in government policies. Thus, these REITS are not necessarily more dangerous, just a different type of risk. Give consideration to diversifying with some of the cheaper valued healthcare REITs, and enjoy the oversized cashflows and dividends.

Disclosure: I am long OHI, SBRA, MPW. I wrote this article myself, and it expresses my own opinions. I am not receiving compensation for it (other than from Seeking Alpha). I have no business relationship with any company whose stock is mentioned in this article.
Additional disclosure: 2nd Market Capital and its affiliated accounts are long MPW, SBRA, and OHI. This article is for informational purposes only. It is not a recommendation to buy or sell any security and is strictly the opinion of the writer.