Market sentiment towards beverage companies like The Coca-Cola Company (NYSE:KO), PepsiCo Inc (NYSE:PEP) and Dr Pepper Snapple Group Inc (NYSE:DPS) have been very negative over the last few months due to concerns over a slowing global economy and consequently, the shares of all these companies have underperformed the market this year. The following chart summarizes the stock price movement of these companies this year.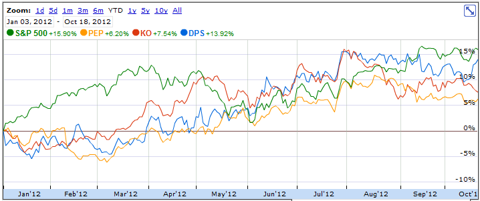 Source: Google Finance
However, all these companies saw growth in September. Coca-Cola fared relatively best and saw 2.3% growth in brand sales as compared to PepsiCo's 1.9% and Dr Pepper's 1%. From a valuation point of view, Coca-Cola shares (trading at a forward PE of 17.28x) look a little expensive as compared to PepsiCo (forward PE=16.05) and Dr Pepper (forward PE=14.06). However, Coca-Cola's dominant market share and the "best-in-class" next year's expected growth seems to justify its premium valuation.
Coca-Cola recently reported mixed Q3 results with adjusted 3Q EPS of $0.51 in-line with consensus, but revenues missing (rose 1% vs. street estimate of 1.6%) the consensus estimates due to weak price/mix. The world's leading soft-drink maker, with brands such as Sprite, Fanta and Minute Maid, also indicated that revenue and profit plunged by the stronger U.S. dollar, which decreased the value of overseas sales.
While some investors think that Cola-Cola is too big to grow, I believe the company still has plenty of growth opportunities. The company's 3Q12 results showed positive volume growth in each of its global regions despite a difficult macro backdrop and tighter consumer spending. The company saw a tremendous volume growth in several key emerging markets such as the Middle East (+22%), India (+15%), Russia (+7%), Mexico (+6%), and Brazil (+6%). While Cola-Cola has a strong global presence and sells products in almost every country in the world, the company still has low market share in some countries like India where there is a huge potential for growth.
The company saw sequential volume deterioration in the Pacific region where China's volume growth slowed to 2% as compared to +7% in 2Q12 and +13% in 2011. However, it is worth nothing that despite the cooling of China's economy, Coca-Cola's "total transactions" are up 10% year to date in China, which demonstrates the company's focus on driving volumes in a developing Chinese marketplace (even if it means less favourable price/mix). Moreover, I like the company's further investment in China (on top of the $4 billion already committed), where beverage companies are gearing up to compete in what is expected to become the world's largest beverage market over time.
Moreover, Coca-Cola seems to be better than PepsiCo and Dr Pepper in terms of profitability. The following table summarizes the trailing twelve months' profit margins and operating margins of Coca-Cola, PepsiCo and Dr Pepper.
| | | | |
| --- | --- | --- | --- |
| Company | Coca Cola | PepsiCo | Dr Pepper |
| Profit Margin | 18.48% | 9.05% | 10.05% |
| Operating Margin | 23.68% | 14.95% | 17.45% |
Source: Yahoo Finance
Coca-Cola continues to focus on productivity and cost savings. Earlier this year, the company announced a new productivity and reinvestment program from 2012 through 2015 with focus areas around supply chain optimization, marketing and innovation effectiveness, operational excellence, standardizing data and IT systems in order to generate operating expense leverage. Encouragingly, the company has made significant progress on this program with $40-$50 million of savings already achieved and I expect incremental savings from this program to drive bottom-line upside in the coming years.
To sum up, I think Coca-Cola will continue to meet its long term growth targets, given the company's continued successful execution on both the revenue front (given its high level of investment support) and the margin front (given its considerable productivity initiatives). The company has successfully and systematically adapted its business model over the past few years to readily address the changing demands of the global marketplace and I am confident it will continue to do so. Thus, I recommend buying this stock.
Disclosure: I have no positions in any stocks mentioned, and no plans to initiate any positions within the next 72 hours. I wrote this article myself, and it expresses my own opinions. I am not receiving compensation for it (other than from Seeking Alpha). I have no business relationship with any company whose stock is mentioned in this article.