This article introduces a strong performing ETF that is extremely diversified, well managed, and provides clients with exposure to emerging markets, yet keeping its risk to a minimum. The security I will discuss in this article is PowerShares International Dividend Achievers Portfolio (NASDAQ:PID).
Overview
PID is an exchange traded fund that provides a return that typically corresponds to the price and yield performance of the International Dividend Achievers TM Index. The fund invests a minimum of 90% of its total assets in an array of securities that construct the underlying index. This index consists of Global Depositary Receipts and American Depositary Receipts that are listed in the London Stock exchange. The companies that lie within PID's holdings have consecutively increased their dividend for the past five years, and more in some cases. In addition to the value added through these dividend increased, it serves as an indication that these companies performing well and are capable of consistently turning over a profit. PID is owned by a composition of institutional investors as well as individuals. Institutional investors currently own approximately 42% of the shares outstanding.
Performance & Valuation
The figure below is a five year price graph outlining PID's historical trends. As you will see PID has remained stagnant for the past three years. However, over those years PID managed to achieve a four star rating from Morningstar for its ability to minimize risk while providing investors with a steady return on their investment. PID's current dividend yield is approximately 3.17%.
images
Figure 1: PID 5 Year Price Graph

PID is currently trading around $15 per share and has a current alpha level of 5.13, which is an indication that PID is highly undervalued. PID's current beta specific to the fund is only 1.2. At right above the market beta of one , it is safe to conclude that PID's holding period returns reveal very little risk. PID's management invests the funds capital in a wide variety of sectors including telecommunication services, energy, financials, consumer staples, consumer discretionary, healthcare industrials and materials. Figure 2 below provides a more specific break down of this allocation.
Figure 2: PID's Asset Allocation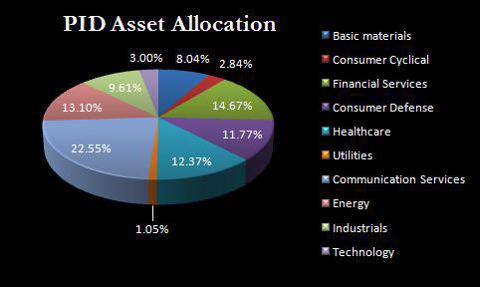 The excel graph I constructed above illustrates a very strong image of how well PID's management has diversified this fund. PID's largest holdings lie within the communications sector, which amount to approximately 22.55% of the entire fund's assets. The remaining holdings remain spread out relatively proportionate with the exception of utilities, consumer cyclicals, and consumer defense, which are sectors containing the smallest portion of the funds capital. Figure 3 below captures PID's diversification in terms of its vested interest in emerging markets and foreign countries.
Figure 3: PID's 10 Largest Holdings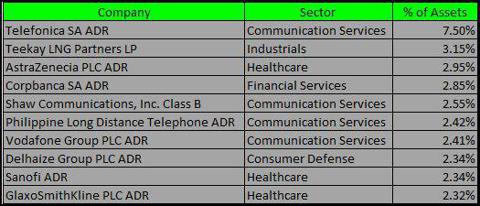 The figure above reveals PID's top ten holdings in terms of a percentage of its total asset value. These holdings allow for an unique investment opportunity in a variety of countries. One specifically I will draw attention to is Sanaofi (NYSE:SNY), which is a company that focuses on healthcare specifically diabetes solutions, human vaccines, innovative drugs, consumer healthcare, emerging markets, and animal health. In addition, SNY has a portfolio of prescription drugs, vaccines, and generic healthcare products. SNY's primary advantage is that it has operations in a variety of European countries, North and Latin Americas, Asia, Africa, and the Middle East, which provides investment opportunities in regions where the probability of abnormal growth is significantly higher. The last holding I will discuss is Delhaize Group (DEG), which is a Belgium based food retailer, however individuals may recognize this as the company that owns Food Lion and/or Bloom. DEG has operations in a wide variety of countries including Belgium, Bulgaria, Greece, United States, and Indonesia, which provide it with strong access to different markets. These are just two examples of how PID can provide investors with a strong diversification.
Conclusion
PID provides the stability and diversification necessary for an investor who is risk adverse, yet still seeks exposure to foreign and emerging markets that have high prospects for growth. Through PID's strong diversification across different markets, investors can be sure that by adding PID to their portfolio they are surely minimizing risk.
Sources: The Wall Street Journal, Google Finance, Yahoo Finance, and TD Ameritrade.
Disclosure: I have no positions in any stocks mentioned, and no plans to initiate any positions within the next 72 hours. I wrote this article myself, and it expresses my own opinions. I am not receiving compensation for it (other than from Seeking Alpha). I have no business relationship with any company whose stock is mentioned in this article.