Actionable Items:
Highest Positive Spread: Kayne Anderson Midstream Energy (NYSE:KMF)
Lowest Negative Spread: The First Trust Mortgage Income Fund (NYSE:FMY)
Focus Stock(s) of the Week: Nuveen Select Tax-Free Income Portfolio 2 (NYSE:NXQ)
Last Week's Focus Stock: Cohen & Steers Quality Income Realty Fund (NYSE:RQI)
CEF Weekly Review: On average, the 13 closed-end fund (CEF) types registered a share price decrease of -0.2% for the week ending 10/26/12. The high-low spread (average percentage price change difference between the highest and lowest fund types) registered this week was +2.1%. On an aggregate unweighted basis, the weekly average price change for the approximately 525 CEFs in the GrowthIncome database was +0.06%.
The PowerShares CEF Income Composite (NYSE:PCEF), an ETF that invests in taxable fixed-income CEFs, advanced -0.1% for the week. PCEF is now up 9.1% YTD on price appreciation alone. Currently, PCEF's trailing twelve months' yield is 7.9% (a Yield-to-Date monthly total return of 17.0%).
Earnings' Were Bad: While third quarter productions of goods and services expanded by 2.0% (a factor of 0.7%), a preliminary reading of the Thomson-Reuter/University of Michigan was down from the previous month. The 82.6 was a bit worse than the 83.0 forecast in a MarketWatch poll. Government aim at defense spending was a factor; along with consumers spending.
The back-to-back drop of more than 200 points for the DJIA over the following calendar quarters was an exercise of failed earnings: (DJIA, 243.36 the current week and 205.43 the following week). S&P 500 trading volume (GSPC) this week declined 7.2% to an average of 3.4 billion shares. This is not the type of "selling-off" that exceeds major market declines like these.
CEF Weekly Fund Type Performance: NatlMuniBndFnds (1.0%), LoanPartFnds (0.7%) and SingleStMuniFnds (0.5%) were winners, and GenEqFnds (-1.1%), WrldEqFnds (-0.9%) and SpecEqFnds (-0.8%) were losers. GenEqFnds, USMrtgBndFnds and InvGrdBndFnds had a negative PrcNAVSprd equity of 0.3% (normally good) taken in the previous week.
Kayne Anderson Midstream Energy share price increased 2.6% with a change of -2.0% for the NAV. This would indicate a positive PrcNAVSprd of 4.6% (price change relative to NAV change-negative at best). The First Trust Mortgage Income Fund decreased their distributions' rate on a monthly basis from $0.14 to $0.16. The distribution is payable on November 15, 2012 to shareholders of record as of November 5, 2012. The ex-dividend date is expected to be November 1, 2012. The share price declined 7.1% and the NAV declined 0.1%, indicating a negative 7.1% on PrcNAVSprd.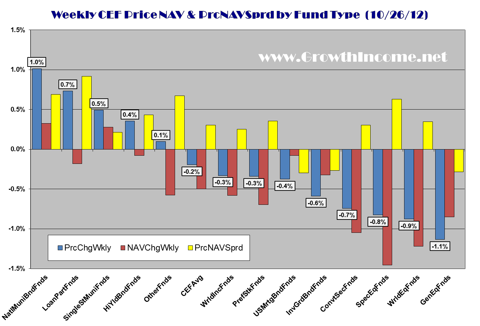 Focus Stock(s) of the Week: The focus stock of the week was Nuveen Select Tax-Free Income Portfolio 2 . NXQ has declined 3.5% on share price and increased to 0.4% on NAV. The negative PrcNAVSprd declined 4.0% (the share price declined greater than the NAV declined-normally good). There is no leverage in its $252 million portfolio. The nominal yield is 4.3% and the taxable equivalent yield is 6.7%. The premium/discount is a modest 0.7% over the share price. A lot of people may assume that muni bonds will be taxed in the future. The jury's is still out.
Focus Stocks of Last Week: Our top stock MS China "A" Share (NYSE:CAF) declined by 5.5%; our bottom stock Kinder Morgan Energy Partner, L.P. (LMP) declined by 0.7%. The recommended stock was Cohen & Steers Quality Income Realty Fund . It increased by 0.7%
Disclosure:
I am long NXQ, PCEF, RQI, CAF. I wrote this article myself, and it expresses my own opinions. I am not receiving compensation for it. I have no business relationship with any company whose stock is mentioned in this article.