Over the past few weeks, colleagues and friends have stopped me and asked what the next article will be about. When I reply, "Luxottica (NYSE:LUX)", I've been overwhelmingly asked if its related to the pornography industry. Each time I reply, "well, not at all, Luxottica is the worldwide leader in the manufacturing and retail of prescription eyewear and sunglasses. It's a well-run company that has created a vertical monopoly in the eyewear industry, and has poised itself for strong growth over the long-term." Below, I'll demonstrate some solid fundamentals that have it poised for strong long-term returns and scenarios for possible entry points.
While it seems no one in my circle has heard of Luxottica, when the company's businesses, brands and partnerships are mentioned its clear that everyone is very familiar with the company. Luxottica manufactures eyewear for licensed brands that include Anne Klein, Brooks Brothers, Bvlgari, Burberry (OTCPK:BURBY), Chanel, Chaps, Club Monaco, D&G, Dolce & Gabbana, DKNY, Donna Karan, Miu Miu, Polo Ralph Lauren (NYSE:RL), Paul Smith, Prada, Ralph Lauren, Ralph, Salvatore Ferragamo, Stella McCartney, Tiffany & Co. (NYSE:TIF), Tory Burch, Versace, and Versus. These licensed brand deals range between three to ten years and are guaranteed and contingent payments to the brands. The biggest licensed brand represents only 4% of overall sales. Additionally, the company manufactures for its own brands of Ray-Ban, Oakley, Arnette, ESS, K&L, Luxottica, Mosley Tribes, Oliver Peoples, Persol, Revo, Sferoflex, and Vogue.
As Luxottica has locked down most of the top retailing brands in the world, the company then sells the eyewear to their own retail chains of Lenscrafters, Pearle Vision, Sunglass Hut, and manages the in store boutique of Sears Optical and Target Optical. In 2011, 46% of net sales were related to presciption frames and 53% related to sunglasses. For those that have purchased these prescription frames or sunglasses, you'll recognize that most people have to have vision insurance to cover the high price of the frames. Well, Luxottica owns the US' second largest vision insurer, EyeMed. It seems there are very few places in the value chain where Luxottica is not profiting (only the actual prescription lenses, I believe). For a bit more on the company, it may serve you well to view a recent 60 Minutes story on the company.
Strategy
According to the company's 2011 Annual Report, "the company's long-term strategy is to continue to expand in the eyecare and eyewear sector by growing its various businesses, whether through acquisitions or organically."
When reading through the company's investor day presentation from earlier this month, the company is being very aggressive about not only improving their quality of manufacture but also reducing the amount of time by around 33% by 2015 to engineer, manufacture, and distribute to market their frames. Since eyewear is very much a fashion item, this should allow the company to be more responsive to their licensed brands and the fashion desires of the end consumer. This trend should further entrench the licensed brands to work with Luxottica.
The company is also looking at the geographic location of their plants, and increasing their footprint to meet the demands of their top-selling markets. Please see below for the changes over the past six years.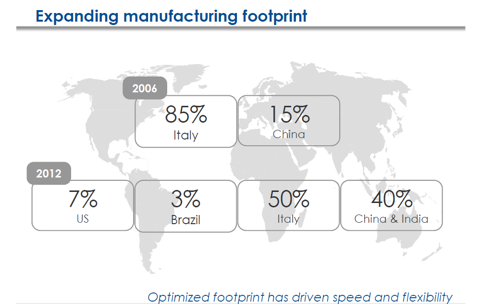 (Source)
According to the same presentation, Luxottica expects production demand growth by 2015 to increase by 10-15% for the United States, 100-120% for Brazil, 50-70% for China and India, and 5-8% for Italy. The combination of demand growth by a developing middle class in the emerging market countries and smarter production cycles should continue to help top line and margin expansion. The below chart shows the past 10 years of gross margin for the company. At an average of 70%, an expansion of this margin would require their monopoly to stay in place, continued high prices for the eyewear, and no new entrants to the market.
Gross Margin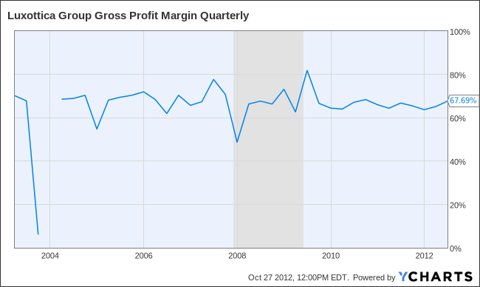 LUX Gross Profit Margin Quarterly data by YCharts
Risks
*Luxottica's eyewear is positioned as a medium to luxury consumer good. Dependency on the consumer to continue to pay high-end prices is necessary for the company to provide strong earnings. Also, vision insurance must continue to help subsidize the high prices of the eyewear. If insurance becomes unaffordable, decides to subsidize the eyewear price to the consumer at a lower level, or the end consumer cannot afford the eyewear due to another double dip recession, this could cause pressure on the stock.
*This stock is heavily relying upon the demand growth of emerging market consumers to drive an expanded growth rate for the longer term. If this doesn't happen, the mature growth of the United States and Europe markets will demand a much lower P/E ratio than the current 27 times.
*Since Luxottica is a multinational corporation, currency translation effects will have a large impact on the financial results. A soft Euro from the continuing sovereign debt crisis should provide strengthened results for the near term as 80% of their net sales are outside of Europe. If the Euro starts strengthening relative to other world currencies, the opposite would be true.
*Luxottica's founder, Leonardo Del Vecchio, controls 66.8% of the voting power of the company shares while Giorgio Armani controls 4.85%. As Del Vecchio is 77 years old, his estate plans greatly affects the long-term vision and direction for the company.
*Vision corrective surgery and contacts pose risks to the growth strategy of the company. 500 million customers currently wear Luxottica eyewear, while an estimated 39 million wear contacts. If contacts or surgery gain more prominence as an eyewear alternative with customers, the prescription eyewear segment would be under pressure for the long-term.
*Luxottica doesn't seem to be following a consistent dividend level strategy. The payout ratio of earnings has typically been around 25%, while the dividend was cut in 2009 and suspended in 2010. The latest dividend reflects a payout of 33% of earnings. A lack of predictability of dividends makes this stock difficult to value on a DDM level.
Valuation
Currently, Luxottica is trading at over 26 times TTM earnings. As one can see in the chart below, this seems to be at the high end of the range over the past 10 years. Analyst expectations for earnings for this year are expected to be around $1.54, and $1.78 for 2013. This would have LUX trade at 24.5x this year's earnings, or 21.2x next year's earnings.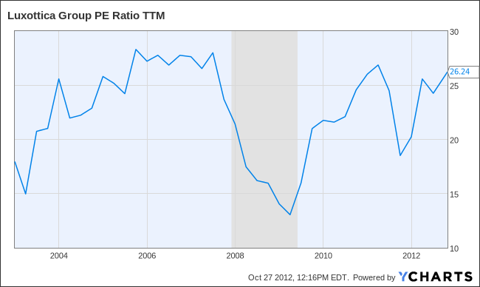 LUX PE Ratio TTM data by YCharts
The stock is trading at a multi-year high currently and the story seems to be fully valued into these prices. Hinted weakness in the emerging market consumer, a la China or Brazil, should drive the price of this stock down and provide value buying opportunities. The stock is currently locked into a technical upward trend, and while I'm interested in the company's growth aspects, I would be more interested after a retest of the 200 day moving average (red line below). If a breakthrough of the 200 DMA happens, I'd be waiting until a support level is established or a price level of $26 or so to acquire more.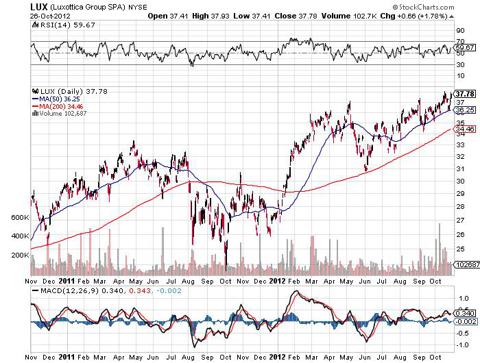 Disclosure: I have no positions in any stocks mentioned, and no plans to initiate any positions within the next 72 hours. I wrote this article myself, and it expresses my own opinions. I am not receiving compensation for it (other than from Seeking Alpha). I have no business relationship with any company whose stock is mentioned in this article.