by Steven Orlowski
Jim O'Neill, Chairman of Goldman Sachs Asset Management and the legend behind the BRIC acronym (Brazil, Russia, India and China), made headlines this week proclaiming the time to get back into China investments is now. If you haven't gotten out of your China investments yet you may not want to, but if you did, hopefully you're holding cash which you can deploy.
Some of O'Neill's optimism stems from recent reports. He referred to the following statistics and observations to justify his optimism:
M2 money supply growth accelerated to 14.8% in September which resulted in the Chinese Financial Conditions Index (FCI) easing, a positive sign for future growth.
The trade balance came in at a high $27.7 billion, with stronger than expected exports at 9.9%.
In the nine months to September, the trade surplus came in at about $150 billion, or about 2.5% of GDP. This is a quarter of its levels pre-2008.
CPI inflation rose by 1.9% year-on-year in September, significantly less than the People's Bank Of China's 4% target for 2012.
A 3.6% decline in PPI "suggests that near-term future inflation is not a risk. Inflation will probably ease further which, amongst other things, will continue to boost real Chinese income growth".
GDP for Q3 rose 7.4% year-on-year in line with expectations. O'Neill noted some statisticians identified quarterly momentum higher than expected at 2.2%. For the first nine months of 2012 Chinese GDP has risen 7.7%. According to O'Neill "Premier Wen said it looks as though China will easily meet their 7.5% 'target' for 2012. In fact, they will probably exceed it slightly. Not bad, eh?"
Industrial production rose from 8.9% to a better than expected 9.2%.
Retail sales also rose more than expected by 14.2%.
O'Neill commented that Chinese GDP growth for 2012 will probably come in at either 7.7% or 7.8%. He says his team assumes 7.1% growth for the full decade. O'Neill cites "a trade surplus a quarter below its peak, stabilized housing prices, consumption rising as a share of GDP, and inflation below target" to conclude that "the situation looks good".
From a technical perspective, and assuming he is correct, this may be a good time for China investments. Let's look at two ETFs. First is FXI, the iShares FTSE/Xinhua China 25 Index (NYSEARCA:FXI).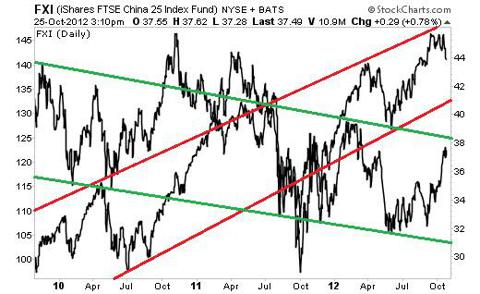 The above chart contrasts FXI (the green channel) with the SPDR S&P 500 Index Fund (NYSEARCA:SPY). It doesn't require a technical analyst to recognize the great disparity between the performance of Chinese stocks with U.S. stocks the past few years. If our friend O'Neill is correct then we should see FXI play a little more catch-up, if not reverse the disparity in the favor of Chinese stocks.
The next chart is of the Claymore/AlphaShares China Small Cap ETF (NYSEARCA:HAO-OLD).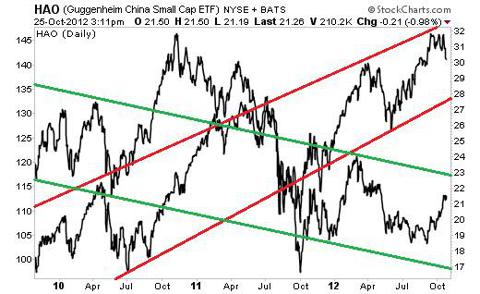 The charts are quite similar upon first glance until the numbers are considered. HAO is still down more than 30% from its 2010 peak. FXI, is down less than 20% over the same time period.
If O'Neill is right, today is a great time for China investments. If he's wrong, it is still likely to be a wise choice to get back into China. The path back to above-average growth can be debated, but the inevitability of China's growing influence economically is less easily disputed. Long term investors should get long China. There may be some more big bumps ahead, but the pay-off will come sooner or later.