by Ahmed Isthiaq
Kinder Morgan Energy Partners (NYSE:KMP) is an energy storage and pipeline transportation company. The company operates in North America. KMP Products Pipelines section distributes diesel fuel, gasoline, jet fuel and natural gas liquids to a variety of markets with its 8,400 miles of pipelines. KMP also holds 60 associated product terminals and petroleum pipeline transmix processing facilities. For the natural gas section, KMP has 16,200 miles of distribution pipelines. The company also operates storage, gas treating and processing facilities.
Kinder Morgan also has CO2 segment which transports, produces and markets carbon dioxide through 2,000 miles of pipelines. The oilfields use carbon dioxide to boost production of oil. CO2 section also possesses and operates 8 oil fields, and a 450 mile oil pipeline in west Texas. Kinder Morgan generates stable fee revenues, without exposure to unpredictable commodity prices. In the U.S., volumes of gas and oil transported are fairly constant and change by only a few percentage points every year. Moreover, as the country is witnessing a hike in shale gas production, there is a larger need for transportation. As a result, the future prospects for KMP are extremely bright.
Third Quarter Results:
The partnership recently announced its third quarter earnings and posted impressive results. The profits for the third quarter increased by 78% year-on- year as the company saw strength across its business segments. Revenues went up by 11% to $2.34 billion, beating the market expectations, as the market expected the revenues at $2.25 billion. The company experienced strength from natural gas pipelines, driven by the El Paso Natural Gas Pipeline (NYSE:EPB) and Tennessee Gas Pipeline. The company posted a profit of $383 million, up from $215 million in the previous year.
Kinder Morgan has benefited from an increase in the U.S. alternative shale fields, while demand from Asia for coal supported performance at its coal export terminals. El Paso Pipeline profit went up by 22%, as the company benefited from its storage assets and regulated pipelines. In addition, increased demand from gas-fired power plants also contributed significantly towards increased profits.
Increase in Cash Distributions:
In my previous articles about the partnership, I have analyzed in detail cash flows, earnings and the quality of earnings for KMP. We have always backed KMP to maintain or increase its cash distributions, as we expected the cash flows and revenues to increase. KMP increased its quarterly cash distribution per common unit to $1.26 ($5.04 annualized). At the current level of distributions, the partnership offers a yield of 5.90%. There was a substantial increase in the distributable cash flows for the company.
The partnership reported cash flows available for distribution before certain items of $455 million. At current levels, the distributable cash flows are up by 15% from $394 million in the same quarter last year. Per unit available cash flow for distribution before certain items was $1.28 compared to $1.19 for the same quarter last year.
image
Cash Distributions and Yield Chart: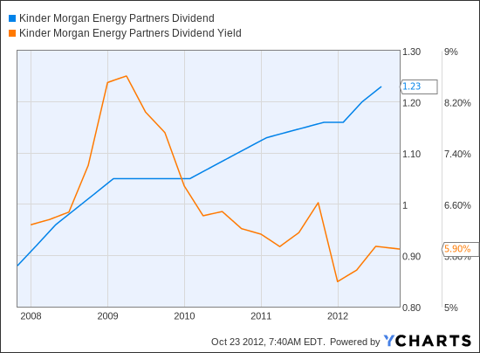 KMP Dividend data by YCharts
Comparison with Peers:
KMP peers include Enterprise Products Partners LP (NYSE:EPD), Williams Partners LP (NYSE:WPZ) and Enbridge Energy Partners LP (NYSE:EEP). The table below shows a comparison of some essential metrics with its peers.
| | | | | |
| --- | --- | --- | --- | --- |
| | KMP | EPD | EEP | WPZ |
| P/E | N/A | 19.5 | 18.1 | 17.7 |
| P/B | 2.70 | 3.80 | 1.70 | 2.20 |
| P/S | 3.60 | 1.10 | 1.10 | 2.40 |
| Yield | 5.90% | 4.67% | 7.16% | 5.75% |
| Operating Margin | 26.10% | 7.00% | 12.30% | 22.80% |
| Net Margin | -2.60% | 5.48% | 5.90% | 13.70% |
| ROE TTM | -2.70% | 20.40% | 12.20% | 13.80% |
| Debt to Equity | 1.80 | 1.10 | 1.30 | 0.90 |
Source: Morningstar.com
The comparison indicates that KMP trades at a premium to its peers. Only EPD trades at higher P/B ratio than KMP, and all of the peers have lower P/S ratio than the partnership. However, the partnership provides an extremely attractive yield. There is only one peer of the partnership, which offers higher yield than KMP. In addition, KMP has better operating margin than its peers, but net margin, ROE and debt to equity ratio are not impressive.
Summary:
Kinder Morgan offers extremely attractive cash distributions, and in today's low interest rate environment, high yield is a massive factor for investors. However, the stock trades at a slight premium than its peers. The most recent earnings announcement indicates that the partnership is on the right track, and further growth is expected. I expect the distributions growth to come from the $10 billion in CAPEX, which the partnership intends to spend over the next five years. The partnership will be investing in a $4 billion Transmountain Pipeline expansion, as well as expansions in Products Pipelines and natural gas expansions. Increased supply of oil and gas is expected to continue in the U.S., and we expect that the partnership will carry on its strong operations and cash distributions.
Disclosure: I have no positions in any stocks mentioned, and no plans to initiate any positions within the next 72 hours.
Business relationship disclosure: EfsInvestment is a team of analysts. This article was written by Ahmed Ishtiaq, one of our writers. We did not receive compensation for this article (other than from Seeking Alpha), and we have no business relationship with any company whose stock is mentioned in this article.