This is a followup to my previous article, The Greatest Show on Earth.
In this post, I am going to expand on watching CDS (Credit Default Swaps) with banks. What CDS can tell you is how much money a person is willing to pay to insure the debt of a bank. The healthier a bank is, the lower the premium will be to insure its debt. If a banks financial situation sours, the higher the premium will be to insure its debt.
Monitoring CDS is essential to determining the health of our financial investments. With the rapid falling value of bank equities, it pays to look at CDS as an early indication of whether a bank may go out of business. CDS tied to banks are one of the most heavily traded form of derivatives.
In addition to reading traditional news media, waiting for earnings results, and for a bank to announce whether or not it has additional write-downs, you should watch CDS as it can give you a glimpse at trading activity between people who may have advanced daily knowledge of a banks operations. The CDS market is laxly regulated in comparison to common equities trading.
Let's look the current CDS premiums for some of the worlds major banks. (Click to enlarge.)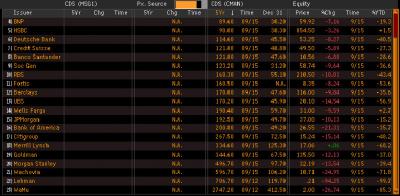 Looking at the CDS premium for Lehman Brothers (LEH) on 9/12 before it collapsed, we can see that figures grew well above the levels of HSBC (HBC) and JP Morgan Chase (NYSE:JPM). The list above can be viewed as a most healthy to least healthy list of banks.
This also demonstrates that traditional media unfairly lumps "Banks" into one simple category. A well diversified bank like HSBC with strong retail banking, commercial banking and wealth management divisions is different from an investment bank that mainly derives its revenue from dealer-broker, trading desk, underwriting and structured finance offerings. When determining possible continued or new investment in bank equities and bank debt offerings, it pays to give CDS premiums a quick glance to see an immediate outlook on a banks health.
For further information about the CDS market, please read Credit Default Swaps: Evolving Financial Meltdown and Derivative Disaster Du Jour. In the article, the author Dr. Ellen Brown says, "CDS are private bets, and the Federal Reserve from the time of Alan Greenspan has insisted that regulators keep hands off."
The sacrosanct free market would supposedly regulate itself. The problem with that approach is that regulations are just rules. If there are no rules, the players can cheat; and cheat they have, with a gambler's addiction. In December 2007, the Bank for International Settlements reported derivative trades tallying in at $681 trillion - ten times the gross domestic product of all the countries in the world combined. Somebody is obviously bluffing about the money being brought to the game, and that realization has made for some very jittery markets.
"Derivatives" are complex bank creations that are very hard to understand, but the basic idea is that you can insure an investment you want to go up by betting it will go down. The simplest form of derivative is a short sale: You can place a bet that some asset you own will go down, so that you are covered whichever way the asset moves.
Credit default swaps are the most widely traded form of credit derivative. They are bets between two parties on whether or not a company will default on its bonds. In a typical default swap, the "protection buyer" gets a large payoff if the company defaults within a certain period of time, while the "protection seller" collects periodic payments for assuming the risk of default."
I believe we are facing a global derivatives problem of $1,140 trillion and upwards. To echo the sentiments of my previous article, monitoring the health of your investments, especially if they are related to financial services, is of paramount importance in times of crises. Based on the CDS list, I have a stronger feeling that Intel (NASDAQ:INTC) will be around, instead of Washington Mutual (NYSE:WM) in the future.