This is a huge week for Avon Products (NYSE:AVP) investors. While any earnings report is obviously important, this one, on 10/30 with a call at 9 A.M., should set the stage for 2013.
For those not familiar with the story, it's one of a strong brand that has been performing poorly. We see this in the operating results (sales down 3% over the past year, EPS down 42%, tangible book value per share down 18%). We see this in the chart: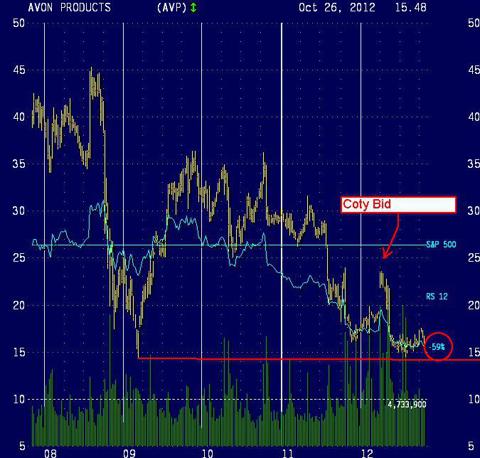 What we have is a stock that has declined from about $40 to about $15 over the past five years, underperforming the S&P 500 in price by about 59% (a little less incorporating dividends). In the past 2 years, it has lagged by 66%. The stock has found some support near its 2009 lows.
There has been a lot of news over the past year. The biggest was 12/13/11, when the company announced that long-time Chairman and CEO Andrea Jung would be ceding her role as CEO pending an outside hire of a successor. Here are some of the highlights from 2012:
1/31 - Company discloses Vice Chairman (and former CFO) Charles Cramb has been fired (following internal probe of bribery in China from 2005 and Reg FD issue)
2/13 - WSJ reports U.S. investigation of AVP for violations of Foreign Corrupt Practices Act (OTCPK:FCPA)
2/14 - Q4 report shows miss on sales and earnings, company calls 2012 "transition year", indicates .92 dividend safe for 2012
4/2 - Coty proposes $23.25 acquisition (previously $22.25 but undisclosed) and AVP instantly rejects
4/9 - Sheri McCoy named CEO effective 4/23 (JNJ Vice Chairman)
5/1 - New CEO McCoy reports a terrible Q1, indicates dividend intact for 2012
5/3 - Bloomberg reports Richmont Holdings is preparing a bid for AVP
5/9 - JAB Holdings, owner of COTY, sells shares of Reckitt Benckiser, allegedly to fund AVP bid
5/10 - Coty raises bid to $24.75, subject to due diligence
5/14 - A frustrated Coty withdraws bid and decides to pursue an IPO a few days later (subsequently pulled)
8/1 - Q2 report is not too far from expectations, but guidance is weak. New CEO McCoy, with three months under her belt, shares a view that implies a slow turnaround and indicates that lays out a five-point plan (see below). Also, this is the first time the company explicitly says that the dividend will be cut.
9/13 - SEC recommends no enforcement on Reg FD issue
10/5 Fred Hassan to succeed Andrea Jung as Chairman effective 12/31 (note, while the market seemed to like this, especially after Jim Cramer called it out so enthusiastically, this was kind of old news as he was already the Lead Independent Director and she was already scheduled to leave in 2014)
10/16 - FDA sends company warning letter for marketing violations
McCoy shared her initial strategic plan on the last call. Here are the five key points:
Stabilize sales with better execution, focusing on product portfolio, marketing and the earning opportunity for Reps
Improve income with a "more effective cost structure and cash generation", with a focus on inventory reduction but also more investment in IT
Invest in people and "build a culture of accountability", eliminating a "silo mentality"
Use technology better, allowing Reps and customers to connect more easily
Frame a long-term vision after stabilizing
I thought this sounded promising, but, after years of poor performance and guidance that the fix will take time, it's not surprising that analysts and investors want more specific details, which she will be sharing Tuesday.
An investment in AVP is a belief that new CEO McCoy is right, that the problems abound but can be fixed. As an outsider who has had to deal with problems before (at JNJ's consumer division), McCoy is in a good position to effect changes. On the other hand, though, she has no direct marketing or cosmetics experience.
AVP isn't cheap - while the numbers are depressed, it trades at 15.5X the current 2013 consensus of .99. That's a number that has been declining each quarter - it was $2 a year ago. Even if this proves to hold up after this quarter, 15.5 is a premium to the S&P 500. It's worth noting that the company has a lot of debt - $3.5 billion, or $2.2 billion after consideration of cash. This works out to 2.5X projected 2012 EBITDA. To level the playing field, I like to use EV/EBITDA, which, for AVP, works out to 10X based on 2012 estimates.
Among direct-marketers, Tupperware (NYSE:TUP) is a similar sized-company, and it trades at 8.7X EV/EBITDA2012 and 2013 PE of just 10.6X. Herbalife (NYSE:HLF) trades at 8.2X EV/EBITDA2012 and a 2013 PE of just 11.2X. If one looks at smaller companies Nu Skin (NYSE:NUS) or USANA (NYSE:USNA), AVP continues to look expensive.
Compared to cosmetic companies, Revlon (NYSE:REV) trades at 7.1X EV/EBITDA2012 (very leveraged though) and a PE of just 10.5X. Estee Lauder (NYSE:EL) is a lot more expensive than AVP - we can use it as the bull case! EL, which has no net debt, trades at about 22 PE and about 13.6X EV/EBITDA.
So, AVP would appear to be a bet that McCoy can drive much higher numbers in the future or that, perhaps, Coty or Richmont make another attempt to buy the company. I am somewhat optimistic that over the next year she can win over investors with signs of stability. One can argue about how much investors might pay, but I expect that the multiple could stay higher than we would expect due to the back-stop bid but also the potential for net income margins to expand after seven years of decline, peaking in 2004 at 11% and currently near 4%.
When I think about the future value, I make assumptions about sales growth over the next 3-5 years and margin expansion opportunities. For example, if one assumes just 7% growth off of 2013 numbers (which are pretty flat to 2012) to 2016, one gets sales of 13.35 billion in 2016. If she can get the margin to 6%, then EPS would be roughly 1.85. If one assumes a PE of 15, then the stock could get to $28 by the end of 2015. That works out to be annualized price return of about 20% over the next 38 months, but it sure makes that Coty raised bid look fantastic.
That's just an example, and one that could prove conservative quite frankly. As I think about the stock over the next year or so, I think a reasonable target would be between $20 and $22. I base this on projected EPS of $1.10-$1.15 for the interpolated year ending 10/31/14 and a forward multiple of 18-20. I would hope that she can deliver better numbers, with the market likely using a slightly lower multiple in that case perhaps. The point is that the company can drive a lot of shareholder value if McCoy is successful in her turnaround efforts. I don't yet include it in my Top 20 Model Portfolio, but I am watching it very closely.
As far as how to play this now, I can see sticking one's toe in the water. If one has three bullets to shoot, maybe fire one at this point. I would hold off committing too much , though, for three reasons. First, the double bottom could give - we have spent way too much time near the 2009 lows. Any sort of selling could push the stock down a lot - I wrote about the perils of bottom-fishing in Q4 two weeks ago. Second, it's not likely that we hear great news in such a short period of time, especially given the economic headwinds. Third, and perhaps most important, while the company couldn't have been more clear about the dividend going down next year on the Q2 call, they may actually share this news formally. I believe cutting the dividend is actually quite positive, but it could prove to be a very short-term negative. While it's possible that they cut it immediately, I continue to expect that it will happen in Q1, as the company practically promised it would be maintained for 2012.
I spend a lot of time evaluating management teams for one of my clients. One thing I have learned is that an outside hire like Sheri McCoy can drive phenomenal improvements. One of my favorite examples was Foot Locker (NYSE:FL), but we have found many other lesser-known plays like this (they actually are easier to call). These don't always play out well, and they tend to take a lot of time, more than Wall Street's patience will bear. I will be looking for more tangible evidence that the Board was right to hire her. I hope that she will share longer-term financial goals (like 7% sales growth and operating margins improving to 12% by 2016!).
Bottom-line: AVP has been beleaguered by poor management, but it remains a very strong brand. I like Sheri McCoy's prospects and feel like it's not really priced into the stock to a great degree. When the doorbell rings, I will be considering adding AVP to my Top 20 Model Portfolio if the stock falls but I like what I hear about the longer-term plan.
Disclosure: I have no positions in any stocks mentioned, and no plans to initiate any positions within the next 72 hours. I wrote this article myself, and it expresses my own opinions. I am not receiving compensation for it (other than from Seeking Alpha). I have no business relationship with any company whose stock is mentioned in this article.