Overview
The energy landscape is undergoing a major transformation driven by the emergence of new technologies, discovery and development of new sources of unconventional oil and natural gas. In addition, concerns revolving around America's reliant on crude from volatile markets and global warming has also pushed companies and legislation to consider adopting and developing cleaner and more efficient ways of energy production.
Crude Oil (NYSEARCA:USO)
Worldwide demand for crude has slowed over the past few years as the global economy has decelerated.
European economic turmoil has led to lower demand expectations, a slowdown in China and the recession in the US has decreased production of goods and lowered GDP volumes, thus resulting in a decreased demand for oil.
However, speculation over possible economic stimulation from European, Asian and North American governments has lifted prices from their May lows of $75 to current prices of ~$90. In addition, geopolitical tensions such as the Iran sanctions regarding the closure of the Strait of Hormuz (which provides shipment of about 20% of the world's oil) has also aided in the raise of oil prices.
S&P expects oil prices to remain volatile in the near term due to sluggish European and US growth in addition to a slowdown in key emerging markets such as China. The US accounts for about 20% of global demand and has fallen by 2.6% Y/Y and the EU (which accounts for about 16% of global demand) has also seen demand drop by 2.1%.
Prices will remain volatile in the future, but long term data indicates that fuel prices should slowly creep upward. As economies improve and increase industrial production, an increase in demand for oil will follow. Geopolitical tensions should also be taken into account; however economic growth is seen as the main driver for prices going forward.
Unconventional Resources
The industry has begun a shift toward the exploration and development of unconventional oil and natural gas prospects such as shale reserves in North America.
The high levels of exploration, development and production of natural gas in North America has pushed prices to record lows over the past years.
However, interest in natural gas remains strong and S&P expects that unconventional crude oil and NGL production will capture most of the industry's attention over the next few years. With oil prices on the rise and drilling in the Gulf of Mexico on a sluggish return, many gas-focused companies are switching to unconventional liquids such as shale plays.
Hot Plays in North America
The Eagle Ford Shale located in south Texas has emerged as the hottest play in North America. Drilling begun in 2008 but slowed due to the recession. This field has a higher concentration of liquids than traditional shale and companies started to re-enter the region in 2010. Rigs numbers have grown from 177 in Q3 2011 to 211 as of July 27, 2012.
The second most active unconventional oil play is the Bakken Shale formation, located in Montana, North Dakota and part of Saskatchewan and is estimated to be one of the biggest oil fields in the US. The region's major producers such as Hess (NYSE:HES) and Marathon Oil (NYSE:MRO) are ramping up production and development efforts. In Q3 2011, there were 141 rigs in the region. As of July 27th 2012, there were 160 active rigs.
The third most active play is The Permian Basin, located in Western Texas and southeastern New Mexico. This region is by far the oldest and has been known to possess strong quantities of liquids, however lack of technology and development has held back production until the past few years. In Q3 2011, there were 274 active rigs. As of July 27, 2012, there were 381 active rigs.
In Canada, an increase in investment from France's Total SA (NYSE:TOT), and a joint venture between Devon Energy (NYSE:DVN) and BP (NYSE:BP) has led to the development of the Athabasca oil sands located in Alberta. These three investments have led to an influx in foreign investment in recent years, primarily stemming from Asian national oil companies such as Sinopec (NYSE:SHI), China National Offshore Oil, and PetroChina (NYSE:PTR) which have all made multi-billion dollar investments within the past two years. Sinopec has invested close to $8 billion in order to acquire oil sand deposits, so it is clear that the Chinese believe there is strong growth potential here.
Natural Gas Markets (NYSEARCA:UNG)
US natural gas supplies have increased substantially in the past few years. However, companies have pulled back on production as natural gas rig counts have fallen to 498 as of August 3, 2012 from 811 at the start of 2012 according to Baker Hughes.
High production and supply in accordance with weak demand due to the mild winter in 2012 have led to a steep fall in natural gas prices.
In October of 2011, natural gas prices were around $4.39 and dropped to a low of $2.59 in May of 2012 but have since rebounded to $3.34 as of October 26, 2012. An increased demand for power generation due to a hot summer is most likely the main catalyst for this price increase.
Global natural gas prices remain attractive compared with the US. Many regions are seeing prices in the $10-$20 range per million BTU.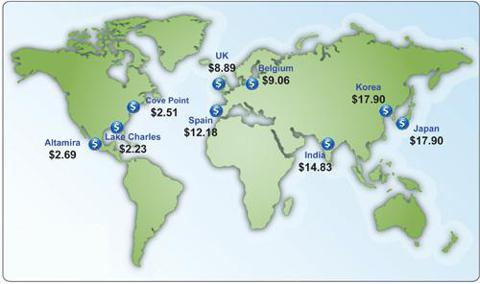 In addition, structural changes in automobiles, power generation and aviation are suggesting the use of cleaner and more efficient (as well as affordable) fuels. Countries are lowering their use of conventional oil for power generation, heating and industry and have considered switching to natural gas. Oil production for use in power generation has fallen by 40% since 2000.
Natural gas is significantly cleaner to use compared with gasoline and diesel
Studies have shown that compared with diesel, natural gas burns 30% cleaner and can reduce smog by up to 90%
Converting one truck from diesel to natural gas is the equivalent of taking as many as 325 cars of the road in terms of pollution
Converting about 350,000 of the 2 million 18-wheelers on the road from burning diesel to running on natural gas would create 420,000 new jobs directly and 1.2mm indirectly
Natural gas is already distributed across the majority of the USA. About 1.5 million miles of pipeline connects houses to the natural gas grid and is available to nearly every street and community in the US
Natural Gas Companies Worth Researching
Restrictions
Hydraulic fracking in the US is a very dirty business. Fracking involves drilling into the surface of the earth and injecting fluid into the ground at high pressure in order to fracture shale rock which releases natural gas. Water is brought in by truckload and mixed with chemicals and sand to create the fracking fluid. After the job is done, some of the water may be pumped out and left in surface pits or tanks, however the majority of the fluid is usually left behind in the wells underground.
This excess of fluid can sometimes be used for another job.
Environmentalists have three main problems with fracking:
Lack of measurement of greenhouse gas emissions
Lack of transparency regarding the disclosure of hydraulic chemicals
Well performance
In 2011, the governor of Texas signed a bill which requires drilling companies to disclose which chemicals they use.
Then in May of 2012, the US Department of the Interior released a set of rules which requires companies to report what chemicals they use which applies to the entire country. However, the rule also states that they may keep the identity of some of those chemicals private as trade secrets.
There has been a significant increase of pressure on the Obama legislation and Congress to raise oversight of US drilling for onshore and offshore oil and natural gas. These provisions will have an impact on how oil and natural gas is produced and possibly increase the costs associated with drilling and well exploration in the near future.
Conclusion
Speculation over governmental intervention in foreign regions and the US has helped with the rise of oil as economies struggle to improve. Prices will remain volatile in the short term but should slowly creep upward long term as the global economy improves.
Natural gas and unconventional ways of producing oil are becoming more and more popular; however environmental and governmental regulation are holding these opportunities back. Long term, I expect natural gas to become extremely popular in vehicles and power production due to its clean properties and low price. The US is sitting on a goldmine here and it's only a matter of time before a new industrial era is established.
Disclosure: I have no positions in any stocks mentioned, and no plans to initiate any positions within the next 72 hours. I wrote this article myself, and it expresses my own opinions. I am not receiving compensation for it. I have no business relationship with any company whose stock is mentioned in this article.