If you are looking for a textbook example of illegal trading and the systematic destruction of a company's stock price, look no further than Royale Energy (NASDAQ:ROYL).
Royale Energy's management successfully navigated this company through difficult times. In the first quarter of 2008, they increased cash flow more than 50%. They then promised and delivered profit in Q2. In fact they exceeded expectations. The company was then listed on the Russell 2000 and received favorable articles from a variety of sources (i.e. Fortune and Motley Fool).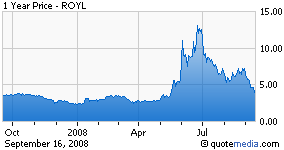 Since then, market movers have systematically engaged in automated, electronic, illegal trading and did something I didn't think they would be able to pull off. They recently drove the price down on 7 consecutive days, which culminated in yesterday's closing price of $3.89 (down 16% for the day), when UNG (natural gas index fund) was down less than .5 % on absolutely no notable news.
This goes well beyond drops in the energy sector, and this company has repeatedly been listed on the naked short list. I strongly recommend investors stay away from any small cap stocks. ROYL is a solid company and will eventually rebound. Two weeks ago, this stock traded at $7.17. From there, it plunged to $3.89 on a series of naked short sales. If this isn't illegal trading, what is?
Disclosure: Long