With threats of Hurricane Sandy hitting the Northeastern U.S., one company is seeing a direct benefit from the storm's preparations. In addition to Sandy, we've been getting more and more extreme storms in the past few years that caused power outages. The stock price of Generac Holdings (NYSE:GNRC), a manufacturer of generators, increased about 12% in the past two weeks. The company makes stand-by back-up generators that can detect a loss of power and turn on automatically, providing customers with uninterrupted electricity. It makes a variety of residential and commercial stand-by and portable generators.
Despite the recent run-up in price, Generac is still undervalued with a trailing PE ratio of 5.64, a forward PE ratio of 11.76, a PEG of 0.82. The stock price has been pretty choppy with sharp increases and decreases since its IPO in 2010, but the price has more than doubled since its debut. Investors would probably be wise to wait until after the buzz of the storm tapers off before buying as the stock is overbought in the short-term.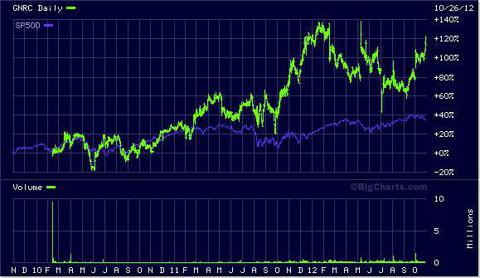 Although competition exists for Generac, the company is the only market participant focused primarily on stand-by and portable generators with a variety of capabilities in residential, commercial, and industrial markets. The company's competition for commercial and industrial generators is Caterpillar (NYSE:CAT), Cummins (NYSE:CMI), Kohler, and MTU. Those companies produce diesel generators as they are diesel engine manufacturers. Generac's generators are fueled by natural gas, liquid propane, gasoline, diesel, and Bi-Fuel.
The competition for residential stand-by generators comes from Briggs and Stratton (NYSE:BGG), Cummins, and Kohler. Honda Motors (NYSE:HMC), Briggs and Stratton, and Techtronics International are competitors for portable generators.
Generac competes on the basis of brand reputation, quality, reliability, price, innovation, and variety and availability of products. Although Generac has only a 15% share of the total commercial industrial market, it is number one in terms of market share for natural gas products. It is the purest investment play in the generator business as producing generators is its primary business.
Generac has 10 positive earnings revisions for 2012 and 8 for 2013. It beat earnings estimates in its last four quarters. The company is expected to grow earnings annually at 12.67% for the next five years. This should be enough to outperform the market given its current undervaluation.
With a market-cap of $1.93 billion, Generac is still considered a small-cap, but on the brink of being defined as a mid-cap company once it surpasses the $2 billion mark. As more families and businesses experience extended power outages as a result of Hurricane Sandy and other storms, the more awareness is brought to the back-up generator business. This awareness should allow Generac to continue to thrive, especially since Sandy is expected to impact the densely populated area of the Northeastern United States.
Disclosure: I have no positions in any stocks mentioned, and no plans to initiate any positions within the next 72 hours. I wrote this article myself, and it expresses my own opinions. I am not receiving compensation for it (other than from Seeking Alpha). I have no business relationship with any company whose stock is mentioned in this article.