Stocks started out last week on the wrong foot, and could never get back on the right one. That's not to say the indices slumped all five days, but none of the advances were healthy, and a couple of the pullbacks were strong. Minor support may have developed, but in the grand scheme of things, the bearish momentum still looks stronger.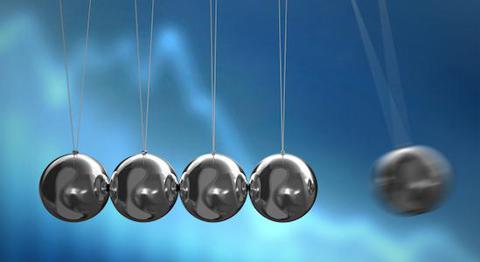 We'll weigh the pros and cons in a moment. First we're going to dissect last week's major economic news.
Economic Calendar
It wasn't a busy week last week in terms of economic numbers, but we did get some biggies.
The biggest number of all was third quarter's GDP growth rate. The first estimate rolled in at 2.0%, up from Q2′s 1.3%. The final official number for the second quarter actually came in lower than the preliminary estimates, but even if Q3′s number is lower than the initial guess of 2.0% growth, it's still apt to come in better than last quarter's figure.
We also saw (more) huge progress on the real estate and construction front. New homes sold at an annual rate of 389,000. That's the strongest rate since early 2010, and a 5.7% increase from August's number. On the flipside, pending home sales were only up 0.3% for September, short of expectations of a 2.4% improvement. Still, it beats August's 2.6% contraction.
Last but not least, durable orders jumped 9.9% in September. Don't get too excited though… taking out transportation from the total (airplanes, mostly), durable orders were only up 2.0% in September. That's still a good number though… better than the 2.1% contraction from the prior month.
The rest is on the calendar below, but all in all, a fairly encouraging week, economically speaking.
The coming week is going to be much busier, particularly on the employment front.
Will the unemployment rate hold at last month's steep dip to 7.8%? The pros think not, though it's not expected to rise too much… just a move back to 7.9%. The nation is expected to have added 125K (net) jobs last month, with no net growth or contraction coming from government work. ADP says the nation is going to add 140K new payrolls.
We're also going to hear about September's factory orders, which should jive (or not) with last week's durable orders growth. Economists say factory orders are going to improve by 4.5%.
As was notes though, it's going to be a busy week; there are a lot of things in the lineup that could move the market.
Stock Market
As has been the case all too often of late, it's a good news/bad news situation for the market (NYSEARCA:DIA) (NASDAQ:QQQ) (NYSEARCA:IWM) and advanced options trading.
The good news is, the S&P 500 Index (SPX) (NYSEARCA:SPY) seems to have found a horizontal support line at 1403 (dashed), which held up long enough to let the index slide back above its upper 20-day Bollinger band. With just a superficial look, that's the beginning of a rebound effort.
The problem is, it's not yet been enough to get the market in rebound mode. In fact, even if the S&P 500 manages to push up and off the floor at 1403, that still doesn't push it back above the critical hump at 1435. That's where the 20-day and 50-day moving average line are close to intersecting… bearishly. If those two lines do end up completing a bearish cross under and/or the S&P 500 fails to hurdle either line, the downtrend is still alive. Of course, if the support at 1403 fails to hold the index up, and the mess of support around 1393 also fails to act as a floor, thing could - and likely will - get fairly ugly, fairly quickly. One day at a time though.
On the other hand, to be as realistic as possible, it does look like there's more downside that needs to play out here. So far, the market's only fallen back about 5% from its recent major peak. The normal bull market correction is usually on the order of 8% to 9%. Assuming that's the size of the pullback in the cards now, that would drag the index down to the 1347 area.
As you can see on the weekly chart below, there's no natural support at 1347. It's below the 200-day moving average line, but above the 26-week Bollinger band. So what ? It means either this correction is going to be atypical, or tough to pinpoint. We may need to keep any eye out for a big capitulation to spot the bottom, if one of the market's organic support levels isn't going to act as a technical floor this time around -- such as would be seen by a spike in the CBOE Volatility Index (VIX) (NYSEARCA:VXX). Take a look.
There's also another nuance worth keeping in mind for advanced options trading - volume.
Though it's been uninteresting (and low) since this time last year, there's something changing now that doesn't bode bullishly for stocks…. the volume behind the selling effort is rising. Two of the last three weeks have been bearish, and the volume has been higher than the recent average in both of those weeks. And as you can see, the bearish volume has been on the rise for the last couple of months while the bullish volume has remained anemic. One or two weeks can be dismissed as bad luck. Twelve weeks though? That's not mere chance.
Third Quarter Earnings
We're about halfway through earnings season, and so far, results have been even a little more disappointing than expected (and the forecasters weren't expecting much). Only 63% of the companies that have reported so far have topped earnings, versus the norm of about 70%. Also, 23% of reporting companies have missed earnings estimates, compared to the normal miss rate of about 20%.
Overall, though, the market's total income has actually rolled in better than first assumed it would. For the third quarter so far, the S&P 500 is on pace to earn $25.07, versus expectations of $24.93. That's still less than the $25.29 the S&P 500 earned in the third quarter of 2011, but it's not as bad as first thought.
Disclosure: I have no positions in any stocks mentioned, and no plans to initiate any positions within the next 72 hours. I wrote this article myself, and it expresses my own opinions. I am not receiving compensation for it. I have no business relationship with any company whose stock is mentioned in this article.
Additional disclosure: BigTrends Rapid Options Income clients hold an open SPY options position.