The 2012 European situation has cause extreme market volatility and has forced investors to seek safer stocks. With the economic and political climates becoming more tumultuous, I have been concentrating on high yield opportunities. Blue-chip dividend companies are well-known but there are attractive equities with high yields going ex-dividend every week. This strategy can work in one of two ways: either you buy before the ex-date to receive the dividend or buy after if the stock declines far below the after-tax amount of the dividend. Regardless of your short-term strategies, these equities can be attractive longer-term investments depending on your individual circumstances.
Buying the stock to receive the dividend is intuitive but many have contacted me requesting further details on the second strategy. Investopedia has a great example of how this works. To explain this, I will use AT&T (T) as an example. AT&T declared a $0.44 dividend to shareholders of record on July 10, 2012. On the ex-dividend date the stock price should decline by the after-tax dividend amount, with an assumed tax rate of 15% because many dividends qualify for a preferential tax rate. It is true that you can personally avoid immediate taxation by owning the security in an account with beneficial tax treatment but this serves as a benchmark.
As a result, an investor would expect the stock price to decline by $0.37 = [$0.44 * (1-.15)]. If AT&T declined by more than $0.37 in the absence of negative news you might have an attractive opportunity. For conservatism you may ignore the tax aspects and only trade if the stock price declines by the full dividend amount. Executing this strategy can generate returns over short periods of times but should only be performed on companies that you would be comfortable owning.
To focus on these opportunities I ran a screen with a focus on relative safety for the investments as the objective is to concentrate on liquid companies that are affordably priced. I began with a specification of a dividend yield greater than four percent and an ex-dividend date within the next week. To provide some layer of safety I narrowed down the environment by looking at companies with market capitalizations greater than $1B, PEs between zero and 20, and institutional holding percentage in excess of fifteen percent (except ADRs).
While not a precise requirement, I prefer companies that have underperformed the S&P 500 year-to-date as it indicates reduced downside relative to peers. With the impending European crisis I now avoid companies with significant European exposure. This is summarized below:
Dividend Yield ≥ 4.0%
Ex-Dividend Date = Next Week
Market Capitalization ≥ $1B
PE Ratio: 0-20
Institutional Ownership ≥ 15%
Ideally Modest S&P 500 Underperformance
Minimal European Exposure
After applying this screen I arrived at the equities discussed below. Due to the number of utility companies this week I have analyzed them in a separate article. Although I envision these as short-term trading ideas, you still need to exercise caution. The information presented below should simply be a starting point for further research in consultation with your professional financial advisor before you make any investment decisions. My goal is to present new companies to you and provide a brief overview of their recent developments and this should not be considered a substitute for your own due diligence.
Prospect Capital Corporation (NASDAQ:PSEC): 10.33% Yield - Ex-Dividend 10/29
Prospect Capital is a specialty finance company that operates primarily in the private equity and specialized investment categories with a focus on secured lending. PSEC trades at a relatively low 7.1 P/E, which is consistent with the depressed multiples of other financial services companies. In particular, many private equity firms have been trading at P/Es in the single digits which is bafflingly low. This hidden treasure can be your gain.
images

(Source: Yahoo! Finance)
Private equity companies are attractive dividend producers because they frequently revitalize or improve existing businesses and are able to return excess cash quickly. These can be volatile firms because their ventures often do fail but once they have successful investments, they can pay above-average dividends. Prospect's well-established history supports my belief in the management team's ability to continue success.
The firm prefers to make small investments ($5-$50M) in small-to-mid-size North American companies. Prospect has been very active in financing activities, and has been successful in finding demand for its revolving credit facility. In June 2010, Prospect began distributing dividends monthly rather than quarterly, which accounts for the perceived dividend decrease from $0.40 to $0.10. The dividend has held steady around $0.10 per share since then, but such a high current yield dividend growth is not a requirement.
Early this year, Prospect agreed to acquire a specialty finance company, First Tower Corp., in a cash/stock deal valued at approximately $233 million. First Tower specializes in offering installment loans to consumers for mid-sized consumer purchases. Based upon TTM earnings, the deal would offer a current yield of 21%; therefore, should be an accretive acquisition. This is another case of the rich getting richer, and shareholders should take advantage. Prospect reported annual earnings in August and net investment income nearly doubled year-over-year. Private equity investments are complex due to the scale and diversity of their operations so I strongly recommend that you read the earnings release for further details of investment activities. The company has been very active recently and entered into 11 new investments between June 30 and late August. At this rate, Prospect has likely entered into approximately ten new deals since its last report. A quick search on Yahoo! Finance reveals the disclosure of three secured loans totaling approximately $75M alone.
The stock has been largely immune to poor equity performance in 2012 and has risen from $9.50 to $12 and currently sits less than five percent from its 52-week high. Despite this strong appreciation, the P/E is still below eight and the yield is in excess of ten; therefore, I am bullish on Prospect Capital's future. Earlier this year the yield was much higher than eleven but it has declined solely due to the increase in demand for shares. Many companies with yields in excess of 10 percent can be yield traps, but Prospect has withstood the test of time and also offers capital gains opportunities. None of the loans originated in the past four years have gone on 'non-accrual' status, highlighting management's ability to select attractive investment opportunities.
The information presented has been summarized below. Yellow and red represent "avoid" and "consider" classifications, respectively. All utility companies are represented with blue and have been analyzed in a separate article.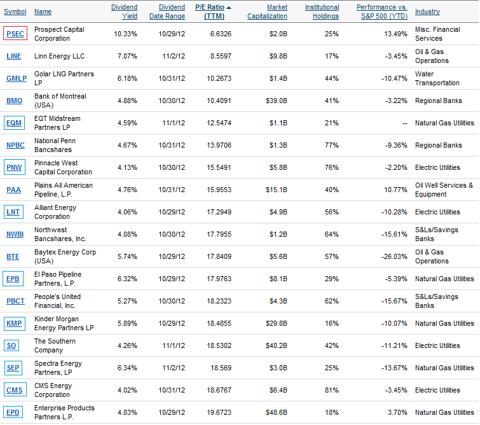 Disclosure: I am long PSEC, T. I wrote this article myself, and it expresses my own opinions. I am not receiving compensation for it (other than from Seeking Alpha). I have no business relationship with any company whose stock is mentioned in this article.
Disclaimer: Please refer to profile page for disclaimers.