Utility companies, with fifteen percent returns, comprised the best performing sector in 2011 as investors looked for a safe haven from the global economic turmoil. This year many utilities have underperformed the S&P 500 and appear to be attractive investments. I have been investing in high yielding utilities (such as Consolidated Edison (NYSE:ED)) for both income and capital appreciation. For further details on the dividend capture strategy, please consult my latest article on the topic.
To focus on these opportunities I ran a screen with a focus on relative safety for the investments. I began with a specification of utility companies with dividend yield greater than four percent and an ex-dividend date within the next week. Utility companies are excellent investments because they are generally stable, cash-cow business that returns most profits to investors via dividends and share repurchases. Larger companies enjoy scale benefits and are able to profit more from smaller rate increases. While geographical differences exist for regional utilities, the underlying business is essentially the same. To provide some layer of safety I narrowed down the environment by looking at companies with market capitalizations greater than $1B, PEs between zero and 20, and institutional holding percentage of at least 25 percent. While not a precise requirement, I prefer companies that have underperformed the S&P 500 year-to-date as it indicates reduced downside relative to peers. The "yield price" metric is calculated by dividing the P/E ratio by the dividend yield and attempts to gauge the value of the dividend. A low yield price indicates that you have an affordably priced stock given its yield. This is summarized below:
Dividend Yield ≥ 4.0%
Ex-Dividend Date = Next Week
Market Capitalization ≥ $1B
PE Ratio: 0-20
Institutional Ownership ≥ 25%
After applying this screen I arrived at the equities discussed below. Although I envision these as short-term trading ideas, you still need to be exercise caution. The information presented below should simply be a starting point for further research in consultation with your professional financial advisor before you make any investment decisions. My goal is to present new companies to you and provide a brief overview of their recent developments and this should not be considered a substitute for your own due diligence.
images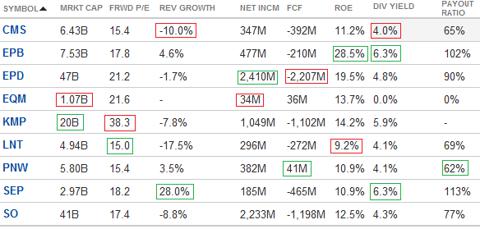 (Source: Seeking Alpha - please note the correct yield for EQM below)
Due to the volume of potential energy ex-dividend opportunities this week you should essentially be looking for reasons to not invest in certain companies. I have segregated the equities between natural gas utilities and more traditional utilities.
Natural Gas Utilities:
EQT Midstream Partners LP (NYSE:EQM): 4.59% Yield - Ex-Dividend 11/1
EQT Midstream Partners is a limited partnership formed by EQT Corporation (NYSE:EQT) to provide midstream services in the Appalachian Basin of the United States. IPODesktop did a great job summarizing the LP earlier this year when the partnership went public. EQM is the smallest equity in the screen and also is relatively expensive with a forward P/E in excess of twenty. The return on equity is simply average and I would generally stay away from EQM because the stock has a limited track record since its summer IPO - I prefer to see at least a year of performance before entertaining a strategy.
El Paso Pipeline Partners LP (NYSE:EPB): 6.32% Yield - Ex-Dividend 10/29
El Paso Pipeline Partners owns and operates natural gas transportation pipelines and related assets throughout the Central and Southern United States. El Paso is tied for the highest yield but has an alarmingly high dividend payout ratio, which is in excess of 100%. If you only plan on holding El Paso for the short-term then this is not a critical issue but it is always a red flag that requires further research. This risk is significantly mitigated by the fact that El Paso Pipeline is an MLP which is required to distribute most earnings to investors in the form of distributions; therefore, the payout ratio is far less meaningful metric than for traditional dividend payers.
The free cash flow is slightly negative due to these finance uses of cash but the partnership has a track record of generating cash from operations. EPB has had a decent run-up recently and may face some resistance in the near-future. Despite these headwinds, there should be some gas left in the tank to consider this partnership for dividend capturing.
Kinder Morgan Energy Partners (NYSE:KMP): 5.89% Yield - Ex-Dividend 10/29
Kinder Morgan is the largest midstream conglomerate in the United States and KMP is the MLP component of the $100B enterprise. Kinder Morgan Energy Partners is very similar to El Paso Pipelines which explains why Kinder Morgan Inc. (NYSE:KMI) recently acquired all of El Paso. KMP is significantly larger than EPB but is much more expensive and offers forty basis points less of yield. KMP was recently upgraded by Argus to a Buy rating.
Spectra Energy Partners LP (NYSE:SEP): 6.34% Yield - Ex-Dividend 11/2
Spectra Energy Partners is a MLP that specializes in charging fees for reserving capacity in its natural gas pipelines and storage facilities for pipelines across the Central and Eastern United States. This is a fantastic business model and the company is experiencing tremendous growth. The pipeline companies profit independent of natural gas prices as their performance is not overly linked to the price of the underlying commodity. It is a positive sign that Spectra has performed averagely with natural gas prices declining so precipitously. This is a relatively stable stock that has stayed in a tight trading range for the past year which makes it an ideal dividend stock given its high yield.
Enterprise Products Partners LP (NYSE:EPD): 4.83% Yield - Ex-Dividend 10/29
Enterprise Products Partners is one of the more diverse midstream providers with interests in not only pipelines and storage but also in natural gas processing, marine services, platforms, and natural gas liquids importing and exporting. Contributors at Seeking Alpha have mixed opinions on Enterprise Products with a generally positive bias. The stock is trading near its high despite slowing revenue and very negative cash flows. I would rather invest in either SEP or EPB than assume the risk of EPD declining further.
Traditional Utilities:
Pinnacle West Capital Corporation (NYSE:PNW): 4.13% Yield - Ex-Dividend 10/30
Pinnacle West Capital is a regulated utility company that produces and distributes energy for over one million customers in Arizona. The company has an average valuation given its yield but the positive cash flows and low payout ratio make it more attractive of an opportunity. Pinnacle recently announced a four percent dividend increase. Note that the company reports earnings this Friday so you would be wise to avoid dividend capturing strategy that involves quarterly earnings as it introduces unnecessary risk.
Alliant Energy Corporation (NYSE:LNT): 4.06% Yield - Ex-Dividend 10/29
Alliant Energy Corporation is a regulated utility company that produces and distributes energy for 600,000 customers in the Iowa, Wisconsin, and Minnesota. Alliant is the cheapest stock this week on a forward P/E basis but has the lowest return on equity. Generally there is not too much to get excited about here with Alliant Energy compared to its peers this week.
The Southern Company (NYSE:SO): 4.26% Yield - Ex-Dividend 11/1
The Southern Company is a utility company with six million customers in the Midwest. The Southern Company is unique because it is still dedicated to nuclear energy and is proactive in trying to adapt to the realities of the energy market. This is one of my preferred utility companies but unfortunately I cannot recommend it for dividend capturing the week as it reports third quarter 2012 earnings on Halloween, right before the ex-dividend date.
CMS Energy Corporation (NYSE:CMS): 4.02% Yield - Ex-Dividend 10/31
CMS is one of the larger utility companies which services ten million customers in Michigan. The company has the lowest yield and barely squeezed past my four percent threshold. The company's revenue has been contracting at a startling rate and the economic environment in Michigan is still struggling. Many of the natural gas pipeline opportunities are more advantageous.
The information presented has been summarized below. Yellow and red represent "avoid" and "consider" classifications, respectively.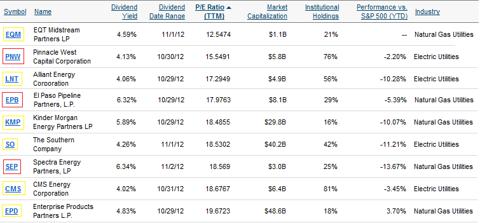 Disclosure: I am long ED. I wrote this article myself, and it expresses my own opinions. I am not receiving compensation for it (other than from Seeking Alpha). I have no business relationship with any company whose stock is mentioned in this article.
Disclaimer: Please refer to profile page for disclaimers.