Toronto-Dominion Bank (NYSE:TD) may take an earnings hit as it changes its U.S. deposit strategy to combat fierce competition, says Brad Smith, analyst at Blackmont Capital.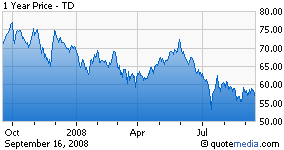 Mr. Smith said that TD management has adapted a new strategy to curb deposit base erosion as a result of "irrational " competitor deposit pricing. The analyst said the response highlights a "new and not insignificant" risk to TD's U.S. segment bottom line.
He estimates that a roughly 40-basis point hike in deposit rates may be required to re-establish positive deposit growth, resulting in a potential reduction in segment net income of $200-million.
Mr. Smith told clients in a note:
While the potential impact of the deposit strategy shift on consolidated EPS is likely to be no more than C$0.25 in 2009, the risk of missing committed U.S. segment profit targets may have bigger implications for overall market sentiment and valuation.

This, coupled with the substantial deterioration in the U.S. banking environment, reflects continued erosion in the risk return profile of TD's U.S. Retail Banking strategy, which if not reversed, could lead to a period of relative investment underperformance.