Recently a friend stopped at the house to get investment advice. He told me his CDs had come due and was looking for a place to put his money. He had been getting 5% on his CDs but now they were offering a little over 1%. I told him to take his money out of the bank and to buy the bank. I suggested that he could easily get 5% or better annually by buying small regional bank stocks.
Small regional banks offer a great opportunity for dividends and growth during this part of the economic cycle. S&P maintains that the fundamental outlook for regional banks for the next 12 months is positive. Credit quality of the banks continues to improve and charge offs as well as non-performing loans continue to come down. Most regional banks have learned their lesson from the last downturn in the economy and are doing due diligence when they lend out money. As the economy expands and improves we can expect loan growth to grow modestly as well.
When interest rates begin to rise, banks will be able to increase interest on their loans faster than they increase interest payments to their depositors. This enables banks to expand their margins and become more profitable. As they become more profitable, they will be able to increase their dividends. Furthermore, many of these smaller banks were forced to reduce dividend payments during the housing crises to shore up their books. Most of these regional banks have now taken care of their TARP payments and met their capital requirements so they are free to increase their dividends once again.
It is possible to buy some of these banks at or below book value. Since investors are still looking back at the credit problems these banks had during the housing meltdown, they are not recognizing the present value in these stocks. Investors are also concerned about the new regulations placed on banks by the Obama administration. They are worried these new regulations will reduce bank income. I am convinced that banks will find ways to handle these new regulations without damaging their bottom line.
S&P recorded that its Regional Banks Index increased 20% through September 30, versus a 14.3% rise in the S&P 1500 Index. Just to offer one example, I recently wrote about Codorus Valley Bancorp (CVLY) on October 10. It declared its regular dividend of $.11 a few days later. But it also declared a 5% stock dividend as well. So this year CVLY has increased its dividend from $.09 to $.11 as well as granting a 5% stock dividend at the end of the year. While most folks see a stock dividend as dilution of the share base and does not increase the value of their holdings, it still means that there is an automatic 5% increase in the dividend for 2013 for those who owned the shares.
The crux of my argument is that regional bank stocks offer good value and are in an excellent position to increase their profits and dividends. For this reason it is a good time to invest in small regional banks. They offer another opportunity as well since they are selling at low valuations. I am convinced that expanding banks will be on the prowl for some of these smaller regional banks to enlarge their foot print and to increase their profits. Since most bank buyouts are at 1.5 times book, banks selling at book or below would jump considerably in price if a buyout or merger were to take place.
Below are a few small regional banks for you to consider for further research and possible purchase. First off, Bancorp of New Jersey (BKJ) pays about a 2% dividend, is selling at around book value and has been growing in revenue and net profit over the past 2 years. In the past quarter earnings per share increased 18.8% over the same quarter last year. Net income increased 22.4% over the prior year's quarter. Insiders hold 23% of the company shares whereas institutions only own 1% of the outstanding float. The Street Ratings list BKJ as a buy and Ford Equity Research rate it a hold. (Statistics and graph taken from The Street Ratings)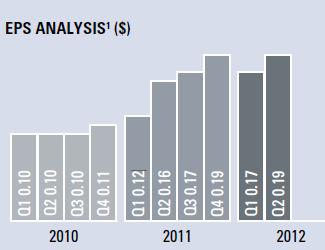 Since very few analysts follow the company and mutual funds have little interest in the stock at this time, it is a great opportunity to purchase a company at book value in the midst of a turn around.
Elmira Savings Bank (ESBK) pays a 4.5% dividend, selling just above book value. It has not been growing revenue or profits, but it has been maintaining its profitability. Ford Equity Research rates ESBK a buy because it operating earnings yield of 7.2% is above 73% of stock universe Ford measures. ESBK has set a goal of increasing diluted EPS to $1.75 by 2014 from its present $1.50. The company has established reasonable initiatives to reach this goal. You can read a prior article on ESBK here. (Statistics and graph taken from Ford Equity Research.)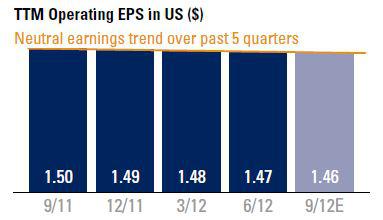 First Community Corporation (FCCO) pays a 2% dividend, selling at 25% below book value. However FIG Partners LLC maintains that book value will be reduced about 12% in the third quarter due to shares issued at $8.00 per share to repay TARP. The Street Ratings and Ford Equity Research both rate the bank a buy. Fig Partners also rate the bank at outperform in spite of the hit to book value. Fig expects the 4th quarter to do well after the adjustments of the 3rd quarter. Since the overhang from TARP is gone, the bank should be able to pay more of its earnings in dividends. (EPS Graph taken from The Street Ratings.)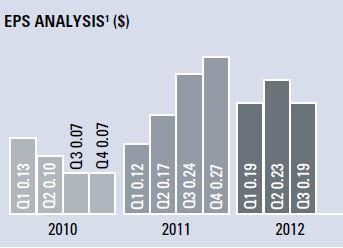 First Interstate Bancsystem (FIBK) pays a 3% dividend and sells at 10% below book value. Ford Equity Research rates FIBK a buy with earnings expected to come in at $1.06 per share. The Street Ratings rates FIBK as a hold because its P/E is higher than the industry average. The graph below shows that earnings are up about 30% for 2012 over the previous year's quarter. One drawback to this company is the Class B common shares which are not exchange traded, but have 5 votes per share. This allows minority owners to control the company. (EPS Graph taken from The Street Ratings.)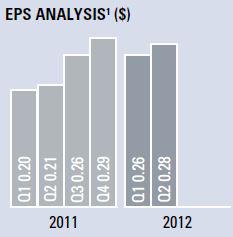 Harleysville Savings Bank (OTC:HARL) pays a 4.75% dividend, selling slightly above book value. Net income was $1.33 for fiscal year 2012 compared to $1.44 per share for fiscal year 2011 reported September 30, 2012. However some special items in the September quarter of 2011 caused income to double for that period and caused a distortion. While net income was lower, the interest rate spread has increased from 2.07% to 2.26% over the same period. Insiders hold about 15% of the outstanding shares of the company. The dividend represents about 60% of net income. The Street Ratings rates HARL a buy whereas Ford Equity Research rates it a hold. (EPS Graph taken from The Street Ratings.)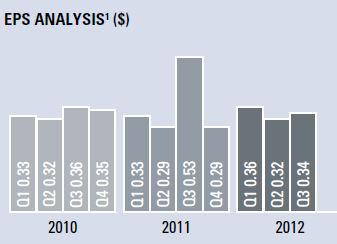 These banks represent good value with reasonable dividends. Each offers the likely possibility of a growing dividend and capital gains. These small regional banks are possible takeover candidates for larger regional banks where the normal buyout price is usually around 1.5 times book. Since all of these banks are selling at or below book value, a buyout would offer quick profits.
Do not to invest more than 2% of your capital in any one of these issues. Presently each one is doing well, but there is always the possibility of a major construction loan going sour at one of the banks. While that would not bankrupt the bank, it would create a major dent in the profits of a small regional bank and likely hurt the dividend and price of the stock for a prolonged period of time. I suggest that you buy several of these smaller banks to diversify your risk. You also want to place limit orders to purchase them since they are lightly traded. On a risk-adjusted basis, these banks offer growing dividends and capital gains with the added kicker of a possible buyout.
Disclosure: I am long OTC:HARL, CVLY, OVBC, PBCT, PULB, BKJ. I wrote this article myself, and it expresses my own opinions. I am not receiving compensation for it (other than from Seeking Alpha). I have no business relationship with any company whose stock is mentioned in this article. I have an outstanding limit order for ESBK.