Capstead Mortgage Co. (NYSE:CMO) is a self-managed REIT. CMO invests primarily in Agency residential adjustable-rate mortgage (ARM) securities. With the recent Fed activities of Operation Twist and QE3, which so far consists of buying $40B in MBS per month, CMO's strategy appears to be a good one. Mortgage rates have fallen slightly since the start of QE3. Consequently prepayment rates have gone up from an average CPR of 15.9% for Q2 2012 to an average CPR of 18.7% for Q3 2012. The good news is this could have been worse if CMO was not investing in ARM RMBS. ARMs reset to lower rates on their own. Therefore mortgage holders do not necessarily feel compelled to refinance at lower rates (prepay). This cuts down on the losses due to prepayments, and CMO's average prepayment rate of 18.7% is still very acceptable for a mortgage REIT. Of course, the consequence of such resetting is that the financial spread between the cost of funds and the now lower yields of the RMBS goes down. For Q3 2012 that spread fell 20 basis points to 1.30%. This was following a Q2 2012 drop of 15 basis points. The spread may fall even farther in Q4 as more ARM RMBS reset to lower rates. This could necessitate another drop in the dividend/distribution payout. This payout already dropped for Q3 2012 to $0.36 per share from $0.40 per share for Q2 2012.
Does this mean you should sell CMO? I don't think so. The dividend even after the cut amounts to an 11.87% payout per year. This is several times what you could get from long term US Treasury bonds, and CMO's investments are still backed by the US government. Yes, mortgage rate might go a little lower; but they are nearing a bottom. They may be there already. The Fed has said it will discontinue Operation Twist at the end of 2012; and it really has too. It will soon run out of short term Treasury bonds to sell (as it buys longer term bonds). The Fed could come up with a complex scheme to allow it to continue Operation Twist, but the Fed would likely paint itself into a corner by adding such complexities to its financial picture. Such behavior would be DUMB, and the Fed governors are anything but that. Therefore Operation Twist will come to an end at the end of 2012. This doesn't mean the Fed will definitely stop buying long term Treasuries. This action keeps their yields down, and at the same time it keeps mortgage rates based on long term Treasury yields down too. However, such activity will likely be greatly reduced because the Fed cannot be seen to be blatantly printing money for long periods of time. That would cause inflation, and that would have the opposite effect to the one the Fed desires.
The Fed may step up its mortgage buying after the end of the year. However, it is already buying a large proportion of the mortgages being written. It is buying the $40B per month for QE3 plus another $25B-$30B per month in funds it is reinvesting form expired investments. This brings the total to $65B-$75B in MBS per month. Further the Fed may step up its QE3 amount after Operation Twist ends. The net effect of more Fed mortgage buying may be small. Besides the Fed has to allow the mortgage REITs to grow as part of the long term US plans for home loan financing. It cannot kill their growth off by buying literally all of the home mortgages. This suggests to me that mortgage rates will continue to go down near term, but they will likely start to rise again after the end of 2012 when Operation Twist ends. It means CMO may see some more of its ARM mortgages reset to lower rates in the short term. However, it should see many start to reset to higher rates after that. I do not expect this to be a huge ramp up because the Fed still intends to keep Fed Funds rates, etc. low until mid 2015. Rather the move up should just result in a re-expansion of CMO's financial spread between the cost of funds and the mortgage yields to perhaps the spreads of about a year ago. This should be healthy for the company. If I am correct, it will result in increases in the dividend for a number of the 2013 quarters.
Some may argue that the increased yields will mean a lower book value, but CMO is hedged against this. Plus CMO is already trading at a 12.6% discount to its book value of $13.88 per share at the end of Q3 versus its close October 26, 2012 at $12.13 per share. The book value rose considerably from its value at the end of Q2 2012 of $13.23 due mostly to the lowering of the mortgage rates during Q3 2012. The book value stands to rise even more in Q4. Then it should begin to fall as rates expand (and its financial spreads expand). However, CMO is hedged against falls in the book value. These should ameliorate any downward pressures on book value. Plus the CMO will get to take advantage of the higher mortgage rates as the ARMs reset to higher rates automatically. I expect all of these moves to be relatively small for the time that the Fed is keeping interest rates low (until mid 2015). Therefore the prepayment rates should not go up dramatically, and CMO should become more profitable again in 2013.
Further CMO management has been showing their skills in other areas. Operating costs as a percentage of long term investment capital declined to 0.88% during Q3 2012 compared to 1.06% during Q2 2012. CMO has been slowly acquiring more money to manage; and it apparently is not using many more man hours to manage the greater amount of money. During Q3, CMO raised another $21 million through issuing 1.5 million new common shares of stock at $13.93 per share. Year to date CMO has raised $142 million by issuing 10.5 million common shares. Greater efficiencies due to increased size bode well for the future of the company.
In sum, while the decrease in net income in Q3 2012 to $40,037,000 from $43,335,000 in Q2 2012, is upsetting, it does not appear to be a long term trend. It may continue for one more quarter; but it should reverse itself after that for the reasons described above. This means CMO is not a raging buy at this point. However, it is a solid hold; and you could start to nibble at it for later. There is no telling when it will start to go up again. Mortgage REITs often trade slightly above their book values. CMO is now trading slightly below its book value at $12.13 versus a book value of $13.93 per share.
CMO still appears to have a bright future. I might tend to be a strong buyer now, if I were not worried about the fiscal cliff. However, that is a worry, and it along with the many other world economic problems could take the entire market downward. CMO would likely ride along with the market. Some point in the near future may actually turn out to be the best time to buy this stock. It is worth buying. It seems to have an assured future until mid-2015 at least with the Fed backstopping it all that time. You will have to re-examine the situation when the Fed starts to let interest rates rise after mid-2015, but CMO is well positioned with hedging and ARMs to profit well in that situation too.
The five year chart of CMO provides some technical direction for this trade.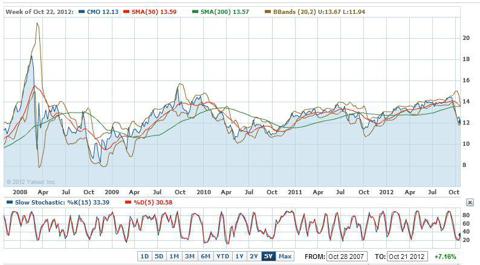 The slow stochastic sub chart shows that CMO is near oversold levels. The main chart shows that CMO could be about to start a downtrend. The 50-day SMA is about to cross the 200-day SMA on its way downward. If this happens, it is a sell signal. The fiscal cliff could be a good reason for such a sell off; and it may indeed happen. However, the fundamentals of this stock say that it should continue to perform well. It trades at a PE of 7.46, which is quite cheap. Even its FPE is only 8.48 -- still cheap. It did recently get a Zacks #5 rating; but the average analysts rating is 2.5 ( a low buy or high hold). Plus it carries a CAPS rating of four stars -- a buy. A very slow averaging in might be appropriate. The overall market may be heading downward soon due to the fiscal cliff and the overall rather poor Q3 earnings performance. The financial spread for CMO may decrease for one more quarter. Then it should start to increase. Picking the best time to get into this stock may be difficult. Very slowly averaging in may be the best bet. Alternatively you could decide to wait until the likely somewhat bad news from Q4 2012 is out of the way. You would then likely also know what the new Fed plan was going to be after the end of Operation Twist. I still like this stock.
If you are interested in other mortgage REITs that may perform better with declining mortgage rates, you might want to consider: New York Mortgage Trust Inc. (NASDAQ:NYMT), which invests in RMBS and CMBS, American Capital Mortgage Investment Corp. (NASDAQ:MTGE), which invest in both Agency and non-Agency RMBS and loans, Dynex Capital Inc. (NYSE:DX), which invests in both RMBS and CMBS, and still others. You will probably want to stay clear of those companies investing in primarily Agency RMBS such as Annaly Capital Management Inc. (NYSE:NLY) and American Capital Agency Corp. (NASDAQ:AGNC), since these companies will likely have the lowest financial spreads near term.
Note: Some of the fundamental fiscal data is from Yahoo Finance.
Good Luck Trading.
Disclosure: I have no positions in any stocks mentioned, but may initiate a long position in CMO over the next 72 hours. I wrote this article myself, and it expresses my own opinions. I am not receiving compensation for it (other than from Seeking Alpha). I have no business relationship with any company whose stock is mentioned in this article.