In the weeks leading to its quarterly earnings report, Cliffs Natural Resources (NYSE:CLF) traded in a trading range. As predicted previously, shares bounced between around $38 and $45.79, but broke below that range after reporting earnings that were much lower than the consensus of analysts. Quarterly earnings expectations ranged between $0.43 and $2.00 per share. The average earnings estimate was $1.14 per diluted share and revenue was expected to be $1.6 billion. Cliffs reported earnings of $0.59 per share on revenue of $1.54 billion. After a very weak quarter, are Cliffs shares in danger of re-testing its share price bottom of $33.68, reached on September 4, 2012?
In the iron ore sector, Cliffs is performing poorly. Vale (NYSE:VALE) and Rio Tinto (NYSE:RIO) are both performing relatively better. For the year-to-date, Cliffs shares are down around 40%, while Vale is down around 15% and Rio Tinto almost flat: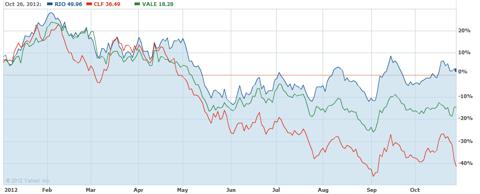 (Chart Source: Yahoo Finance)
Cliffs noted a number of strengths and weaknesses during its third quarter conference call.
Negatives
A lack of a major stimulus program in China and ongoing weakness in Europe are hurting the pricing environment for iron ore. Prices rebounded from sub $100 pricing during the last quarter, but another crisis in Europe could drag prices down again.
Delaying the target date for the chromite project beyond 2017 will improve cash flow, but Cliffs is open to finding a suitable partner to lower its operational costs.
Seaborne pricing declined 36% in the quarter.
U.S. iron ore revenue declined to $111 per ton, down from $138 per ton last year.
Wabush will continue to lose money as focus remains on Bloom Lake.
Positives
The company is 60% complete for the concentrator at its Bloom Lake project. When complete, the site will sell between 13 million to 14 million tons of iron ore next year.
Coal sales volumes increased 157% to 1.7 million tons year-over-year. Strength was consistent with other coal companies like Arch Coal (ACI), which reported positive earnings of $0.20 per share in the quarter.
North American coal revenue per ton increased 30% to $129.
Completion of Oberlin conveyor at Bloom Lake will help company reach forecasts of $60 to $65 cash cost and 7.2 million tons (annualized).
Outlook
For 2012, Cliffs reduced its iron ore sales volume to 22 million tons, down by 1 million. For 2013, the company anticipates selling 19 to 20 million units from its U.S. operations. This is based on a North American steel-making utilization rate of 70%.
The forecast spot price for seaborne iron delivered to China was decreased to $128 per ton.
For the year, Cliffs expects to maintain a capital expenditure budget of $1 billion, with Bloom Lake a first priority project.
Balance Sheet
Cash generation declined from $821 million in the prior year to $308 million. Cliffs now has $36 million in cash and cash equivalents, and debt of $3.9 billion. The company has $1.5 billion in liquidity, after drawing $250 million from its $1.75 billion revolving credit facility.
Conclusion
Investors should not expect much upside for Cliffs in the near term. The bullish view for Cliffs Natural Resources was supported by a view that a stimulus would boost economic growth in China. This in turn would support higher prices for iron ore, which would improve earnings for Cliffs. The leadership transition in China will also add to near-term uncertainty for the sector.
Investors could expect the company to reduce its dividend, which will lower shareholder confidence. When dividends were increased 6 months ago, pricing at the time was stable and cash flow was stronger from the Asia Pacific projects. Cliffs move to conserve cash and to commit funds saved for its projects. Bloom Lake and Wabush would both benefit from an increase in capital expenditures. This would ultimately benefit shareholders, especially as iron ore prices eventually sustain higher prices. Cliffs has 142.5 million shares outstanding (according to finviz.com). The company is currently committed in paying $356.2 million in dividends annually. If the company were to reduce its dividend back to $0.28 per quarter from $0.62, the dividend commitment to shareholders would drop to $159.6 million annually.
Cliffs currently trades at a forward P/E of 8.31, higher than that of Vale (7.31) and Rio Tinto (6.74). Vale reported better sales volumes on strong realized iron ore prices, which supports a positive outlook for the company. Rio already announced cost cuts of up to $500 million. Conversely, Cliffs sales forecast is less positive, and cuts to capital expenditures have yet to be announced.
Assuming no additional stimulus measures are announced by China, Cliffs appears likely to be re-testing its September low of $33.68 in the near-future. This will be fueled primarily by expectations for weaker iron ore prices. Cliffs will need review its dividend policy to reflect risks that its iron ore revenue-per-ton outlook will be reduced in the United States. It will also need to find partners for its projects to ensure its mines, when fully operational, will operate more efficiently.
Disclosure: I have no positions in any stocks mentioned, and no plans to initiate any positions within the next 72 hours. I wrote this article myself, and it expresses my own opinions. I am not receiving compensation for it (other than from Seeking Alpha). I have no business relationship with any company whose stock is mentioned in this article.