Very few sectors have had more negative sentiment around it this year than the defense industry. Concerns around the fiscal cliff and the mandated defense sequestration cuts that will occur if compromise is not reached by the end of the year have hit this industry hard. However, after the election it will be in the interest of both parties to resolve the underlying issues and come to a budget compromise. This clarity should be good for the beaten down firms in this sector. One stock (below) I recently added to my income portfolio offers cheap valuations and an almost 4% yield to play this thesis.
ManTech International Corporation (NASDAQ:MANT) provides technologies and solutions for national security programs in the United States and internationally
6 reasons MANT is a solid value and income play at just over $22 a share:
 
MANT yields close to 4% (3.8%) and has just a 30% payout ratio even factoring in pessimistic FY2013's consensus earnings estimates.
The stock is selling at the very bottom of its five year valuation range based on P/B, P/E, P/S and P/CF.
The company's core specialties (cyber security, intelligence gathering, etc….) are likely to be much less impacted by sequestration if it happens than big ticket items (Fighter jets, ships, etc…).
The seven analysts that cover the stock have a mean price target of just under $27 on the stock, some 25% above the current stock price.
The stock is cheap at just over 6x operating cash flow and around 8.5x forward earnings, a discount to its five year average (13.6).
The stock has factored in lower defense spending judging by its 40% fall from its high in the second quarter. It also appears MANT has solid support in this price range. (See Chart)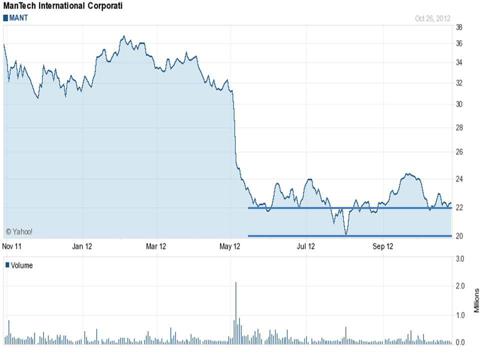 Disclosure: I am long MANT. I wrote this article myself, and it expresses my own opinions. I am not receiving compensation for it (other than from Seeking Alpha). I have no business relationship with any company whose stock is mentioned in this article.