The poor man's Caterpillar Inc. (NYSE:CAT) appears to have finally turned the corner. Terex Corporation (NYSE:TEX) continues to report solid margin expansion even with limited sales growth. In the past, the company routinely reported substantially lower margins than the market leader even in high growth periods.
The company is a diversified global manufacturer focused on aerial work platforms, construction, cranes, material handling and port solutions, and materials processing.
While investors might have been disappointed with lower than expected sales during Q3, the more important number remains the solid margin expansion. Generating free cash flow and improving the balance sheet is more important than growing revenue.
Q3 2012 Highlights
Below are the highlights from the Q3 2012 earnings report:
Net sales were $1,822M in Q3 2012, an increase of 1.0% from $1,803.6M last year.
Excluding the impact of the acquisition of Demag Cranes AG, net sales decreased approximately 8%, of which 5.4% relates to foreign currency fluctuations, from the comparable prior year period.
Income from continuing operations as adjusted in the third quarter of 2012 was $0.62 per share, an increase from $0.30 last year.
Terex easily beat analyst estimates for earnings of $0.49 by reporting earnings of $0.62. This makes the second consecutive quarter where earnings dramatically beat analyst estimates due to margin expansion.
Since the company provided cautious guidance for Q4, analysts have already reduced Q4 earnings estimates to $0.46 from $0.48. The expectations should be that Terex will again smash their lowball guidance. Hence, the likelihood exists that the original Q4 estimates will ultimately be beat.
Margin Expansion
The most impressive number was that gross margins grew 460 basis points over last year to 21% while net sales declined 8%. Anybody following Terex in the past knows that the most frustrating part about his company was that it generated billions in revenues but didn't always produce profits.
Or maybe the most impressive number was actually the nearly doubling of operating margins in the current quarter over 2011 numbers. Margins went from 6% to 11.3%. In order for this to occur, the company had to slightly expand on the large gross margin gains.
The crane segment was the primary division to lead the margin expansion. The company was able to increase crane prices by 4% while also cutting costs by 2%. In total, the operating margins more than doubled to 12.1% for the division.
The materials handling division saw a smaller operating margin increase from 7.2% to 10.1%. Considering the 12% decline in sales, the margin expansion was nonetheless impressive.
Another benefit of stronger margins will be the annual reduction of interest expense by $44M. A company in a better financial position can obtain extremely low rates in this environment. Terex has historically paid high interest rates and could substantially benefit from the improving margin situation.
Competitor Margins
For investors not convinced that higher margins alone can lead to a much higher stock price need to look no further than other heavy machinery makers such as Caterpillar, Joy Global Inc. (NYSE:JOY) or Manitowoc Company, Inc. (NYSE:MTW). The below chart shows how Terex has had very low margins in comparison: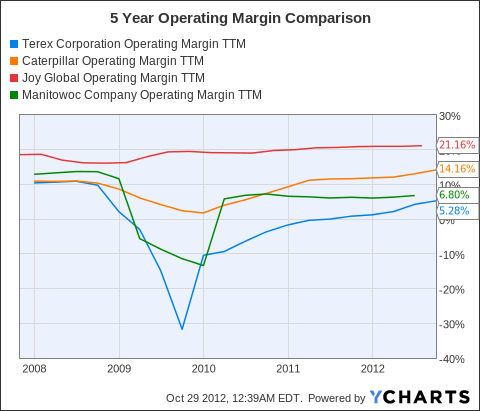 TEX Operating Margin TTM data by YCharts
Of all these stocks, Terex has the lowest price to sales ratio. While it has a market value of 0.32 times sales, Caterpillar trades at 0.81 times sales.
Stock
Terex's stock has had a couple of strong rallies this year though the $26 range has remained resistance all year.
1 Year Chart - Terex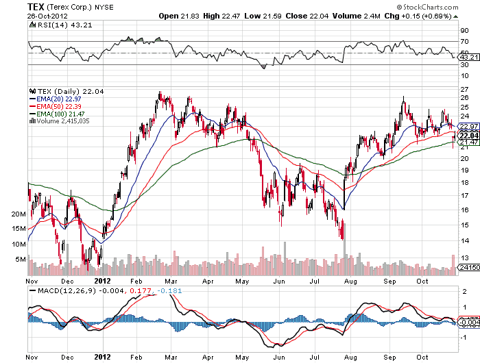 Conclusion
As highlighted in this article, investors should be less focused on sales growth with this company. The stock can achieve significant valuation gains if the company remains focused on margin expansion via prudent revenue growth.
Of the group, Terex will benefit the most from a rebound in construction and housing. Having sold the mining equipment division during the peak last year, the company is now perfectly set up for the expected rebound in the housing sector. Combined with the margin expansion, the stock might achieve some serious gains in 2013.
Disclosure: I am long TEX, MTW. I wrote this article myself, and it expresses my own opinions. I am not receiving compensation for it (other than from Seeking Alpha). I have no business relationship with any company whose stock is mentioned in this article.
Additional disclosure: Please consult your financial advisor before making any investment decisions.