Monday's stock market won't be volatile, that's for sure. It's closed. But as of Friday, with the S&P 500 down about 4% from its high of the month, the VIX had moved up about 24% - from 14.33 on October 5 to 17.81 as of Friday.
And it seems as if volatility-based ETFs such as the double-leveraged ProShares Ultra Short-Term VIX ETF (NYSEARCA:UVXY) have become more popular trading vehicles as Brendan Conway noted in this weekend's Barron's.
By one measure, at least, the ProShares Ultra VIX Short-Term Futures ETF is a big success. The year-old fund is the industry's fastest-growing offering by trading volume, having climbed into the top 30 U.S. ETFs.

As the VIX name suggests, the fund caters to day traders and quants looking for a way to play market volatility -- and to fearful investors clamoring for a hedge. Strong liquidity and tight bid-ask spreads are another part of the leveraged fund's appeal.

By a more traditional metric, however, the fund is a complete disaster, having fallen 98% since its inception last October.
This fund and its cousin, the Short-Term VIX ETF (NYSEARCA:VXX) track a strategy of owning short-term VIX futures contracts and then regularly rolling them out.
As Brendan points out, in the long run, that's not the best strategy - mainly because of the persistent contango that exists in these futures, but if the contango narrows as volatility rises, or if the futures go into backwardation, these funds can provide some pretty decent short-term gains.
Here's a chart showing the VIX futures term structure as of Friday:
The faint dotted lines show VIX contracts which have expired and the dashed line at the bottom shows the VIX itself.
As you can see, the contango has narrowed a bit. And while these funds are basically doomed to continually drop by their very design, you can see that VXX can go up for a few days or weeks at a time (sometimes for months like last year) - and that happens when the contango narrows or disappears.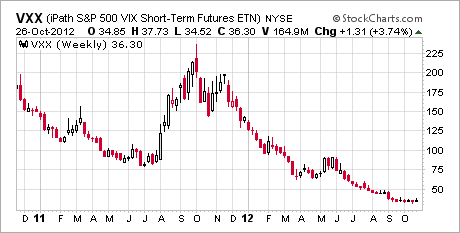 Cheaper options?
Just out of curiosity, I took a look at option prices for both VXX and UVXY and noticed that they've become quite cheap over the past few weeks. Well, "cheap" might not be the right word, but on a relative basis, fairly inexpensive.
Take a look at the implied volatility for options on VXX over the past year: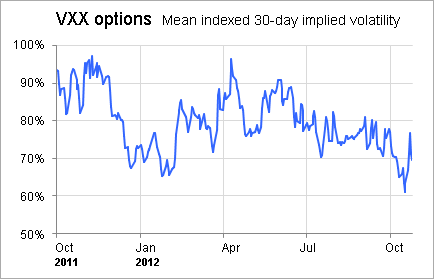 You can see that with a mean weighted volatility of around 70%, those options aren't nearly as expensive as they were back in April.
Options on UVXY have only been trading since March, but you can see they're "bargain basement" priced with an implied volatility of "only" 130%.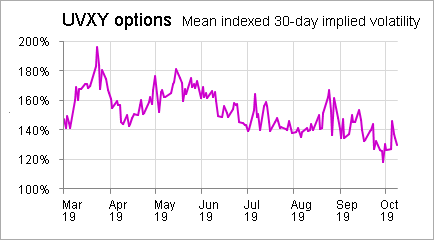 This roughly corresponds to the VVIX, or the "VIX of the VIX." This index, published by the CBOE measures the expected volatility of the 30-day forward price of the VIX itself.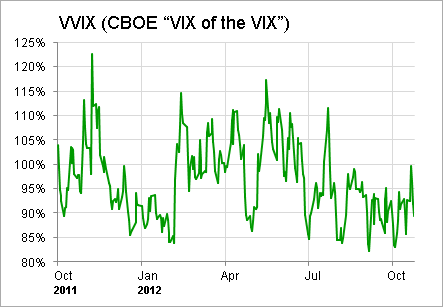 So volatility options - both ETF and VIX options - are getting less expensive. I'm not sure what's going to happen to volatility when the markets open up again, but I suspect volatility itself could get a lot more volatile.
Disclosure: I have no positions in any stocks mentioned, and no plans to initiate any positions within the next 72 hours. I wrote this article myself, and it expresses my own opinions. I am not receiving compensation for it (other than from Seeking Alpha). I have no business relationship with any company whose stock is mentioned in this article.