This week the five biggest U.S. defense contractors reported their most recent quarterly results. Boeing (NYSE:BA), Raytheon (NYSE:RTN), Lockheed Martin (NYSE:LMT) and Northrop Grumman (NYSE:NOC) all did better then predicted. General Dynamics (NYSE:GD), unfortunately, missed analyst's estimates of their earnings. Over the week stock prices for the companies have also been mixed with Lockheed and GD holding on to small gains the other stocks dropping less then 2%.
As the chart below illustrates for the last 52 weeks all of their stock prices have tracked up with Raytheon having the best performance.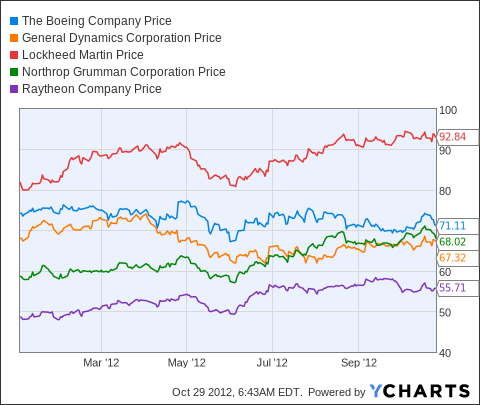 General Dynamics
The company announced that earnings were only $1.70 a share or $600 million compared to the prior year's $1.83 on $665 million. This was generated on revenues of just under $8 billion. Analysts had predicted $1.78 on just over $8 billion in revenue. Operating income fell 14%. As with all of the defense contractors the company continued to do some acquisitions, and increase pension funding this quarter but did not continue to buy back its shares.
The company, while it is mainly defense, focused also manufactures Gulfstream aircraft and demand for those increased with their Aerospace products division seeing 20% growth from the year before. While there have been some significant contract wins defense overall saw a drop and the company will face some issues if the defense budget is cut as much as planned under the proposed sequestration.
One proposed part of the U.S. Army budget that may negatively affect GD is if M1 Abrams tank work at the Lima, IL plant is actually put on hold for 2 years. Congress, though, has not seemed inclined to support this proposal and has included funding in the different bills to keep the plant going in the near term. The company though did receive a contract to begin the engineering work on the next version of the tank worth almost $400 million.
Lockheed Martin
Lockheed is the largest defense contractor in the United States and it reported on Wednesday that earnings were $2.21 a share on $11.9 billion in sales. This was an increase of 22 cents on a sales decline of $200 million. This was well above estimates of only $1.85 a share. The company also raised its 2012 full year forecasts by 30 cents. Lockheed also continued to buy back stocks and pay into their pension fund. It also increased its dividend rate 15% to $1.15 a quarter.
The company reported declines in sales compared to the same quarter last year in 3 of its 4 segments although for the year to date net sales were up. Aeronautics especially was affected by lower deliveries of C-130 transports, F-16 fighters and the end of F-22 production. Offsetting this is the steadily growing revenue related to the F-35 Joint Strike Fighter program which is seeing increasing numbers of aircraft ordered and delivered. The government and Lockheed are currently negotiating the next production batch of this the most expensive military program in history.
Lockheed has consistently outperformed this year both when compared to estimates and its compatriots. The company despite what is considered a bad budgetary year has consistently delivered. It does expect 2013 to be slightly worse in sales although right now it is hard to predict exactly what will happen with the Federal budget.
Boeing
The Chicago based aerospace company like Lockheed also beat by over 20 cents delivering $1.35 a share compared to predictions of $1.12. It had a solid quarter mainly due to commercial aircraft sales and some improvement at the Defense, Space & Security division. Its revenue was $20 billion.
Deliveries of commercial aircraft are up 25% for the year with a corresponding increase of 37% in revenue. The day before earnings were released the company stated that it would be increasing production of the 777 model by 20 percent due to strong demand. Defense earnings were led by military aircraft which have seen an 11% increase for the year in earnings providing over 50% or their earnings from operations. This includes the F/A-18 fighter as well as the P-8I new patrol aircraft which is just starting production.
The company is now predicting full year revenues of just over $80 billion and earnings per share of $4.80-4.95 which is a significant increase of the $4.40-$4.60 from last quarter.
The company is different from the other major defense contractors as it has significant commercial aircraft deliveries as well. This has allowed it to weather downturns in the industry better than others.
Northrop Grumman
Northrop also beat by 4 cents on slightly down revenue for $1.82 a diluted share. EPS were 4 cents lower this quarter than last year. The majority of the decline was due to poor pension performance.
The company now predicts sales for 2012 will be approximately $25 billion which is in the middle of the last prediction while EPS will increase 15-30 cents. 3 of the 4 segments of the company saw declines compared to the similar quarter last year. For the nine months to date, though, all have seen drops of 2 to 9%. Aerospace Systems is leading in sales and operating income primarily due to unmanned aerial vehicles and support for Lockheed's F-35 program.
Northrop Grumman continues to buy back their stock and pay into its pension fund. The stock is up almost 20% for the year well above Boeing and GD but below Raytheon and Lockheed.
Raytheon
The manufacturer of missiles, electronic systems and radars did the best this quarter. They outperformed estimates by 33 cents with earnings of $1.60 a share. This was on slightly down revenue of just over $6 billion.
3 of its 6 segments saw increases in sales and operating income. For the full year the company has lowered its estimates slightly to $24.3 to $24.7 billion down about $250 million from the previous quarter.
Raytheon too has been buying back stock and 27 cents of the improvement this year in EPS is due to the reduction in share amount. Another 24 cents is due to reductions in cost and margins. Overall Raytheon is on track for a solid year with stock price outperforming the market the last 52 weeks by 16%.
The question facing these large corporations is how their dependence on U.S. government spending will be shaped as the "Fiscal Cliff" approaches. This is the combination of the expiration of the "Bush Tax Cuts" and the implementation of sequestration on Federal spending.
The defense budget is already planned to drop a few billion in 2013. Sequestration could be a much larger cut of $50-60 billion. This money will come out of the core programs for all of the large defense contractors. Ships, airplanes, missiles and other large procurement programs will be reduced or eliminated. Overall operational tempo and the size of the force will be cut back leading to less demand for existing equipment and there will be reduced investment in new ones.
These types of reduction in spending will cause drops in revenue. The will have to continue to adjust by increasing margin, reducing overhead and personnel, and maximizing return from existing contracts. They all have done a decent job of this over the past year as they adjusted to the first wave of reductions. Much more will need to be done to maintain value and return to shareholders.
Boeing also will face a challenge if the situation causes a drop in the economy as a whole. The airline industry continues to slowly recover from the 2009-2009 recession. If it happens again there could be a drop in demand for new aircraft reducing future sales.
Of the five companies Lockheed, Raytheon and Boeing are most likely the best prepared for the upcoming financial issues. It is certainly possible that political changes may cause the defense budget to not be cut much beyond the draw down associated with ending the Afghanistan commitment. This means most programs would maintain current plans and expenditures. GD and Northrop have had their struggles and have not maintained the momentum of the others. They also have some core programs that might be easier to cut then others such as the F-35 or missile defense systems.
The next year may see some contraction and major M&A in this sector if things develop the way they are currently planned.
Disclosure: I have no positions in any stocks mentioned, and no plans to initiate any positions within the next 72 hours. I wrote this article myself, and it expresses my own opinions. I am not receiving compensation for it (other than from Seeking Alpha). I have no business relationship with any company whose stock is mentioned in this article.