Income seeking investors continue to search out dividend exchange traded funds amid record payouts and rock-bottom Treasury yields. U.S. investors are staying local when it comes to hunting for yield.
"Dividends continue to have a great year, with actual cash payments increasing over 19% and the forward indicated dividend rate reaching a new all-time high," said Howard Silverblatt, Senior Index Analyst at S&P Dow Jones Indices.
"A prospective rise in federal tax rates on dividend income would reduce the after-tax yield advantage of many stocks and equity ETFs (versus other income-producing investments). However, we expect that dividends will continue to have appeal as a form of income, and that corporate America could choose to increasingly utilize cash for special dividends before new tax law goes into effect, or for stock repurchases," S&P Capital IQ said in a recent note.
U.S. equity exchange traded funds continue to answer the needs of investors searching for income that can beat what a bank account will pay out. Furthermore, the investment in domestic stocks keeps the capital local and strengthens U.S. corporations.
The iShares Dow Jones Select Dividend Index Fund (NYSEARCA:DVY) is ranked Overweight by S&P Capital IQ and is the largest of the six focused dividend equity ETFs. There is $11.2 billion in assets under management and a yield of 3.68%. The iShares High Dividend Equity Fund (NYSEARCA:HDV) is the newest U.S. equity dividend fund. The yield is 3.43% and there are $2.2 billion in assets under management.
For the third quarter 2012, there was a record payout of $8.8 billion for the three months. Investors can expect a slight yield decline after the strong third quarter equity market performance, reports Simon Smith of ETF Strategy. However, the popularity and interest in dividend-focused ETFs is not expected to wane. In fact, due the presence of record low interest rates until 2015, as reported by the Federal Reserve, investors can expect dividends to remain an important source of yield.
Other dividend focused ETFs tracking the U.S. equity market:
iShares Dow Jones Select Dividend Index Fund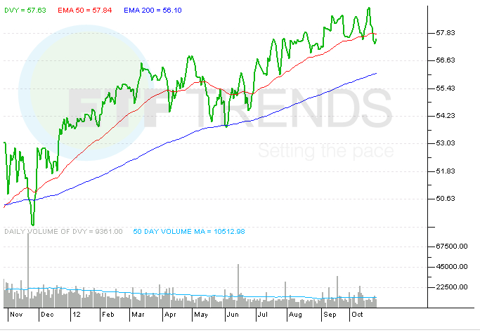 Tisha Guerrero contributed to this article.
Full disclosure: Tom Lydon's clients own DVY.
Disclosure: I am long DVY. I wrote this article myself, and it expresses my own opinions. I am not receiving compensation for it. I have no business relationship with any company whose stock is mentioned in this article.