Updated Track of Sandy, below: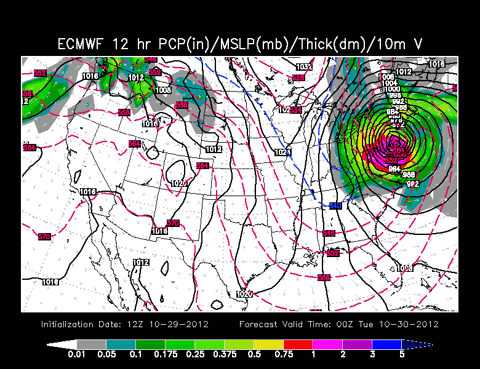 Source: European Forecast Center (European Model forecast by Monday evening)
Hurricane Sandy's Wrath and its Potential Effect on the New York City Area
We mentioned last week and on Bloomberg Radio today, that winds would be stronger than many felt by Monday night. This has to do with upper level winds shifting down the surface as Sandy's barometric pressure falls to the lowest reading ever in the Northeast. Hence, tonight, expect some wind gusts to be more like a category 2 hurricane and above 300-500 feet, perhaps a category 3 in parts of New Jersey, Delaware and close to NYC.
In some of the bigger cities where you have a "funneling effect" of strong winds coming in between tall buildings, what we call the Bernoulli Principle- http://en.wikipedia.org/wiki/Bernoulli's_principle will act to blow out some windows. Those apartments and offices facing the east would see windows blow out, as the pressure inside becomes greater than on the outside of the windows. Those facing the west could see windows blow in. Typically, this will happen at some of the higher buildings, but could also occur in parts of NYC's residential district. The good news, if there is one small silver lining, is that the center and strongest winds of Sandy looks like it will pass well south of NYC.
The greatest storm surge ever in the Northeast U.S., was hurricane Donna in 1960 and Sandy has a chance to surpass that tonight. With a full moon and high tide and the center of Sandy well south of NYC, the easterly fetch around this storm could potentially damage NYC's subway system and cause additional billions of dollars of damage. The surge only has to be 10.5 feet to damage the NYC subway system. Last August, hurricane Irene was about 1 foot short of causing devastating flooding to NYC subways.
There is an interesting article in the NY Times in September, titled "New York is lagging as Seas and Risks Rise, Critics Warn." This article was written by Dr. Klaus Jacob of Columbia University on how lucky New York has been over the years not to see major economic losses in excess of $25 billion to the subway system.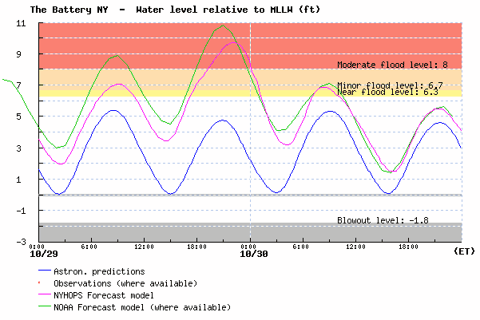 The water level surge close to 11 feet around the Battery NY, tonight could have some major economic effects on NYC. A city that has seen a housing boom, economic growth and somewhat impervious to world financial woes. While the worst damage will occur over southern NJ and northern Deleware, the NYC subway system has a 50-60% chance of seeing some flooding from salt water.
Source: WeatherUnderground
Global Warming: A Partial Impact on the World's Crazy Weather and Market Volatility.
Dr. Jacob is an adviser to NYC on Climate Change. Quoting Dr. Jacob, "I am disappointed that the political system hasn't recognized that we are playing Russian Roulette."
While I personally cannot blame every single crazy weather disaster to global warming and climate change, I remain a believer that global warming is rule and that in the future, weather extremes will continue. This could cause more Arab Springs and result in incredibly volatility on energy and agricultural commodities in the years ahead.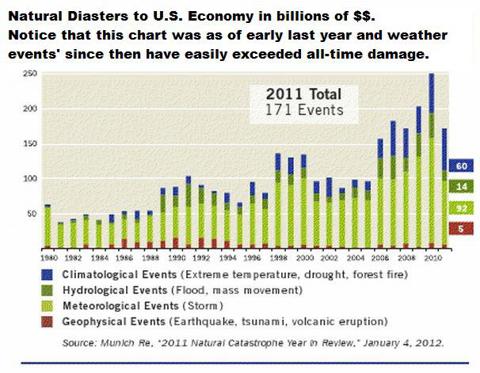 Sandy and Possible Impacts on the Economy and Markets
It would take me hours to explain all of the effects Sandy will continue to have on the economy and markets but let's briefly touch on just a few areas.
Commodities---We have already seen nearly a 7% rally in nearby gasoline futures contracts due to fears of major refinery damage. The November contract goes off the board on Wednesday, as much of the recent rally is probably already built into prices, so profit taking is advised.
The five refineries impacted are in DE, PA and NJ. The daily output of these five is about 1 million barrels of petroleum per day. If it was all gasoline, that would only be about 1000 futures contracts. If damage persists and repairs are slow, that is 1000 futures contracts a day until the issues are fixed. Yes, this is real physical supply off the market, but these refineries only represent 6% of U.S. production. So I would expect some sell off in gasoline prices.
With regards to heating oil, these prices have lagged behind gasoline because there are no signs of bitter cold November weather just yet in the east, but traders will be watching for any signs of cold weather.
Worries over damage to coffee warehouses in the Northeast U.S., may have been partly responsible for a feeble rally in coffee today. However, producers have a ton of coffee to sell and though there has been some dryness in Brazil to the 2013 coffee bloom, it may not be enough to warrant a major rally in prices. The Vietnam crop is suppose to be very large and some increase in rainfall is expected by early November.
U.S. Economy and the Insurance Industry--- Sandy will be affecting some 50 million people and final damage assessments could easily be over $5-$10 billion when it is all said and done, and this does not include coastal flood damage. Though a far cry below Katrina's $44 billion in damage, Sandy is of course affecting a much more populated region, where major industries from banks to financial centers, etc are being affected.
Northeast residents will likely not leave their homes for at least a couple days, so discretionary spending at Macy's (NYSE:M), Darden Restaurants (NYSE:DRI) and hundreds of of other companies will be impacted. But construction material suppliers should benefit, such as Home Depot (NYSE:HD), Lowe's (NYSE:LOW) and many others. We have seen the power generator maker (NYSE:GNRC), rally some 10% recently, and while this company has already built in the hurricane, longer term, may be a good play. With warm ocean temperatures in the Atlantic, the odds of greater than normal Nor'easters this winter may be the rule.
Insurance companies were assembling rapid response teams along the eastern seaboard. One would think, for example, that Allstate Insurance (NYSE:ALL), the largest home and auto insurer in the east, may see devastating losses from Sandy. However, many insurance companies have raised their premiums the last two years, because of global schizophrenic weather. Most of them are well capitalized, so I do not expect a major negative impact on their earnings from Sandy. If anything, more residents and businesses may opt to buy additional insurance coverage after this major event, which could actual boost stocks in the insurance sector.
While the world is looking at more potential recessionary fears, exacerbated by hurricane Sandy, she could actually end up act giving the U.S. economy a positive 'shot in the arm?' Why, think of the potential number of unemployed workers that may be otherwise employed? I remember my house being destroyed by Hurricane Fran in Raleigh, North Carolina in 1996. There was so much work for painters, tree removal services, roofers, etc., that I actually had to hire people, 300 miles away from Seattle.
One thing is for sure, is that the world's weather is becoming more extreme. Arab Springs might arise if agricultural food prices take notice in the years ahead and individual and corporate hard-ships arise. However, the irony to all of this could well be greater employment, not just to repair the damage left from meteorological cataclysms, but in the fields of renewable energy and to solve the global warming crisis.
Disclosure: I have no positions in any stocks mentioned, and no plans to initiate any positions within the next 72 hours. I wrote this article myself, and it expresses my own opinions. I am not receiving compensation for it (other than from Seeking Alpha). I have no business relationship with any company whose stock is mentioned in this article.