Introduction
Over the past 3 years, Intel Corporation (NASDAQ:INTC) has shown a remarkable three-year revenue growth of 12.8%, when compared to the 10.8% industry average. This seems especially surprising when compared to its rival Texas Instruments (NYSE:TXN), ranked 3 on the industry list by Fortune 500, which trails significantly behind Intel with only a 3.2% three-year revenue growth rate.
However, the current economic headwinds faced by Intel's largest customers have put a strain on the INTC's Q3/12 earnings. Lower selling prices for high-margin Data Center equipment might be the main factor for lower earnings. Is the magic waning for the largest chipmaker in the world?
Tracking Financials
For Q3/12, Intel earned $13.46B revenue, which was down by almost 5% from Q3/11. The company also posted a net income of $2.97B, which was also down by 14% from Q3/11. Although Q3/12 gross margin of $8.52B looks encouraging, it represented a flattening trend from the Q2/12. INTC attributed this flat line to lower unit costs, higher cost of sales and lower average selling prices for several of Intel's platforms. Interestingly though, a comparison of INTC's gross margin with the same indicator of the company's main competitors: Texas Instruments, Broadcom Corporation (BRCM) and Advanced Micro Devices (NASDAQ:AMD) - confirms that even with a flat margin, Intel is faring much better than its rivals.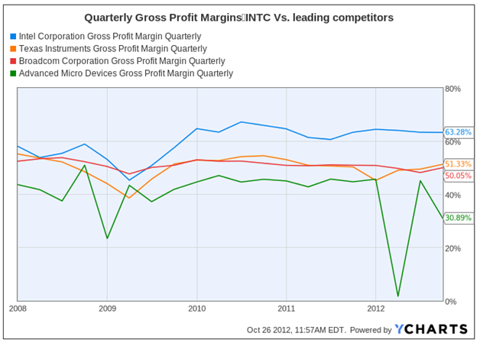 On a related note, investors should take into consideration that Q3 reorganizations within various business units of Intel could slightly distort real "apples for apples" comparisons when assessing the performance of individual lines of business versus last quarter (e.g., Data Center, PC and Tablet).
A closer look at the financials indicates that while the PC and Data Center Group reported slightly improved volumes, up by about 1%, the average selling price for the Data Center Group declined by nearly 2%. In a reversal of normal seasonal Q3 trends, the company also saw a global decline in inventory levels within the PC supply chain. These numbers are indicative of the negative impact on INTC from global macroeconomic factors as well as declining demands from retail and enterprise consumers.
A comparison of Q3/12 results against the Q3/11 metrics reveals a declining operating income, which came in at $3.8B, down by 20% from Q3/11. Current EPS stands at $0.58, down from the $0.65 reported last year. A decline in demand for Intel processor-based PCs and increase in demand for non-Intel-based devices, such as iPads, seem dominant factors for these dismal results.
On a brighter note though, the net income and EPS show an upward trend, of 5 and 7 percent respectively, when compared to the last quarter results. The company also appears to have maintained spending on R&D and M&A activity to approximately last quarter levels. This should give investors some ray of hope.
Stock Performance
Data available at Morningstar on Oct 26, 2012 indicated that INTC's 52-week range were between $21.22 and $29.27. At the end of trading on Oct 26 2012, the stock closed at $21.95, which puts it extremely close to its 52-week low trading range.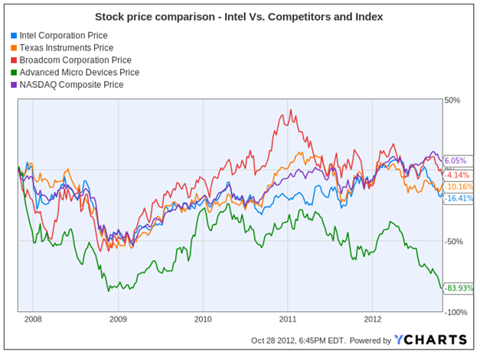 The chart above presents investors with a snapshot of a 5-year stock price performance of INTC, compared to TXN, BRCM and AMD. Except for AMD, Intel has been lagging in its stock price relative to its other peers as well as the index as a whole.
INTC seems to be performing well when analyzed on a forward P/E basis. Trading at 9.9 forward PE, Intel's stock looks more attractive than TXN (14.7) and BRCM (11.8). This indicates that the market is optimistic about INTC's future looking forward.
INTC currently offers a solid dividend yield of 3.9%. This not only makes it a much more attractive stock as compared to competitors, but also leads the industry, which is currently yielding only around 2.3%, as well as 30-year T-Bills, which are yielding well below (2.9%).
What Does the Future Hold?
In February of 2012, the company acquired selected assets from QLogic Corp's InfiniBand business for $125 million in cash. This was followed by the acquisition of Cray Inc's interconnect hardware development business in May 2012. More recently, in September 2012, Intel acquired approximately 1,700 patents from a subsidiary of InterDigital Inc. While representing a shrewd deployment of free cash by company's management, these acquisitions are likely to be highly accretive in the future.
The future prospective for INTC looks bright. This opinion is also shared by Morningstar analysts who believe the Company has a 5-year growth forecast of 7.6%. This growth will be driven by global demand for Intel processor-based smartphones, Ultra books and other mobile devices in the next few quarters, largely due to strong demand from Asia, a recovering U.S. economy, and confidence-building economic measures across the European Union.
Looking forward, Intel sees a bright future for Intel-based devices. In the words of Paul Otellini, Intel's president and CEO: "The world of computing is in the midst of a period of breakthrough innovation and creativity. As we look to the fourth quarter, we're pleased with the continued progress in Ultrabooks and phones and excited about the range of Intel-based tablets coming to market."
Make or Break For Investors?
Out of fifteen analysts evaluating INTC, seven recommend a Buy and one indicates an Outperform rating, whereas five prefer the neutral Hold, one - an Underperform and the last one - a Sell rating. This situation creates a bit of uncertainty for the average retail investor - should he or she jump in with both feet (Buy) or remain on the sidelines (Hold) for the time being until additional guidance is received?
Based on the relatively close gap between Buy and Hold (7 and 5 respectively), investors would be advised to look at INTC on a Total Return basis versus its competitors.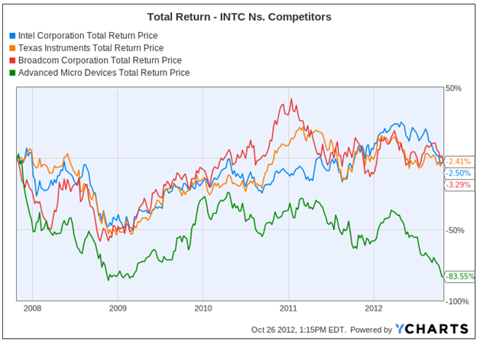 From the chart above, it is evidenced that Intel offers a relatively better total return, compared to all rivals, except of Texas Instruments. However, the spread of the percentage difference between Intel and Texas Instruments (-2.50% Vs. -2.41$) is token, hardly a full percent.
Yield-hungry investors may also want to assess INTC on an Earnings Yield basis. The Company currently supports an Earnings Yield of 10.8%, which is significantly higher than what TXN (4.8%) or BRCM (4.0%) are yielding. This is largely possible because of the dominant position that INTC commands within the industry.
A discounted earnings plus equity model, developed by Efsinvestment and applied to Intel, allow suggesting that these days the company is trading at a considerable discount. EFS's fair stock price valuation indicates that currently undervalued INTC stock has at least 43% upside potential to reach its fair value.
Should there be an upsurge in the global macroeconomic environment, as it is anticipated, larger companies like Intel are much better at capitalizing on such trends? Conversely, if the dismal global economic situation continues to have an overhang on corporate performance, large corporations are better positioned to withstand prolonged economic downturns.
Bottom line
The current price dip is a small window of opportunity to purchase Intel shares before the stock continues its upward ascent. Based on the analysis provided above, my current recommendation for Intel Corporation is a Buy.
Disclosure: I have no positions in any stocks mentioned, and no plans to initiate any positions within the next 72 hours. I wrote this article myself, and it expresses my own opinions. I am not receiving compensation for it (other than from Seeking Alpha). I have no business relationship with any company whose stock is mentioned in this article.