- Despite investor fears, the market stands its ground

It seems like anyone old enough to remember the 2008 crash is decidedly bearish and absolutely convinced that the next crash is just moments from impact. Of course, they'll be right at some point, likely early next year. The market has a couple of things going for it, one big aspect being disbelief, and that markets never crash when everybody expects them to.
The worries for the market are almost endless with the impending doom of the fiscal cliff, poor third quarter earnings, Europe in a recession, and China and emerging markets slowing fast, but these are known. For now, the market will climb the proverbial wall of worry, with a friendly cycle or two on its side. Not to mention of course, the unprecedented government stimulus among us.
My friend John Thomas, The Mad Hedge Fund Trader, did a study on the "sell in May and go away" phenomenon and points out that according to the data in the Stock Trader's Almanac, $10,000 invested at the beginning of May and sold at the end of October every year since 1950 would be showing a loss today. Amazingly, $10,000 invested on every November 1 and sold at the end of April would today be worth $702,000, giving you a compound annual return of 7.10%. In fact, since 2000, the Dow has managed a feeble return of only 4%, while the long winter/short summer strategy generated a stunning 64%.
Of the 62 years under study, the market was down in 25 May-October periods, but negative in only 13 of the November-April periods, and down only three times in the last 20 years! There have been just three times when the "good six months" have lost more than 10% (1969, 1973 and 2008), but with the "bad six month" time period there have been 11 losing efforts of 10% or more. With November 1 only two weeks away, this is definitely food for thought. However, be aware that typically once a trend is discovered, it usually stops working.
Another set of statistics may surprise you. Since 1987, stocks have staged a big run from the October lows to the December's high. The S&P 500, over this 24-year period study, had an average gain of +10%, ranging from a low of 1% to a gain of 29%, with the NASDAQ and Russell 2000 doing even better, with a gain of almost 15% and 12%, respectively. Take a look at the chart below:
(click image to enlarge)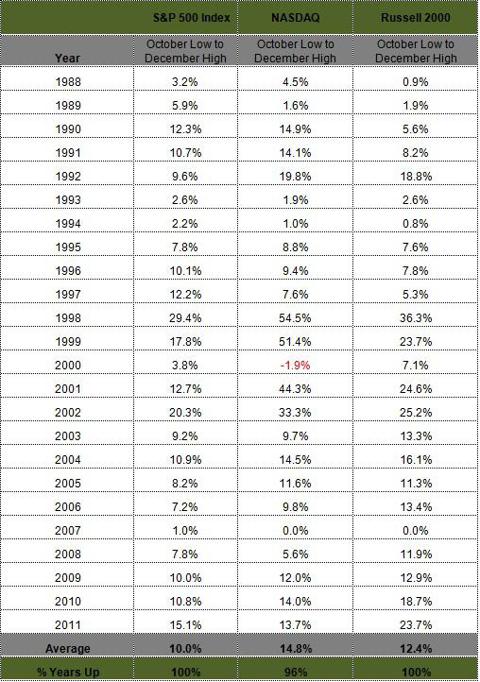 That said, this year so far has been very different from historical averages in looking at the behavior of the S&P 500. Since 1949, the first and third quarters are weak (small gains of 0.7% and 0.6%, respectively), while second and fourth quarters are the strongest, with each gaining 2.1%. In 2012, it has been just the reverse: Q1 and Q3 were the big gainers -- 12.0% and 5.8%, respectively -- while Q2 posted a loss of-3.3%. As I said above, typically once a trend is discovered, it usually stops working.
In the bigger picture, the natural demographic trends of the largest generation in history moving past their peak spending years can only be met with slower growth and higher unemployment and deflation, which I discuss in depth in Facing Goliath - How to Triumph in the Dangerous Market Ahead. Not until the echo-boomers -- the 90 million kids of the baby boomers -- start spending in about five years will the economy fully recover and start growing again. Hallelujah for federal stimulus, while it lasts.
Investor Strategy
Although the stock market is a dangerous place long term, there is money to be made in the shorter term. Therefore, investors should participate depending on their risk levels. Those who do not need all of the risk of the market simply should not take it. When the roof caves in, it will be at light speed. Stick with the proper investments that meet your needs, not your greed! Less-than-speculative investors will do better in the likes of some MLPs like Terra Nitrogen (NYSE:TNH), CVR Partners (NYSE:UAN), Legacy Reserves (NASDAQ:LGCY), Vanguard Natural Resources (NYSE:VNR), and BrietBurn Energy (BBEP), and healthcare REITs related to the aging baby boomers, such as Healthcare Properties (NYSE:HCP), Senior Housing (NYSE:SNH), and IShares Healthcare (NYSEARCA:IYH).
The current correction is likely an opportunity for risk-oriented stock buyers, and they should be picking up many of these on the cheap by buying selected commodity stocks (that benefit from QE3 forever) such as: Goldcorp Inc. (NYSE:GG), Barrick Gold Corp. (NYSE:ABX), SPDR Gold Shares (NYSEARCA:GLD), Power Shares Double Gold (NYSEARCA:DGP), Market Vectors Gold Miners ETF (NYSEARCA:GDX), Newmont Mining Corp. (NYSE:NEM), Freeport-McMoRan Copper & Gold Inc. (NYSE:FCX), plus Silver Wheaton Corp. (SLW), ProShares Ultra Silver (NYSEARCA:AGQ), and Fortuna Silver Mines (NYSE:FSM).
QE3 forever at least puts a floor under this market, and this pullback is creating a great situation to pick up some of the best growth opportunities at a discount. Risk folks can buy Apple (NASDAQ:AAPL), which is getting hit at the moment, but setting up most likely as one of the best buys of the year. Also, other leaders in innovative technology companies are attractive, such as beaten down Google (NASDAQ:GOOG), Intel Corporation (NASDAQ:INTC), Qualcomm (NASDAQ:QCOM), Microsoft (NASDAQ:MSFT), Cisco Systems (NASDAQ:CSCO), Dell (NASDAQ:DELL), Caterpillar (NYSE:CAT), General Electric (NYSE:GE), Yahoo (YHOO), Red Hat Inc. (NYSE:RHT), Schlumberger (NYSE:SLB), and VMware Inc. (NYSE:VMW). For more broader exposure, fall on ETFs like the SPDR S&P 500 (NYSEARCA:SPY), SPDR Select Sector Fund - Financial (NYSEARCA:XLF), iShares MSCI Emerging Index Fund (NYSEARCA:EEM), Emerging Markets Consumer ETF (NYSEARCA:ECON), Brazil (NYSEARCA:EWZ), PowerShares QQQ Trust Series 1 (NASDAQ:QQQ), iShares Russell 2000 (NYSEARCA:IWM), and iShares FTSE China 25 Index Fund (NYSEARCA:FXI).
Disclosure: I have no positions in any stocks mentioned, and no plans to initiate any positions within the next 72 hours. I wrote this article myself, and it expresses my own opinions. I am not receiving compensation for it. I have no business relationship with any company whose stock is mentioned in this article.