Many analysts talk about how great of a company LinkedIn (LNKD) is: they are arguably correct. LNKD has generated consistent revenue growth and considerable monetization of its user base.
Many analysts have raved about LinkedIn's performance and how the stock has outperformed the market, its social media counterparts, etc. This is debatable - if you received some of the very small IPO allocation you have undoubtedly gained. However since the IPO the stock has traded flat (albeit with significant swings) and is actually down roughly 20% from the high it reached on its IPO debut.
Finally, many analysts preach about its long term growth prospects and stock appreciation potential. This is where I believe the sell-side community to be wrong based on the following:
1) Insider selling has continued, and actually increased.
Zero purchases and significant, consistent selling can

not

be ignored. Perhaps this is why we finally see momentum moving away from the stock.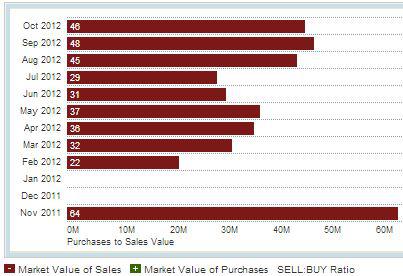 Source: here
2) The growth in revenue is not sustainable.
LinkedIn generated +100% revenue growth for seven consecutive quarters from Q3 2010 until Q1 2012, and was slightly under in Q2 2012 at 89%. GAAP net income however has been relatively flat, and has ranged from -$2.9 million to $6.9 million over the last 16 quarters.
Deferred Revenue can only hide slowing bookings growth for a quarter or two. This should come as no surprise; it is explicitly stated in the 2011 annual statement:
"Because we recognize most of the revenue from our hiring solutions and our premium subscriptions over the term of the agreement, a significant downturn in these businesses may not be immediately reflected in our operating results." - p.27
Revenue growth in international markets will not be sufficient to offset a declining growth rate in North America. Facebook (NASDAQ:FB) offers significant insight here.
While growth continues, the growth rate is already declining and will continue to decline.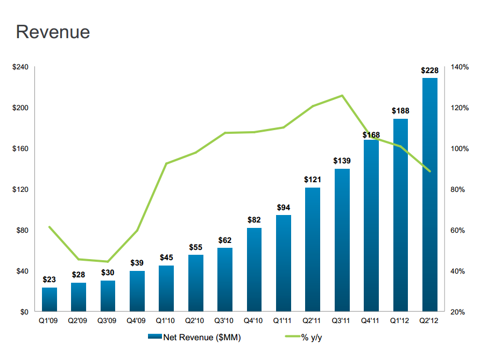 Source: LinkedIn Q2 2012 Earnings Report
3) Despite the recent selloff, the P/E is still extremely high.
History has shown few stocks have been able to maintain such high valuations. Netflix (NASDAQ:NFLX) has provided a relevant recent

example

. LinkedIn is currently trading at a P/E over ten times the highest Netflix traded

at.

Earnings are still just pennies a

share.
4) Already squeezed margins could face even more pressure

Sales, General and Administrative (SG&A) expense poses a serious threat as evidenced below by the growing growth rate and confirmed by management's statement that:
"We expect sales and marketing expenses to increase on an absolute basis and as a percentage of revenue and to be our largest expense on an absolute basis and as a percentage of revenue"

| | | | | | |
| --- | --- | --- | --- | --- | --- |
| | 12/31/2011 | 12/31/2010 | 12/31/2009 | 12/31/2008 | 12/31/2007 |
| SG&A/Sales | 45.9% | 38.7% | 38.6% | 38.0% | 36.5% |
5) Competition will arrive:
Competition should be expected directly (there is a plethora of start-ups in this area) through other professional social networks or indirectly through increased recruiting via Facebook, Twitter, and other sites as already evidenced by a recent survey.
CEO Dan Serfaty of Viadeo (one of such competitive sites) made a very good statement on why LinkedIn will never enjoy a monopoly position:
"Start from the motivation of someone who signs up for a professional social network. You go for basically two reasons: to be visible for recruiters and to find customers. If you want to be visible to recruiters, why the hell wouldn't you sign up for a second social network? If you want to find customers, why would you exclusively look at one network?"
In conclusion, again I would like to state that LinkedIn has done a tremendous job and led the way in monetization. That being said, an investment at these prices is very hard to justify as the majority of the long-term growth prospects are already built into the price.
LinkedIn's third quarter earnings are this week; they should be interesting.
*All relevant financial information sourced from here unless otherwise stated
Disclosure: I am short LNKD. I wrote this article myself, and it expresses my own opinions. I am not receiving compensation for it (other than from Seeking Alpha). I have no business relationship with any company whose stock is mentioned in this article.
Additional disclosure: My position is very small. I have been hoping to add to it over the last week or two prior to earnings, however a significant sell-off has already begun