Canadian gold miner Yamana Gold (NYSE:AUY) illustrated again why it is one of the best managed senior gold companies with a record third quarter production of 310,490 of gold equivalent ounces (GEO), an 11 percent increase from Q3-2011.
Helped by strong cash margins of $1,479 per GEO, Yamana generated a quarterly record of $612M in revenues, a 10.3 percent increase over the same period last year.
Although net earnings declined by 48.2 percent to $60M, or $0.08 per share, cash flow from operations came in at $286M, or $0.38 per share. Cash flows from operations is a more reliable metric to value a mining company like Yamana since it has material non-cash expenses such as depreciation and depletion.
Quarterly Gold Equivalent Ounce Production: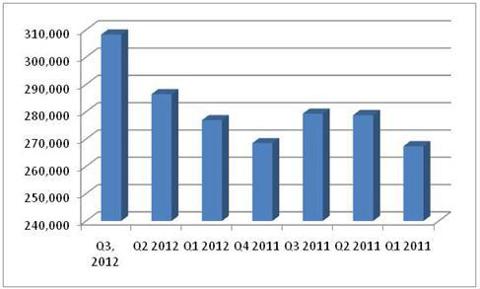 Cash costs per GEO increased from $91 in 2011 to $201 in 2012, primarily due to the decline in copper prices on a year-over-year basis. Yamana produces large amounts of copper at its South American mines as a by-product, which generates additional revenues that are treated as cost credits when calculating the cost of GEO.
Hence Yamana enjoys a lower than average cost per GEO due to the robust levels of copper prices. However, this could be a cause of concern going forward. If Chinese growth continues to stall then copper prices will continue to drift lower, which will continue to increase the cost per GEO Yamana produces and pressure cash margins.
The company's newest producing mine, Mercedes, continued to ramp-up production, producing 33,713 GEO in the third quarter. This represents a 17 percent increase over second quarter production and a 41 percent increase over first quarter production. The Mexican operation exemplifies the operational expertise and management's capability of brining a mine into production successfully on time and on budget.
Q3-2012 Production by Mine: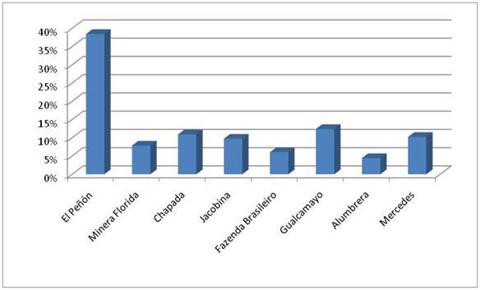 In closing, Yamana Gold continues to be a rewarding investment with growing production and cash flows for the foreseeable future. With a robust pipeline of growth for the coming two years and the expertise management continues to illustrate, Yamana is bound to continue and outperform its senior gold producing peers for some time to come.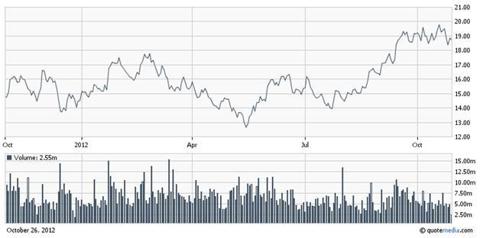 Disclosure: I have no positions in any stocks mentioned, and no plans to initiate any positions within the next 72 hours. I wrote this article myself, and it expresses my own opinions. I am not receiving compensation for it (other than from Seeking Alpha). I have no business relationship with any company whose stock is mentioned in this article.