And that's likely because the Reserve Fund -- a member of the what-used-to-be-considered-safe money market fund asset class -- dropped below $1 a share. Josh Jansen of Across the Curve has more:
The proximate cause of the pressure in the money markets is the news late yesterday that the Reserve Fund broke the sacrosanct $1 level and suspended withdrawals from the fund. The fund attributed the situation to its exposure to Lehman Brothers (LEH).

This complicates matters in the front end of the market place. The trader with whom I spoke said that "it was as if a veil had been removed" from the market. In his opinion, clients will be examining
much more closely the items that individual money funds hold. The base assumption of Mom and Pop that money funds are as safe as bank accounts has been challenged.

The trader said that he expects to see withdrawals and redemptions from funds with the money heading to T bills or the safety of an FDIC bank account. (That is another posting another time.) He noted that there is over $3.5 trillion in money funds and if only a very small percentage of that money is shifted it could cause massive dislocations.
Yikes.
Continuing the series that I started Monday (here's Tuesday), here's a look at the 3-month Libor-OIS spread which shot to a new high Wednesday morning: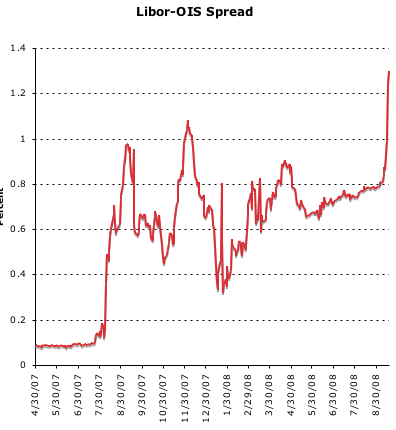 And the gap between Libor and its alternative, ICAP's New York Funding Rate, has opened up even wider to 16 times its 3-month average: