Introduction
Visa (NYSE:V) is a payments technology company, and engages in the operation of retail electronic payments network worldwide. It facilitates commerce through the transfer of value and information among financial institutions, merchants, consumers, businesses, and government entities.
The company owns and operates VisaNet, a global processing platform that provides transaction processing services. It also offers a range of payments platforms, which enable credit, charge, deferred debit, debit, and prepaid payments, as well as cash access for consumers, businesses, and government entities. The company is headquartered in San Francisco, California.
Visa profits from the commissions received for every transaction through its credit card.
Snapshot:
| | |
| --- | --- |
| Price (26.10.2012) | $138.31 |
| Market Cap | 112.19B |
| Income (2011) | 1.36B (P/E: 136.94) |
| Sales (2011) | 10.07B (P/S: 11.14) |
| Book Value Per Share | $33.29 (P/B: 4.28) |
| Earnings Growth Past 5 Years | 44.62% |
| Current Ratio | 1.39 |
| Debt/Equity | 0.00 |
Visa has fabulous fundamentals and other recognizable merits, here are a few examples:
1. Good Growth
Visa, as seen from the snapshot above, has experienced fast, eye-opening growth rates over the past five years. This growth is remarkable for a large cap like Visa. The table below shows Visa's EBIT (Earnings Before Interests & Taxes) numbers for the past five years. It reveals a company that has made a turnaround from losses to profits. Following that sole yearly loss since 2007, Visa's EBIT has been on a strong uptrend.
| | |
| --- | --- |
| EBIT 2007 | -$1.39B |
| EBIT 2008 | $1.34B |
| EBIT 2009 | $4.00B |
| EBIT 2010 | $4.64B |
| EBIT 2011 | $5.66B |
2. Zero Debt
Visa, as seen from the above snapshot, has absolutely no debt. It has kept its debt to a bare minimum over the past 5 years, with the number never exceeding $60M, which is remarkable for a large-cap like Visa. Information can be found through its balance sheet here.
3. Buying Back Shares
Visa has also been buying back shares over the past four years, since its 2008 IPO, as seen below. Although it had diluted shares in 2008, increasing the shares outstanding by 1.14M that year, the shares outstanding have since decreased, and from 2008 until 2011 had experienced a net decrease of 3.89%, which is beneficial for the shareholder, as share buybacks mean that shareholders can own more of a company without buying more shares.
| | |
| --- | --- |
| Shares Outstanding 2008 | 844.86M |
| Shares Outstanding 2009 | 846.00M |
| Shares Outstanding 2010 | 835.00M |
| Shares Outstanding 2011 | 812.00M |
4. Ownership By Funds, Institutions And Renowned Investors
This is nothing to do with its fundamentals, but large ownership by funds, institutions and renowned investors shows the confidence the so-called smart money has in the company. Here, it states that institutional ownership is at an extremely high 84.36%. Additionally, Warren Buffett, renowned multibillionaire, owns 2,000,000 Visa shares, and hedge fund manager Kenneth Fisher also recently increased his stake in Visa recently.
5. Well-Known Brand
Visa is also a very well-known brand. Almost everyone you ask along the street has used one of Visa products or services, with credit cards now bring so widely used. Therefore it has, unquestionably a wide "moat". The term, coined by Warren Buffett, actually is used to describe companies with a sustainable competitive advantage that makes it difficult for new companies in the industry to wear down its market share and profit.
Besides its impressive past growth and fundamentals, it also is expected to grow at a fast rate in the future.
6. Rapid Future Growth Expected
Visa is expected to have its earnings grow at a whooping 19.64% over the next five years. For a company with a 112B market cap, that is impressive growth- very few companies with the size of Visa can grow at such a fast rate. Additionally, its EPS is expected to grow to $7.16 per share next year, which is similarly abnormal growth which cannot be expected by normal large-caps.
Although Visa has many qualities, as proved above, below shows why it may not be such a good investment at the moment.
Poor Time To Buy
Prices increasing at fast paces
Its prices have increased astronomically over the past 2 years, skyrocketing more than 100% in just two years. This might not be sustainable as its earnings has not been growing as fast, barely growing as fast in the past 2 years. It might also look attractive because of its rapid growth in the past and the fact that it is still expected to grow at a rapid pace but I feel that the anticipation for all this growth have been priced into the stock already.
Below shows a chart of Visa over the past two years: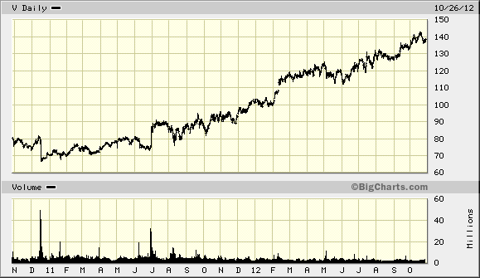 Rapidly-Growing Ratios Show That It Is Overvalued
The table below shows Visa's P/E over 2012. The number has grown 37% Year-To-Date- much faster than its projected 5-year earnings growth of 19.6%, which is a signal that this appreciation in stock price may not be sustainable over the next few years.
| | |
| --- | --- |
| P/E 2012 Jan 3 | 99.64 |
| P/E 2012 Mar 1 | 116.83 |
| P/E 2012 May 1 | 114.06 |
| P/E 2012 July 2 | 127.79 |
| P/E 2012 Sept 4 | 132.88 |
| P/E 2012 Oct 27 | 136.94 |
Additionally, its P/S (Price/Sales) ratio also shows how overvalued it is, at a whooping high 11. In basic terms, the P/S ratio is how much investors are willing to pay for every $1 sales. For me, I view P/S ratios of 3 or more high, and I must admit that the P/S ratio, like many other valuation ratios, varies for different industries but a valuation of 11X sales seems like a little too much for me.
Ratios Substantially Higher Than Competitors
| | | | |
| --- | --- | --- | --- |
| Company | Visa | Mastercard (NYSE:MA) | American Express (NYSE:AXP) |
| P/E Ratio | 136.94X | 27.08X | 12.91X |
| P/S Ratio | 11.14X | 7.44X | 1.87X |
| PEG Ratio | 6.97 | 1.44 | 1.25 |
American Express and MasterCard are two of Visa's closest competitors, and they both trade at substantially lower P/E, P/S and PEG multiples compared to Visa. The PEG ratio (price/earnings/growth) is another indicator of a stock's potential value. It is favored by many over the price/earnings ratio because it also accounts for growth. Similar to the P/E ratio, a lower PEG means that the stock is more undervalued. (PEG formula: P/E ratio/Projected 5y growth).
The Takeaway
Visa is a fabulous company to own, even the biggest of investors, Warren Buffett thinks so, but looking through its many valuation ratios and comparing them to competitors shows that it may not be a good buy at the moment. No company will rise in value forever; what goes up must come down, therefore, I feel that it will pay to wait a while before investing into this great company. As famed value investor Benjamin Graham said, "Price is what you pay, value is what you get".
Disclosure: I have no positions in any stocks mentioned, and no plans to initiate any positions within the next 72 hours. I wrote this article myself, and it expresses my own opinions. I am not receiving compensation for it (other than from Seeking Alpha). I have no business relationship with any company whose stock is mentioned in this article.