It's the wind.
No, it's the water.
No, it's the 25% of the U.S. economy that's suddenly come to a screeching halt.
Of all the October Surprises, no one predicted something like Sandy. A U.S. supported strike by Israel on Iran's nuclear facilities, maybe. But Wall St. closed? Atlantic City underwater? Now, that was unexpected.
Cyclone/Hurricane/Nor'easter Sandy is one of those epic Cecil B. DeMille worthy productions of Mother Nature that is best expressed numerically.
500 miles: The size of the Northeast Megalopolis, which stretches from the suburbs of Washington D.C. to the suburbs of Boston. This line of cities roughly corresponds to Sandy's current track. The NE Megalopolis is the most densely populated region of the United States. (931.3 people per square mile (359.6 people/km2)
Fig. 1: Boston-Washington Megalopolis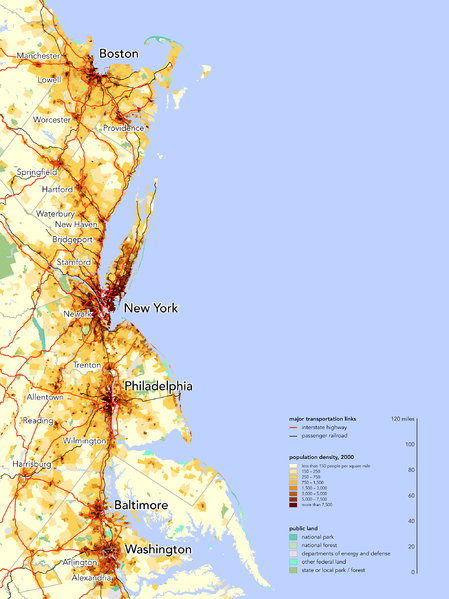 50 million-60 million people: The number of people in Sandy's path.
11 ft: The point at which parts of the New York subway system will be completely submerged. The flood walls in Manhattan are currently 5ft above sea level.
Fig. 2: Storm Surge Probability > 4ft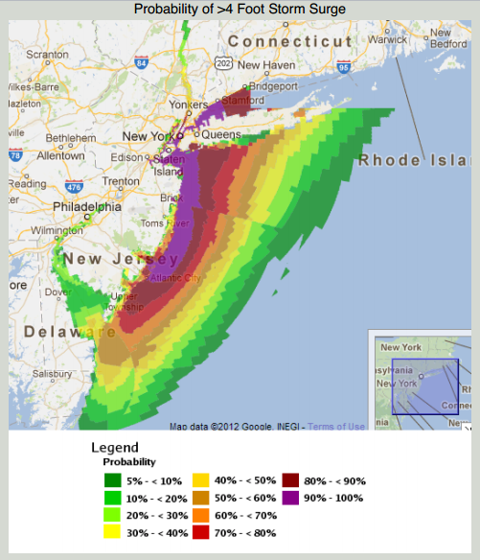 (source: iCat)
$3.5 billion: The daily gross metropolitan product of New York City.
>1,000 miles (1609.344 km): Sandy's diameter.
$2.7 Trillion: The insured value of coastal properties in New York
Fig. 3: Estimated Value Of Insured Coastal Properties Vulnerable To Hurricanes By State, 2012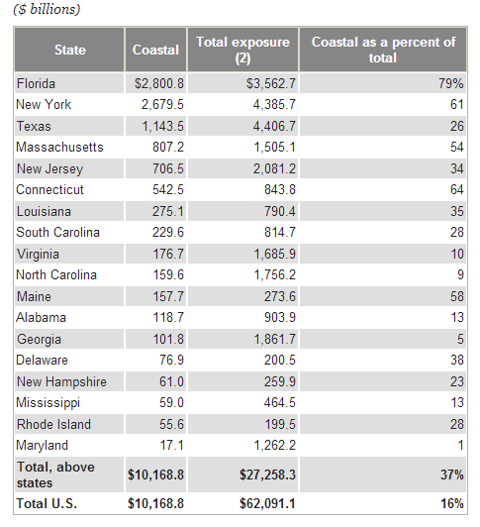 (Source: AIR Worldwide, Insurance Information Institute)
9: The number of U.S. states that have declared a state of emergency, not including Washington D.C.
10,000: Number of flights canceled due to Sandy.
$20 billion: The cost of the damage caused by Hurricane Irene
$129.5 billion: According to the Wall St. Journal, the inflation-adjusted cost of the eight storms that made landfall in the U.S. in 2005 (including Katrina).
While devastating storm systems like Sandy have extremely negative short term economic impacts, in the long term the effects are negated - even reversed - by clean up and reconstruction efforts. Construction booms tend to follow natural disasters. Stockpiling can unleash consumer spending.
According to CS Monitor's Peter Morici:
Factoring in the multiplier effect of $15 billion to $20 billion spent rebuilding yields an economic benefit from reconstruction of about $27 billion to $36 billion. Add to that the gains from a more modern and productive capital stock - likely in the range of $10 billion - and spending by consumers and businesses that is only delayed but not permanently lost - likely in the range of $12 billion - and the total effects of natural disasters of the scale of Sandy are not as devastating two years down the road.
Whether or not you agree may depend upon your economic persuasion. As Economist Don Boudreaux wrote in a letter to the Programming Director of Washington, DC's WTOP Radio after the devastation of Hurricane Irene:
The vulgar Keynesian economics upon which such reports are based is hopelessly confused on the issue.

According to Keynesians, recessions result from people feeling pessimistic about the future - a pessimism conjured by what Keynesians regard as wary "animal spirits." This pessimism prompts people to save too much and spend too little.

But even if we accept these Keynesian notions, is it likely that the optimism necessary to improve the economy will be sparked by destroying people's homes and businesses? How plausible is it that people - who before being hammered by the likes of a hurricane felt that their savings were too low - will go on sustained spending binges because natural disasters oblige them to dip into the very savings that they were previously trying to increase? By what logic are "animal spirits" buoyed with confidence by tragedies that make people poorer? On what theory do consumers or investors become more hopeful about the future while standing in the rubble left by natural disasters?
Conclusion: Que Bono?
Insurers are naturally under the microscope, although it appears that they are sufficiently armor-plated for the claims that Sandy will generate. Oil futures will be lively when the market re-opens, with likely backwardation in heating oil futures. Mall based outfitters will be some of the hardest hit, while discounters like Wal-Mart (NYSE:WMT) will probably benefit from last minute Halloween sales.
However, the most dependable play for investors is probably the home-improvement chain Home Depot (NYSE:HD), which has a history of profiting from hurricane damage, and has an large retail footprint along the Northeast Megalopolis.
Fig. 4: Home Depot Store Locations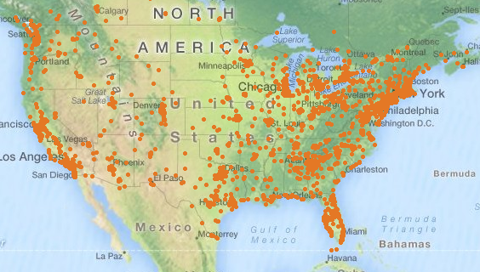 Investors may also wish to consider companies that benefit from retail storm preparation, such as Procter & Gamble (NYSE:PG), (Duracell) and Energizer Holdings (NYSE:ENR). Domino's Pizza (DPZ) is also expected to see a significant boost in sales due to the mass mandatory evacuation of towns and cities on the East Coast.
Disclosure: I am long HD. I wrote this article myself, and it expresses my own opinions. I am not receiving compensation for it (other than from Seeking Alpha). I have no business relationship with any company whose stock is mentioned in this article.