The Boeing Company (NYSE:BA) is experiencing some positive catalysts that should keep the stock in flight for the near and long-term. The company recently reported EPS of $1.35 versus an estimate of $1.13 for Q3 2012. It has exceeded earnings estimates for the past four quarters. Boeing has increased its EPS estimates for the year to be in the $4.80 - $4.95 range vs. previous estimates of $4.40 - $4.60. This should boost the stock higher in the near-term.
Boeing's commercial airplane unit had a 28% increase in revenue for Q3. The commercial unit had a strong operating margin of 9.5% and increased its backlog to $307 billion. Growth in the backlog for commercial airplanes for Q3 can be attributed to conversions of the 737 MAX. The company has approximately 4,100 airplanes on order. Two-thirds of the order book is for airlines outside of the United States and Europe. Another plus for the commercial unit is that deferrals and cancellations have been at or below historical averages for the year.
The Defense, Space, and Security (DS&S) unit decreased 4% in Q3 over the same quarter last year. On the bright side, operating margins reflected strong performance with an increase to 11.7%. The DS&S unit maintained a backlog of $71 billion with 38% of the defense backlog representing sales to customers outside of the U.S. The company is raising revenue guidance for DS&S by $1 billion as it sees higher business volume and a better mix across all 3 segments.
Despite the potential for lowered U.S. defense spending, Boeing sees growth opportunities with defense in international markets. The market for commercial aviation remains a long-term growth industry, which should continue to contribute to increased future revenue and earnings for the company.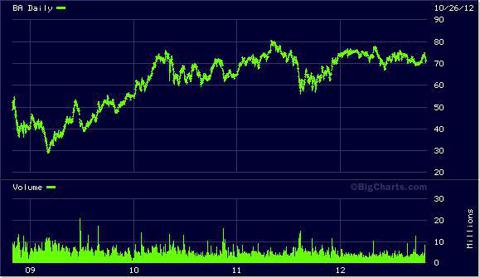 Boeing is currently fairly valued on the low end of the scale with a forward PE ratio of 13.1 and a PEG of 1.33. For the past twelve months, operating cash flow was $6.27 billion and free cash flow was $2.67 billion. The balance sheet also looks solid with a current ratio of 1.25.
The company pays a respectable dividend of 2.5%. It had 16 positive earnings revisions for 2012 in the last 7 days. Boeing is expected to grow earnings annually at about 11% for the next five years. If dividends are reinvested, investors should expect a $10,000 investment in Boeing to be worth about $18,000 in five years.
With a fair valuation and a growing backlog, Boeing should continue to meet or exceed its earnings estimates in the long-run, which should propel the stock steadily higher.
Disclosure: I have no positions in any stocks mentioned, and no plans to initiate any positions within the next 72 hours. I wrote this article myself, and it expresses my own opinions. I am not receiving compensation for it (other than from Seeking Alpha). I have no business relationship with any company whose stock is mentioned in this article.