This article is the continuation to my first article Ark Restaurants: A Low Risk Value Play. In this second part, I will begin with elaborating on Ark Restaurant's (NASDAQ:ARKR) operations and focus on the segments within ARKR's operations that provide the highest potential for adding value. Next, I will switch gears to a competitive analysis that will focus on ARKR's main competitors and then conclude with comparative risk metrics including regression statistics that help explain the variation in ARKR's security price.
Operations
According to ARKR's 10-K, the vast majority of net sales are derived from dinner as opposed to their lunch services, and in effort to achieve the highest profit margin ARKR makes an effort to offer dinner services seven days a week. The typical atmosphere of ARKR's restaurants are very casual, which caters to a wide customer base. On an annual basis, there is not a significant increase from year to year in revenue, which is normal for companies operating within the restaurant industry. In order for ARKR to gain a significant increasing revenue and to also replace restaurants which seem to lose customer interest, ARKR continues to open additional restaurant establishments and engage in the expansion of existing restaurants. In order for a high upside in the value of ARKR's share price, it is going to be imperative that ARKR continues to open restaurant establishments to maintain a competitive edge in the industry. This will allow ARKR to expand market share and generate stable cash flows. Ideally a commitment to adding at minimum one or two restaurant establishments per year would really push ARKR into the fast lane for abnormal growth.
Also, it is important to consider that ARKR does not manage all of their own restaurants directly, some are actually managed by a secondary party. The restaurant establishments that are directly managed by ARKR are shown below in figure 1, which is a table retrieved from ARKR's 10-K.
Figure 1: Establishments Managed By ARKR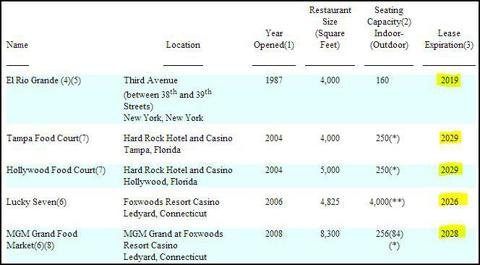 One item worth noting is the expiration date of the leases. The majority of the leases extend to an upwards of ten years from now indicating that one ARKR's management has vested interest in the company and two plans to continue operations in the long run. If you refer to ARKR's 10-K, you will witness the same consistency in the lease expiration dates of the remaining restaurants that ARKR do not manage directly. The figure below provides a break down of ARKR's total revenue growth over the past four years, minus this most recent year.
Figure 2: ARKR Revenue Breakdown

As you will see in the figure above ARKR operating costs have been increasing, that is the primary reason for the shrinking net income margin. However, you can also tell ARKR has made a continuous effort to maintain and increase sales over the past three years. Given the competitive industry, ARKR is doing significantly well. Going into FY 2013 ARKR is going to have to heavily focus on maintaining revenue costs while expanding operations.
Peer Comparison
ARKR operates in a competitive industry. Given the break down of ARKR's operations and services provided, ARKR has an even wider spread competition from the angle of fast food venues as well as competition from other upper scale restaurants/bar venues. As I discussed in my previous article, in the fast food services ARKR's direct competitors are McDonald's (NYSE:MCD) and YUM! Brands (NYSE:YUM). McDonald's one of the largest franchises in the world with significant market share in the fast food industry provides ARKR with an augmented level of competition from this angle. Not to mention YUM! Brands, which owns, operates, and franchises Taco Bells, Pizza Huts, and KFC's. However, initially when people try to understand the intuition behind ARKR's business model they may feel as if they are faced with a extremely high level of competition, but even though ARKR does provide services in the fast food industry a large portion of their target market is geared towards providing this type of food in locations where typical franchises are not accessible. For example, in my previous article I touched in the fact that four out of seven regions they have restaurant facilities, they are all inside of casinos; which majority of the time is targeting a completely different customer base than MCD or YUM is targeting considering location.
Focusing on upscale restaurants, ARKR's direct competitors are DineEquity (NYSE:DIN), Brinker Internation (NYSE:EAT), Famous Dave's of America (NASDAQ:DAVE), Tim Hortons (THI), and Dunkin' Brands Group (NASDAQ:DNKN). These companies all provide a different variety of food service and target various customer bases, so I feel these competitors pose less of a threat. Many of you may not recognize these competitors, however the probability that you have ate there is much higher than your knowledge of the company. For example, DIN own and operates Applebees and International House of Pancakes. DNKN owns and operates Dunkin' Donuts as well as Baskin' Robins. EAT owns and operates Chili's and Maggianos Little Italy. In addition, DAVE which is a wide spread restaurant chain that has establishments in over 37 states is the only company with a relatively similar market capitalization to ARKR. Below in figure 3, you will see that ARKR has a market capitalization of only 54.74 million, which makes ARKR the smallest of company in comparison to competitors. However, in my perspective this serves as more of an indication that ARKR has the most room to grow.
Figure 3: Comparative Value Criteria

Taking a looking at the ARKR's dividend yield, which is approximately 5.93%, you will realize that ARKR's management provides better compensation for investors than competitors. In addition, DAVE who is their closest competitor is terms of market capitalization, does not distribute a dividend to any investors. Relative to competitors ARKR has a slightly below average P/E ratio of approximately 11.59.
Figure 4: Profitability Analysis

Out of all the companies above that have experienced positive sales growth the average growth rate is roughly 6.37%, which puts ARKR slightly below average given data from the past two years. You will also notice ARKR's profit margin is slightly lower than their competitors. I do expect this to increase by the end of FY 2012, we should see improvement in ROA & ROE before the end of FY 2012 as well.
Comparative Risk Metrics
In addition to knowing the risk metrics specific to the firm you are investing in it is important to know where to stand relative to your competition. Figure 5 below shows how ARKR matches up to their competition in terms of risk as well as showing how much variation in each company's stock price can be explained by the factors that have an impact in the overall market.
Figure 5: Risk Metrics

I constructed a regression model of ARKR and every competitor relative to the S&P 500 to evaluate the relative risk of the returns on each stock. The average beta for the restaurant industry is approximately 1.48 and the average beta for the companies is relatively lower, only 1.25. ARKR revealed a beta of only 1.16 putting them below average risk. In addition, ARKR has the lowest R Squared value, which means that approximately only 9% of the variation in ARKR's holding period returns can be explained by the returns of the S&P 500. This indicated that ARKR is highly unaffected by major macro events that cause significant fluctuations in the overall market.
Conclusion
ARKR is an excellent company with a strong model for growth. It is evident now that implications affecting the overall market do not play a significant role in the variation of ARKR's stock price. However, ARKR's long term growth is going to be dependent on the ability maintain existing operations and continuously strive to expand on an annual basis with the addition of new restaurant establishments. In conclusion, ARKR offers an investment opportunity that is appealing to investors seeking value and high growth.
Sources: The Wall Street Journal, TD Ameritrade, Google Finance, Yahoo Finance, FinViz, and Morningstar.
Disclosure: I have no positions in any stocks mentioned, and no plans to initiate any positions within the next 72 hours. I wrote this article myself, and it expresses my own opinions. I am not receiving compensation for it (other than from Seeking Alpha). I have no business relationship with any company whose stock is mentioned in this article.